Continued from: Suji Halwa, Suji Upma, Apple Suji Kheer
Dal(Lentil) and Vegetable Soup for babies
This wholesome baby food is a great way to introduce protein in your baby's diet without starting on meat or eggs.
Ingredients
1 tbsp moong dal( green gram)
¼ cup Mixed veggies – carrot, peas, beans
2 cups water
A pinch of turmeric
Recipe
1.Wash and soak dal in water for half an hour. Soaking is believed to reduce gassiness from dal.
2.Clean and wash all vegetables well in running water.
3.Dice them into small pieces.
4.Put them into the pressure cooker along with water and turmeric.
5.You can add some coriander leaves to add flavour.
6.Let it cook till 7-8 whistles and veggies and dal well-cooked (You should be able to mash them with a spoon).
7.Blend using a hand blender or mixer.
8.Adjust consistency to your baby's liking and serve.
Atta Halwa
Atta is whole wheat flour used to make chapatis. This is a great way to introduce wheat to your baby. This can replace commercially available wheat-based cereals in market.
Ingredients
½ cup Atta (whole wheat flour)
1 cup water
Recipe
1.Dry roast atta in a pan, stirring continuously else it can burn. (Once your baby has been started on dairy, you roast suji in a little ghee)
2.Once atta is roasted a little and gives off nice aroma, add water.
3.Keep stirring to avoid lumps.
4.Bring it to your desired consistency for the baby. It should be a little thin as it keeps getting thicker once it cools down.
5.Your baby will love the smooth texture. Add mashed banana or applesauce to make it sweet. You can also add baby's regular milk to adjust consistency and taste.
Sweet Potato Kheer
This sweet potato recipe is not only wholesome and nutritious but is also loved by babies.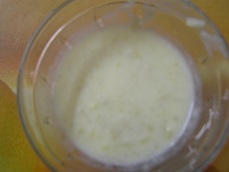 Ingredient
1 Sweet potato
1 cup baby's milk
Recipe
1.Peel sweet potato and boil in a pressure till well-done.
2.Mash well.
3.Mix well with baby's milk.