Apple Suji Kheer for Babies – Homemade Baby food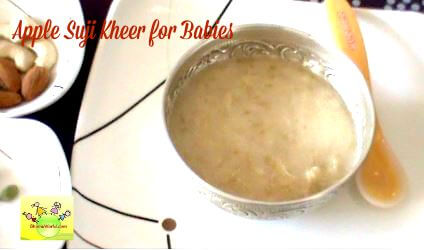 Apple Suji Kheer for babies-
Sooji kheer/ Rawa payasam was my daughter's favorite food when she was a baby and still loves that slightly thin milky porridge with raisins as well as the suji halwa. Suji is easy and quick to cook, easily digestible and is almost always available in most Indian homes. A lot of my friends tell that suji kheer is one of the most popular first foods among babies and their mommies alike.
As most of you know, I am not an advocate of added sugar in any form in baby's food. This meant my daughter never had white sugar or even jaggery before she turned one. If, however, you do add a little, ensure it is in very small quantities. You may always use fruits and natural sweeteners like dates or raisins to sweeten the food, if needed. Also, use baby's milk, i.e. breastmilk or formula to cook or thin the kheer or porridge which imparts sweetness as well as provides a familiar flavour to baby.
Here is my recipe of apple suji kheer which uses apples and baby's milk along with suji or rawa. Adding apples make it more wholesome and tasty too.
We did a video for this recipe to help mums understand the process better. We are consistently adding new videos to our Youtube channel. You may subscribe to get the latest updates.
Ingredients
1 tbsp suji/ semolina/ fine rawa
½ apple
½ tsp ghee
½ cup baby's milk
½ cup water
 

Recipe

Core, peel and grate the apple and keep aside.

In a kadhai, heat the ghee.

Add suji and roast while stirring constantly. This will take just about a minute.

When suji leaves it's roasted aroma, add some warm water and mix quickly.

Add the grated apples and and more water if needed and let the apples cook.

In about 4-5 minutes apples should be cooked, though time may vary due to type of apples.

When cooked, turn off the heat and add baby's milk as required.

You can make this kheer as thin or as thick as your child likes.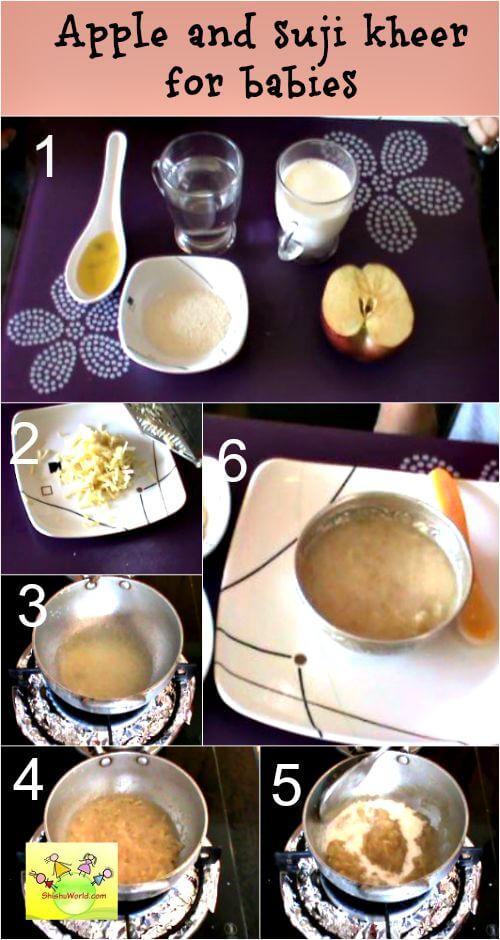 Tips:
You may add some more milk for thinner consistency.
The apple is well-cooked, so resist the temptation to puree this. As your baby becomes comfortable with solid food in a about a month or so, start giving mashed food rather than purees.
Also introduce soft finger food. This will save you a lot of trouble later.
Avoid using sugar in baby's food. Use natural sweeteners like fruits or dates to sweeten baby's food.
Once your baby is a little older, you add a pinch of cardamom or cinnamon for a different taste.
You may also add powdered nuts for added nutrition, once your baby has been introduced to them.
If you like this recipe of apple suji kheer, please share it in your circle. Please leave a comment to ask a question or let us know your feedback.  You can follow us on Youtube, Facebook, twitter and pinterest.
More Recipes for babies:
20+ recipes for 10-12 months old babies  
20 weaning recipes for 6 to 9 months babies
Apple Ragi porridge
3 ways to make ragi porridge for babies