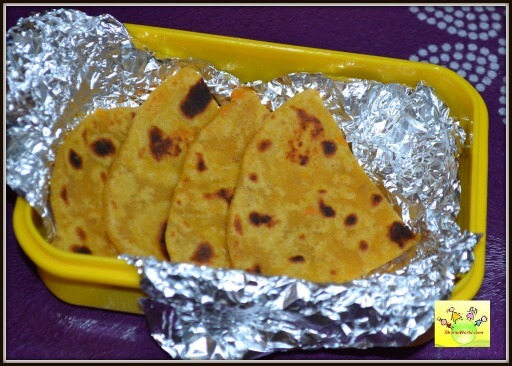 My daughter is not a great eater at school. So, it is very often that the snack box comes back almost untouched or just a few bites taken. One of my biggest dilemmas is what to pack for my daughter's snack and I always have to find new things so it retains her interest and she takes something healthy in school.
Below is the video as well as detailed pictorial recipes for you!! If you like this video and would like to get regular updates, do subscribe to ShishuWorld's Youtube Channel where we share kid and baby friendly recipes every week. [
 Ingredients
1 cup wholewheat flour/ atta
2 medium-sized carrots
1/2 tsp Ajwain or carrom seeds
1 tsp oil for dough
Red chilli powder to taste (optional)
Salt and pepper to taste
Oil/ Butter/ Ghee to fry the paranthas  
Recipe
Wash, peel and cut the carrots into small pieces.
Steam or boil carrot pieces in little water till they partially cooked but still firm. Blend the cooked carrots to make a smooth puree.
Take atta in a large bowl or plate. Make a well in the centre and add carrot puree, ajwain seeds, salt and pepper. Add oil and gently mix the ingredients together.
Add water and gently knead a soft dough. Keep it covered to rest for half an hour.
After 30 minutes, take a dough ball and roll a piranha with the help of dry flour.
Heat a skillet of tawa  and put rolled parantha for roasting.
Once you see one side cooked, flip and apply oil/butter/ ghee on it.
Cook on the other side till spots appear and flip.
Apply oil/ butter/ ghee on the other side too. Take off the heat.
Cut into quarters and pack in aluminium foil.
Tips:
Pack accompaniments like pickle, ketchup or fruits.
You may cut the paratha into different eye-pleasing shapes using cookie cutters.
Since we are making this for toddlers and pre-schoolers, we have made a puree, but you could make these with grated carrots too for older kids.
Add some finely chopped onions ad coriander leaves for a change of flavour and variety. At home, you also serve with some curd or a raita.
Have you checked out our Ebook- "Back to School Snack & Lunchbox Menu & Recipes for 1 whole month". It will forever solve your problem of planning your kid's school snacks and lunchbox menu.