Avocado Recipes for Babies, Toddlers and Kids
Simple Avocado Recipes for Babies and kids which can be prepared with least effort. Avocados are known to be among the healthiest foods around. They are also known as butter fruit and their flesh is buttery, creamy and rich in healthy fats. This makes them specially good for children who need the fats for proper growth and for development of neurons. Avocados along with nuts provide healthy fats which can help weight-gain in under-weight kids.
avocado recipes for babies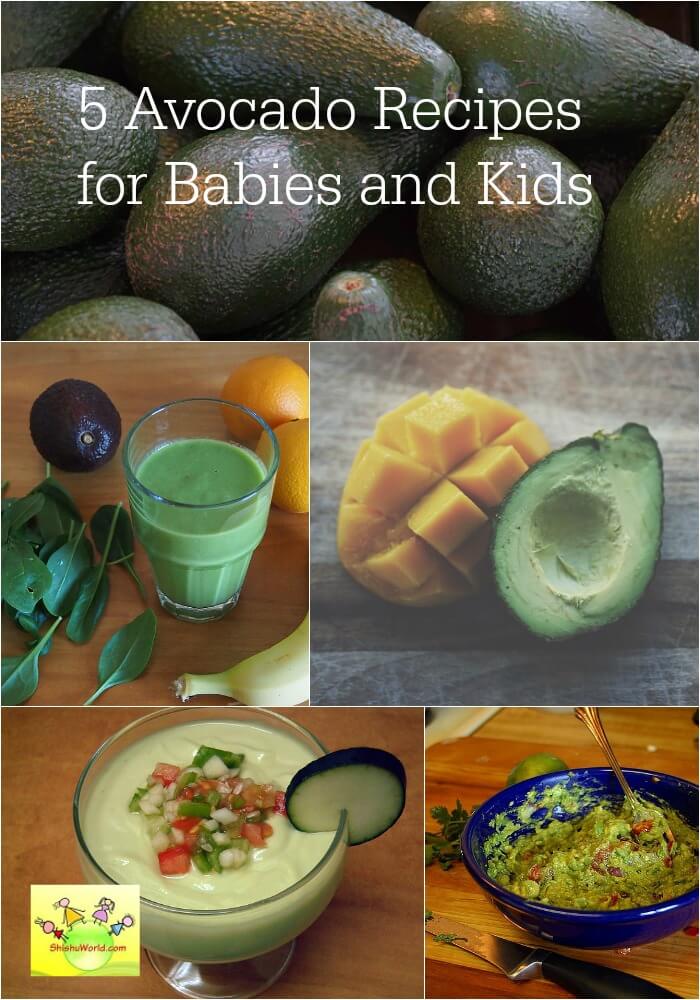 How to clean and cut an avocado
When choosing the avocado to choose, see that it is slightly soft to touch and ripe. Raw avocado cannot be used as it is bitter.
1) Take avocado and cut it length-wise around the pit, using a knife.
2) Twist the two halves of avocado in opposite directions and pull apart.
3) Take the pit out with the knife.
4) Scoop out the flesh using a spoon or cut it out using a knife
5) You can now use the flesh in  any of the below recipes.
Avocado Recipes for Babies
Avocado and Apple puree/mash for Babies (6 -12 months )
You can offer this puree/mash to 6-7 months old babies after they have been introduced to apple. 
Ingredients
1 avocado
1 apple
Recipe
Wash and peel the apple. Core it and cut into pieces.
Steam or boil in water till soft.
Cut the avocado into half, remove the pit scoop out the flesh.
Now mash both fruits together using a fork or blend for a finer puree.
Serve immediately or the puree will get brown.
Avocado and Banana puree/mash for Babies (6 -12 months )
Mash avocado and banana together to make this yummy mash for babies.
Avocado and Mango puree/mash for Babies (6 -12 months )
If your baby has been introduced to mango, you can mash avocado and mango together for a creamy sweet puree/ mash for your baby.
Recommended:
Food Chart/ Meal Plan for 6 months old Babies
Avocado Recipes for Toddlers &Kids
Avocado Dip
Guacamole is the most common and favored Mexican recipe made with avocado. It is the perfect combination with nachos or any other chips. The simplest dip can be made with just avocado pulp and salt/pepper. You may add any number of ingredients to make it more salsa like.
Ingredients
2 ripe avocado
1 small tomato – De-seeded and chopped fine
1 small onion – chopped fine
1 tbsp Lemon juice
1 tbsp coriander leaves
Salt and pepper to taste
Recipe
Clean and scoop out the flesh from avocado.
Mash the pulp to a smooth consistency using a fork. You may leave a few chunks if you like.
Transfer it to a glass bowl.
Add chopped onions and tomatoes to avocado.
Add coriander leaves and toss it a bit.
Add salt, pepper and lemon juice and mix well.
Keep tasting to get the balance right.
Cover with a cling film to avoid oxidation if you are not having it immediately.
It tastes great chilled.
Also see:
Avocado Recipes for Babies, Toddlers and Kids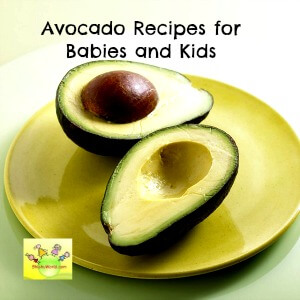 Avocado Spread for kids
You can use avocado as a spread in place of butter or cheese etc. Avocado is naturally creamy and full of healthy fats and forms a delicious spread for sandwiches and rolls/ wraps.
Ingredients
2 ripe avocados
Lemon juice
Salt and pepper/ chilli  flakes
 Recipe
Clean and scoop out avocado flesh.
Mash the avocado to a smooth consistency.
Mix salt, pepper and lemon juice to taste.
Store covered in refrigerator.
Also read:
Homemade peanut butter for kids
Avocado spread sandwich
When you want to use, apply the spread on bread slices.
Add your favorite filling like chicken or vegetables and eat as it is or grilled.
Avocado in milkshakes
Add ripe avocado with any other fruit like mango, banana or strawberry to thicken the milkshake. Avocado has  a neutral taste and goes well with almost anything.
Ingredients
1 ripe avocado
1 ripe mango
1 cup milk
sugar or honey(optional)
Recipe
Clean and scoop out the avocado flesh.
Clean and cut pieces of mango.
Add milk, fruits and sugar/honey in a blender and blend till smooth.
You may adjust the consistency by adding some more milk.
Serve chilled.
Hope you like these avocado recipes for babies, toddlers and kids. Do share if you have any more avocado recipes for babies and kids.
Please share it in your circle if these have been of help. Do leave a comment to ask a question or let us know your feedback.  You can follow us on Facebook, Twitter and Pinterest.