We have been an a home remedy sharing spree off-late and this besan ka halwa home remedy for cough and cold is no exception. This halwa or sheera is delicious enough to make a dessert and it works for curing cough and cold too.
This remedy is specially helpful when you have dryness in throat and are recovering from dry coough.
This is an age-old nuskha which I had learnt from a a friend's grandmother who hailed from Punjab. When she first advised me to have it, I was sceptical as in how can a halwa cure my dripping cold. But I heeded to her advise and it made me feel better like magic. One of my friends also told me recently, that this remedy is also very effective for babies. If a nursing mother eats this, breastfeeding baby will also get the benefits.
This home remedy is in addition to our exhaustive and very popular post on 30 home remedies for cough and cold in babies, toddlers and kids. We categorised home remedies age-wise to make it easier for parents to use them for their babies or children.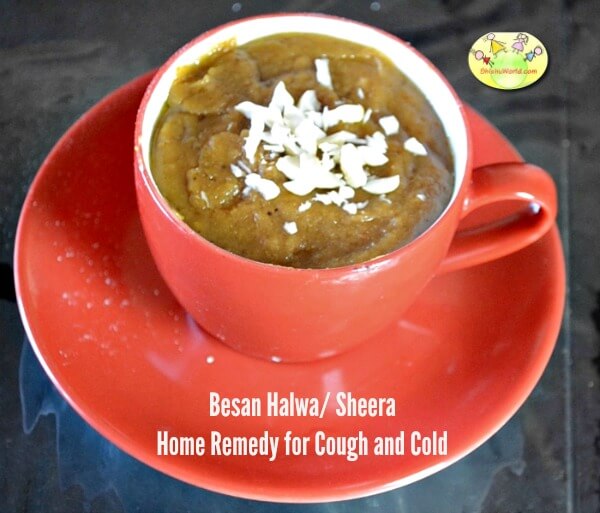 This is not only effective but also delicious, which makes it a double treat.
My friend's grandmother used to add sugar but I have changed it to organic jaggery as I try and eliminate white sugar from where ever possible.
Do not forget to visit 4 natural home remedies for soothing dry cough.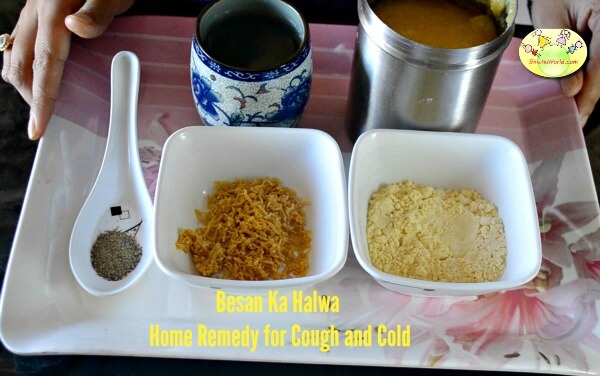 Besan Halwa/ Sheera , Home Remedy for Cough and Cold
Ingredients
3 tsp besan
One cup water
4 tsp desi ghee
1/4 tsp pepper powder
Organic powdered/ grated jaggery to taste
Recipe
Bring water to a boil and add jaggery, stirring till it dissolves. keep aside.
In an other pan add ghee add besan.
Roast till besan starts giving aroma and changes colour slightly.
Add jaggery syrup and mix continuously to avoid lumps from forming.
Add pepper and mix well.
This halwa or sheera needs to be slight thin in consistency.
You can give it hot or feed with a spoon, if your child has cough/ cold.
Tips:
This remedy works best this way, but you may add aromatics like cardamom powder and nuts too.
You may also sugar in place of jaggery. That works just as well.
I am making new videos every week for ShishuWorld's Youtube Channel, which is growing by leaps and bounds and now we have a channel for home remedies as well, other than the recipes for babies and toddlers.
]