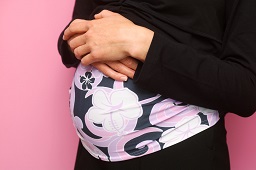 Pregnancy is the time when you should not look to lose weight and must maintain a healthy diet to gain adequate weight. But there are ways to create an appearance of looking slim and attractive.
Choose dark colors
It is a commonly known fashion trick that dark colors are slimming. Go for black, dark blue, brown colors on top. Dark tops will reduce the attention on your belly and give you an overall trimmer look.
Go for solids
Simple solid colors make one look slimmer. You can go for different shades of a single color to appear less bulky.
Choose vertical stripes
Vertical stripes create an illusion of length and make you look taller. This will take the focus away from your belly and make you look slim. On the other hand, horizontal stripes will make you look bulkier by adding thickness to your mid-section.
Shun bold prints
Bold prints on top will add bulk to your body. So avoid putting on large, bold prints on tops or shirts. If you want to go for prints, you may add them to bottoms.
Buy soft flowing fabrics
Choose soft flowing fabric which will fall loosely over your midsection. Too tight tops will attract attention to belly making you look fatter.
Accessorize to focus on pluses
Right accessories can also put the focus where you want. Do not wear a belt on your waist. You may add a belt below your bust where you still are in shape and let the dress fall naturally below. Wear a beautiful choker or necklace to draw attention to your glowing face. A pair of large earrings will also place focus on your face.