Food chart for babies 
Age-by-age month-wise guide to feeding babies/ Indian Baby food Chart
 This age-by-age month-wise Indian baby food chart will help you in deciding what to feed your baby at what age during the precarious first year. These are only rough guidelines to help you. Do not stress upon feeding your baby only what and how much is mentioned here. Every baby is different and if your baby wants to have something more or less, follow baby's lead.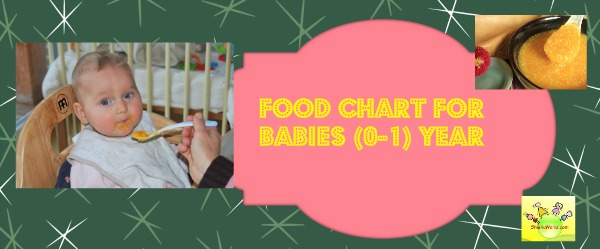 You can also have a look at our monthly meal plans on detailed directions for how to introduce solid foods to baby from 6 months to 2 years.
Month-wise meal plans/ diet charts for infants/ Baby food chart month by month
Read more on Nutrition For Toddlers and Sample diet plans for toddlers
If you feel that your baby/ toddler is not gaining enough weight. See our tips on diet for underweight baby/ toddlers
If you have any doubts regarding your baby's diet or health, always discuss it with baby's doctor. Let us have a look at how and what to feed you infant.
First 4 months/ 
5 month old baby food
 chart
What to feed:
How much : Depends on baby :
Every 2-3 hours during the day and every 3-4 hours during night.
What Not to Feed : Anything other than breastmilk or formula
Resist the temptation or pressure created by advice from people around you. You will receive many well-meaning advices regarding starting dal pani or fruit juices or even water. But, do not give in and do not start solids till baby is close to 6 months and then start solids only with the doctor's recommendation.
If at all you have to start solids before 6 months, ensure that your baby is atleast close to 6 months old and start with simple one ingredient food items like rice cereal and dal ka pani.
Read more on what foods to avoid during first year
 P.S. Breast milk is digested much better and far more quickly than formula. Hence, it can be seen that breast fed babies feed more frequently than formula fed babies.