Ask Ma is the section which addresses your queries as probably your mother would do. Here we look at traditional Indian solutions to our problems, which we are gradually missing and forgetting, what with staying far away from elders and not able to get advice when needed. Please note that none of these home remedies or advises should replace doctor's recommendations.
Hi Ma, I buy whole milk for my son and am able to save a lot of malai overtime. I remember my mother used to make ghee out of malai when we were young. Can you tell me how I can make Ghee at home as my mother used to?
Regds, Soniya
Ans. Hi Soniya, It is great to know that you want to make ghee at home.
It is very easy to do and not only will you save tons of money on buying ghee from market but you will be sure you are giving your children pure ghee and not some adulterated stuff bought from market.
Please follow below directions to make Ghee :  
1)      Keep accumulating malai (milk cream) over a period of 15 days or so, till you have a bowl full or so. For getting malai, boil milk, let it cool. You will see a layer of cream or malai gathering over milk. Remove it and store in a covered steel or glass container but not plastic. Keep it in freezer or fridge.
2)      Once you have enough malai, take it out and thaw if frozen.
3)      Take a karahi (Indian wok) or pan, big enough to hold double the amount of malai that you have. This will ensure it does not spill over while cooking.    4)      Put the pan on high flame, till you see oil getting separated. Turn the flame to medium and keep stirring till all ghee comes on top.
5)      You will see milk solids at the bottom. Keep stirring so that it does not burn. Take it off flame once the solids start getting brown.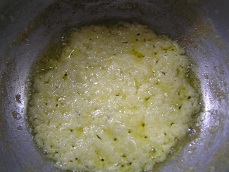 6)      Liquid in top is ghee. Use a fine strainer or a clean muslin cloth to strain the ghee and store in a clean air-tight container.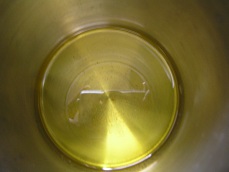 7)      You can use this for any kind of cooking, tempering dals , making sweets or just apply over a hot chapatti and give it your son.