Toddler nutrition guide
Healthy diet for toddler
How much should my baby eat?
Easy Toddler Meals
Nutritional needs for toddlers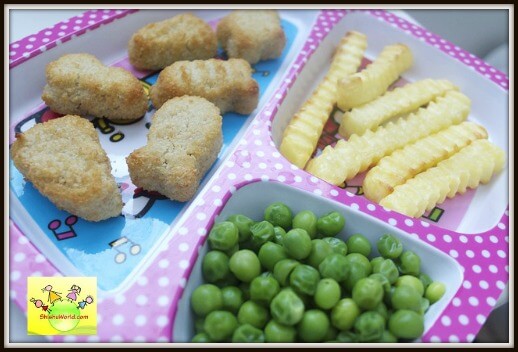 Toddler nutrition guide – Toddlers nutrition needs are very different from infants. It is important that they eat a wide variety of food items, but it is up to the baby to eat how much to eat and when to eat. But you can gently encourage your toddler towards healthier eating habits.
These nutrition guidelines will help you plan and make your toddler's meals more balanced and nutritious.
Click here for recipes for babies 
Toddlers do not grow at the same rate as babies, hence their energy needs are less. So try and convince yourself that even though your baby is older and more active now, but she does not need to eat as much or as many times as during the first year.
The food chart given here is only for guidance and should be taken lightly when planning your toddler's diet. Toddlers between 1-3 years old need around 1000 to 1400 calories in 24 hours. But do not fret over how many calories your kid is getting, you cannot force and forcing can only make a problem worse.
Keep in mind that the best you can do is to serve a balanced meal with a wide variety of food items and let the baby decide what and how much to eat.
Grains
Most toddlers get enough calories from what they eat throughout the day. As long as they are growing and healthy and active, there is no need to worry. Carbohydrates and fats are both good sources of calories or energy. However, it is important to keep in mind that major part of those calories must come from healthy carbohydrates. Grains are the best source of carbohydrates and you should aim to serve some variety of healthy grain in every meal. Wholewheat, rice, corn, oats, ragi etc are all good. Try to avoid refined items like maida( white flour). You can easily use wholewheat flour(atta) in its place.
It is quite easy to meet these needs in toddlers. Most kids love bread, noodles or pasta. You can give chapatti in various forms, roti, parantha etc. Serve rice as pulao, khichdi etc. Ragi can be mixed and given in your regular recipes.
Cornmeal dhokla(Makki ka dhokla)
Protein
Most toddlers can meet their daily protein needs by having two glasses of milk every day. If your kid does not like milk or does not have a lot of it. Add products like curd, cheese, paneer etc to her diet. Introduce your kid to a wide variety of protein rich food.
If you have non-vegetarian food, egg, fish and lean chicken are excellent sources of protein. Serve egg in different forms, boiled, scrambled or omelette.
For vegetarians, dals or pulses can provide for most of the daily needs. Rotate various legumes in your toddler's menu. You can give cooked chickpeas or kidney beans as finger food to your toddler.
Soya bean is the best source of plant protein and is available in many forms now. You can give soy-milk in milk shakes, or add tofu to baby's pasta. Make curry out of soy nuggets.
Nuts are also good source of protein and healthy fats. Add crushed/powdered nuts in baby's halwa or upma. You can also serve nut butters in sandwiches.
24 protein rich recipes for kids
Vegetables
Vegetables should form a substantial portion of your toddler's daily diet. It can be cooked and raw. Vegetables are not only good sources of vitamins and minerals but also provide much needed roughage which helps keep constipation at bay.
Vegetables should include green, leafy and yellow vegetables. Carrots, leafy vegetables like spinach, cauliflower, peas, gourds, pumpkins, beans, tomatoes, peppers are commonly found and should be used in regular cooking. Serve fresh, seasonal vegetables and rotate the menu to avoid boredom.
10 tips to encourage children to eat more vegetables
Fruits
Most kids like fruits and they are good for them. Fruits provide lots of essential vitamins and minerals and fiber. Serve lots of seasonal fruits. You can serve them as shakes, smoothies, salads for variation. Half a cup of cut fruit is enough to round up your toddler's daily nutrition needs. More will definitely not harm. Citrus fruits like oranges, sweetlime, lime etc are rich in Vit. C while yellow fruits like mangoes and papayas are rich sources of Vit. A.
Banana Strawberry Orange Smoothie
Milk
Milk is essential for young children for the calcium that it provides. However, if you child does not like having milk or has very little, you can offer milk products like curd, cheese, icecreams, puddings etc. Read more on how to replace milk in your toddler's diet.
Spice Buttermilk (Masala Chaas)
Fluids
Fluids are essential for proper functioning of human body and kids are no different. They however do not know what is good for them and may not like having water. About a litre of fluids throughout the day is enough for your baby and remember this comes from everywhere. Milk is 90% water, so that counts. Soups, juice, fruits all contribute. It is however a good idea to get your child used to drinking water at regular intervals. No need to measure and count each glass or cup, just keep an eye on number of time she is urinating. 5-6 times of clear urine is usually an indicator that the child is getting enough to drink. Also, if you see that urine is darkish or scant, it means child is not getting enough fluids.
Are you going crazy planning your kid's school snacks and meals? You feel your kids do not want to eat whatever you make and from where can you get new ideas everyday. Worry not!! Try our "Back to school snacks and lunch menu( 4 weeks) and recipes". We have planned snacks and lunch menu for 1 whole month. The menu plan has recipes and bonus gifts too!!