4 Homemade Cerelac recipes for babies/ Cerelac substitutes
Most of you know that my daughter is four years old now and she has in a way raised both me and ShishuWorld. Yes, we have grown with her! Anyway, so when she was a baby, I resorted to almost 95% homemade food and rarely did I give her cerelac or similar packaged baby foods. They used to be there just for emergency, but still I had them.  
Some time back, a friend who has a 10 months old son asked for my help as she did not want to use packaged cerelac, NAN or similar baby foods available in market. She is a working lady and has recently joined back. Her baby has started going to a daycare and she gives her foods like khichdi, suji halwa etc. from ShishuWorld's Recipe Corner. But she wanted some instant food like cerelac etc. which she can give him in an emergency or when she is travelling. At the same time, she did not want to use the pre-packaged ones as they are full of sugar.
Happy to say that we prepared some homemade cerelac recipes from scratch based on our experience and research and she is able to use them for her baby!
Homemade Cerelac substitutes for baby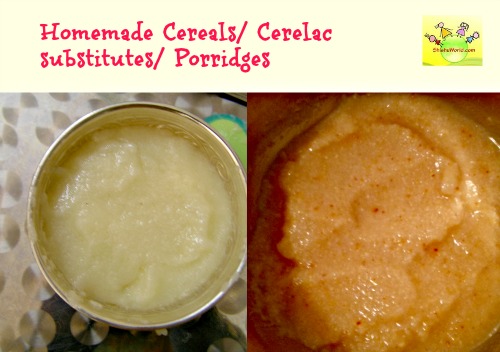 Here I am sharing the ones that can be given to babies around 6-7 months.
We did not add any salt or sugar in any form to these.
There are no complex mixtures only 1 or two ingredients in these powders.
It is best to make these in small batches and keep them in air-tight containers to keep them fresh.
Homemade Rice cereal/ Homemade Cerelac Rice – Stage 1
This was a no-brainer. Rice is one of the safest foods to be introduced first up and she too gives well-cooked rice to her baby. To make instant porridge mix, we followed the below steps.
Ingredients
250 grams rice- we used par-boiled rice, which is easier to digest
How to
Wash the rice well and let it dry well in sun. She has a big terrace where we could do this, else you could dry in air for some time and then dry roast in a heavy bottomed kadai.
Now take a heavy bottomed pan or kadai and roast the rice till they get nicely crispy. You must keep stirring constantly. This should take a few minutes.
Now allow it to cool down.
Take small quantities in the spice jar of your mixer and grind them into a fine powder.
Store in air-tight jars.
When you want to use this homemade cerelac/ porridge, just take a couple of spoons in a bowl and add boiling hot water. Leave it covered for about 5 minutes and TADA!!, your baby's food is ready.
P.S. This can also be taken during travel to make quick and homemade food for your little one, even toddlers.
You could add some roasted cumin seeds or a little organic jaggery if your baby does not take it as is. But it is best not to give sugar in any form so that baby learns to appreciate food in it's natural form.
You may add some mashed banana or applesauce or baby's formula or milk to this too
P.P.S  You may also use this to make an instant kheer or phirni for your older kids. Add this to boiling milk, cook for few  minutes and add sugar and dry fruits.
Homemade Cerelac Beaten rice/ Rice flakes Cerelac
This homemade cerelac is very easy. Poha/ beaten rice or rice flakes is one of the easiest things to prepare and has been used in various parts of India as an instant breakfast for ages, much before the cornflakes and other cereals invaded us.
Beaten rice is of two varieties. The thin one can be cleaned, washed in running water, soaked in milk or curd for few minutes and can be given to baby or older kids too.
We used thick poha for this instant porridge powder.
Ingredient
Thick rice flakes/ beaten rice/poha/chivda/avlakki (quantity as you require)
How to
Pick and clean the thick poha.
Dry roast it and cool.
Grind in the mixer and store in an air-tight jar.
When you need it, just take the required amount and add hot water and let it stand for a couple of minutes.
You could add mashed fruits, baby's milk or curd to this too.
Dal Rice Homemade Cerelac/ Homemade Dal Rice gruel/ Instant khichdi -Stage 1
This is a quick and instant basic khichdi mix and a great homemade baby cerelac substitute. Great when you are travelling too. Use this once baby has been introduced to both moong dal and rice.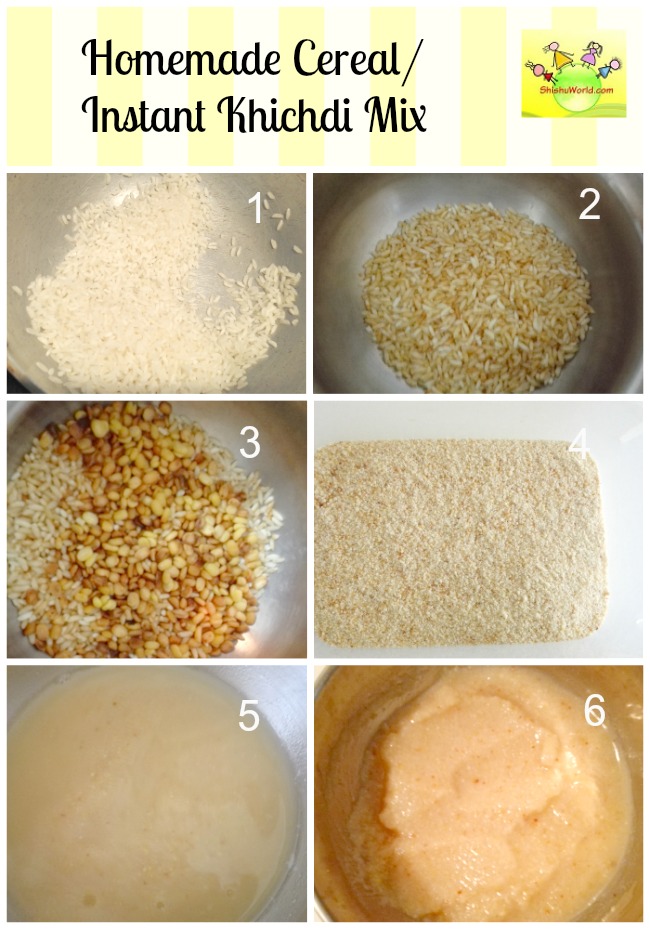 Ingredients
1 cup rice
1 cup moong dal(washed green gram)
Recipe
Wash rice and moong dal separately.
Once they have dried a bit, roast them separately in a heavy-bottomed pan.
Once cool, mix them and grind together in a mixer to a fine powder.
When you want to use this, take couple of spoons in a bowl and pour boiling hot water. Cover for 5 minutes and khichdi is ready.
You can make it tastier by adding some roasted cumin and asafoetida to the mixes.
You can also add some vegetable or fruit puree to this mix.
You may also top this homemade baby cerelac with a little homemade ghee to prepare the instant gourmet meal for your baby.
Instant Semolina Homemade Cerelac for baby
Instant Semolina/ suji/ rawa/ Cream of wheat cereal
Just dry roast fine suji/rawa and keep stored in an air-tight jar.
When needed add hot water/milk and any fruit mashes that you want and your instant halwa/ porridge is ready.
Tips:
Make these powders in small batches and keep them in air-tight containers. You could also keep the containers in fridge and they will easily stay good for a 3-4 weeks.
Use these as a fallback option and give regular, fresh food to babies on a daily basis. Do not depend on purees for too long. You may see our Recipe corner for loads of recipes for 6-9 months old babies
Avoid adding sugar in any form to baby's food. You can sweeten your baby's food using fruit mashes if you like.
Avoid adding nuts, cow's milk and honey to any of these.
You may add a little ghee once your baby has been started on it to any these porridges/cereals.
Hope these will help in planning baby's food and making it healthier. If you like it, please share it in your circle. Please leave a comment to ask a question or let us know your feedback.  You can follow us on Facebook, twitter and pinterest.
Related:
Sprouted baby cerelac/ Sprouted Sathu Mavu
Feeding babies and toddler when traveling
Foods to avoid during first year
3 ways to make Ragi/Nachni porridge