Homemade Sprouted Cerelac/ Sprouted Sathu Mavu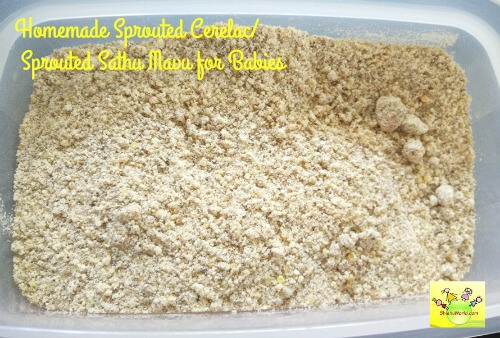 Homemade Sprouted Cerelac/ Sprouted Sathu Mavu – Instant Homemade cerelac substitutes are among the most searched for posts on our website after the food charts for babies, of course.
Last time, I shared with you all how we made 4 varieties of cereal substitutes for babies at home in a very easy way. Our instant khichdi cereal is very popular too.
I was often asked to update the traditional sathu mavu or homemade sprouted cerelac which is traditionally given to babies in South India and is wholesome food in itself. It is a wholesome health mix which is prepared from many cereals, millets, pulses and nuts.
But since I had not prepared it myself, neither was I able to get in touch with someone who had made it, I could not post it.
Recently, I was fortunate to get in touch with Kaajal Mehta, a super-mum who shared her sprouted cereal recipe and was kind enough to let us share it with you all. She told us that she took inspiration from a number of sources and tweaked them to arrive at this recipe for her baby. Her baby loves his mix and you can't ask for a healthier and more nutritious cereal for your baby.
Homemade Sprouted Cerelac/ Sprouted Sathu Mavu
Ingredients
Brown Rice–100gm
Wheat–100gm
Ragi–100gm
Jowar–100gm
Green gram–100gm
Black gram–100gm
Corn–100gm
Groundnuts–100gm
Roasted gram-100gm
Chickpeas–100gm
Ajwain–10gm
Dry Ginger–10gm
Elaichi–15 gm
Cashew–100gm
Badam–100gm
Recipe
Soak Wheat, Ragi, Chickpeas, Corn, Jowar, Green Gram in water overnight or for approx 8 hours.
Next day tie them in a cloth separately and let it sprout for about 8 hours.
Once sprouted keep them under sunlight for a day.
Then mix them all and roast it on low flame in a non stick tawa.
Let it cool down and powder it nicely in a grinder.
Roast black gram, brown rice, Ajwain, dried ginger, groundnuts, roasted gram.
Powder it and mix it with the above mixture.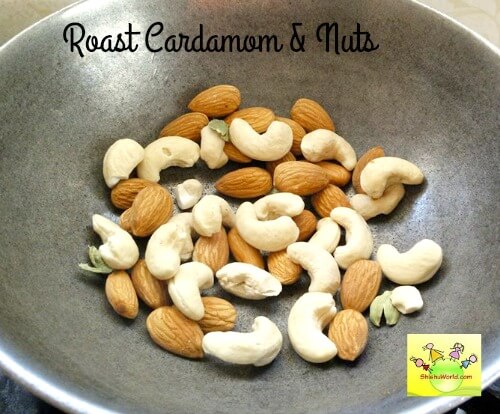 Roast badam, cashews and elaichi separately, powder it and mix it.
Store it in a air tight container and keep it in fridge. This powder can be stored for up to 3 months.
When to start this baby cereal for babies?
You may start this powder for babies after 9-10 months, if your baby has been started on nuts. Start with just a spoonful on the first day and stay alert for any reactions. Follow the 3-day rule here. This powder is good for older kids too and can be added talons, halwa etc.  
How to cook this powder to make porridge for baby?
Take 1 cup water in a pan and add 2 tablespoons of this powder. Mix well to ensure there are no lumps. Now bring this mixture to a boil and cook while stirring for 8-10 minutes.
Recommended Reading:
Hope this food chart will help you in planning your baby's food. If you like it, do share it in your circle. Do leave a comment to ask a question or let us know your feedback.  You can follow us on
Youtube
,
Facebook
,
twitter 
and
pinterest
.