How to lose weight after delivery? – Once your baby is in your arms, you will have a lot to worry about, feeding your baby, putting her to sleep, vaccinations and so on. Along with these you also want to lose the kilos that you have piled up during pregnancy. 
Although it may be tempting and frustrating when you see or hear about celebrities or other women being back to their pre-pregnancy weight only days after the delivery, you must remember that it is a gradual process and losing pregnancy weight healthily should be the way to go.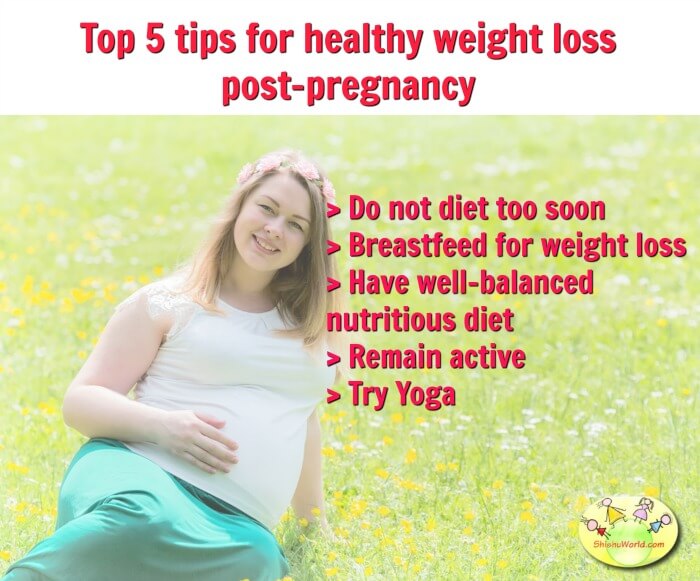 #1. Do not diet too soon
If you have been binging on chocolates and laddus during pregnancy, you should cut down on those but do not start any crash diets soon after delivery. Let your body acclimatise to being a mother with additional responsibilities and aim for losing weight in a gradual and healthy way. 
Have a healthy and balanced diet.
Include more protein in your diet.
Eat 5-6 small meals a day.
Drink more water through the day.
Have a heavy breakfast, medium lunch and a light dinner.
Have dinner at least 2 hours before sleeping.
#2. Breastfeeding to Lose Weight after Pregnancy
It is common knowledge that breastfeeding is the best start you can give to your baby, but did you know that it has great advantages for you too. One of them being loss of more calories and thus aiding in losing weight.
If you can, exclusively breastfeed your baby as long as possible.
If for any reason, you are not able to breastfeed, try and pump the breastmilk for your baby's health and yours.
Top 5 tips to Lose Weight after Pregnancy
#3. Have well-balanced, nutritious diet
Instead of skipping meals to lose weight, you must look at eating small meals at regular intervals.
Avoid fried food but have plenty of fresh fruits and vegetables.
Have whole wheat bread and try to include multiple grains in your diet instead of refined food.
Stay away from carbonated drinks and have lots of water to keep you hydrated.
You can have healthy fruit juices or coconut water too.
Find replacements for your cravings.
If you feel like having ice-creams, stock up on yogurts instead.
Have freshly squeezed vegetable juice in place of soft drinks.
#4. Remain Active to Lose Weight after Pregnancy
Try to go back to your normal routine as soon as possible after your delivery. This does not mean leaving your baby aside and getting back into the rat race, but resist the temptation of staying in bed all the time when you have others pampering you.
Avoid the temptation to be in bed most of the day unless advised by doctor. Your well-wishers may advise you to rest and take care of baby but being active is as important for you as for your baby.
Do your regular chores at home, but do not tire yourself.
Take easy walks with baby in the stroller.
Not able to go out. Play music and dance with your baby. 🙂
You may do simple stretching exercises at home.
Exercise to lose weight after pregnancy
There is no need to hit the gym yet, but go for walks with baby.
As mentioned above,you could push the stroller and walk around the block.
A light jog could also do you good.
Cycling and swimming are also great to keep your body active and losing those extra kilos post-delivery.
#5. Try Yoga and Postnatal exercise to Lose Weight after Pregnancy
If you can, join a postnatal exercise or yoga class. It will help you in the long run also and meeting other new mums can also help keep postnatal depression away. You can start yoga 6 months after delivery.
Here are 5 Yoga poses that you can do to shed those pounds after delivery.
Cobra Pose / Bhujang asana
Cobra pose strengthens back muscles as well as arms and shoulders. It also helps with menstrual irregularities.
Camel Pose/ Ushtasana
Camel pose has many benefits. It reduces fat on thighs , opens up the hips, stretching deep hip flexors and shoulders.
Leg raises
Raise your legs to 30 degrees, 45 degrees and 60 degrees. Hold each pose  for 5 seconds. Leg raises are great for strengthening abdominal muscles.
Boat Pose/ Naukasana
Boat pose or naukasana has many benefits.
Tones and strengthens your abdominal muscles.
Improves balance and digestion.
Stretches your hamstrings.
Strengthens your spine and hip flexors.
Child pose/ Bala asana
This is a great pose to relax and is good when are just starting your yoga journey. You can do this pose after your workout before shavasana.
Hope these tips will help you in losing post-pregnancy weight in a healthy way. Remember that what is healthy for everyone is healthy for you too. You should target to have well-rounded, healthy lifestyle rather than just aiming to lose weight drastically like your favourite celebrity.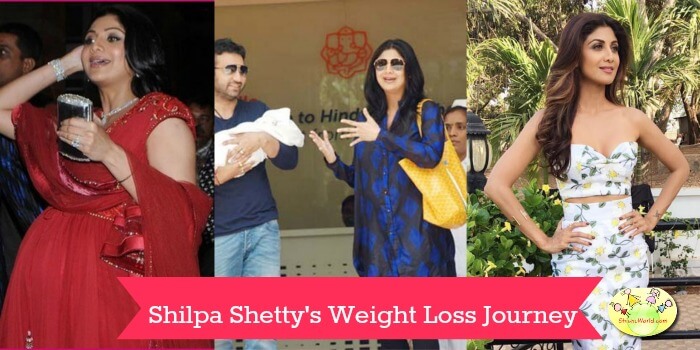 Lose pregnancy weight like Shilpa Shetty, Karisma Kapoor, Malaika Arora Khan
References:





ThefitIndian.com




cnyhealingarts.com