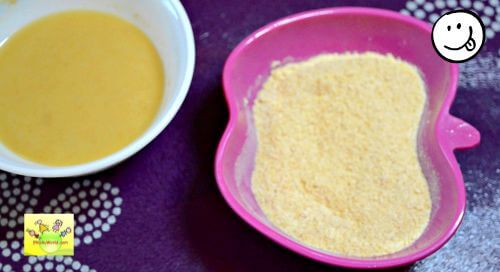 Feeding homemade food to babies is common in India but packaged food and purees have made forays into our homes. At a time, when most western nations are recognising the benefits of eating homemade which is fresh as well as natural, we are getting allured by the ease of pre-packaged cereal and baby food.
You might remember that we did a post on homemade cereal mixes for babies, which was greatly appreciated. Today I am going to share an easy dal and rice cereal which you can use in place of the store-bought cereals.
Homemade cereals are way better than store-bought. They have no preservatives, no additives and you know exactly what your baby is eating. Most store-bought cereals are full of sugar to make them palatable for babies.
Salt and sugar should not be given to babies, as their digestive system  Here, we are not adding any salt or sugar in any form.
When can I introduce salt in my baby's diet
We have made a video to explain this recipe better!! You may subscribe to our channel for new recipes for babies and kids every week!
More video recipes for babies/ Weaning recipes
Ingredients
1/2 cup rice
1/2 cup moong dal(washed green gram)
1 tsp cumin seeds
Recipe
Wash rice and moong dal separately. Wash them at least 5-6 times in running water or till the water runs clear. Drain and keep aside.
Heat a pan and add rice and dal one by one and spread them so that any remaining water from washing gets evaporated.
Once they have dried a bit, cook them on medium heat till nicely roasted while stirring continuously. The roasting will take 5-10 minutes.
Add cumin to the same pan and roast cumin seeds also.
Take off the heat and allow the mixture to cool.
Once cool, grind together in a mixer to a fine powder.
Pass this powder through a tea-strainer or muslin cloth to get a very fine cereal. If you see big pieces of grains, you may grind the remaining powder again to a finer consistency.
Keep in a dry, air-tight container.
How to make this cereal
You can use this cereal at home to make a quick meal or also when you are travelling and do not have access to a stove.
Cooking on a stove top
Take 2 teaspoons of the cereal in a small pan and add half a cup of water.
Mix to make a smooth mixture and out on heat.
Now cook on medium heat for 4-5 minutes while stirring continuously and it is done.
You may add some more boiled water or BM or formula to thin it if needed.
To make it even more wholesome, you may add a spoonful of fruit or vegetable puree to it.
You may also add some homemade ghee to this.
Preparing instant khichdi cereal while travelling without stove
If you are taking this cereal for travel, ensure that you sieve the powder well so that it is very fine.
You must use very hot water to make this. Lukewarm water will not do.
Take couple of teaspoons of cereal in a container.
Add half a cup of boiling hot water and mix to make sure there are no lumps.
Now cover and keep aside for 10 minutes.
You may add a little ghee to this if you want.
Tips for making homemade dal rice cereal
Always use sterilised utensils for preparing and serving baby's food.
You can sterilise utensils by boiling them in water for 10 minutes and keeping them there till you use them.
Use boiled water for baby below 12 months.
Always look out for allergies and other reactions when introducing a new food. It is best to follow the 3-day rule when ever any new food is introduced.
Recommended :
20 weaning recipes for 6-9 months old babies
3 ways to make Ragi porridge for babies
Pumpkin and potato puree/ mash
Dal ka paani/ lentil soup for babies
Apple and Suji Kheer/ Porridge