Toddlers and young children are usually finicky about eating. They want to stick to only certain kinds of food and making sure that they eat healthy and get all nutrition from what they are eating can become a challenge. The answer lies in a little innovation and variety. in this section, we explore some healthy meal options for kids.
Sabji Parantha (Paratha stuffed with veggies)
Kids usually run away from vegetables, but they like stuffed paranthas like aloo parantha. This is a variation to feed your kid, veggies and parantha in one go. Serve it with some lentils or dal and you have a complete meal.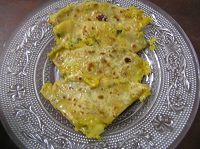 Ingredients
1 cup – Any cooked vegetable – pumpkin,potato, mixed vegetable, cauliflower,peas etc. will do. Ensure that the  veggie that you use is dry. There should not be any liquid in the stuffing.
1 cup Wholewheat flour (atta)
Water to knead
Oil / Ghee / Butter to fry 
Dry flour to help in rolling
Recipe
Knead the flour into soft dough by adding little water at a time.
Cover and keep aside for 30 minutes.
Take the prepared vegetable and mash it well with a potato masher or fork.
Make balls of required size from the dough.
Dive the stuffing into same number as balls of dough.
Use a rolling pin to roll a ball to a small chapatti using some dry flour.
Put one portion of stuffing in the centre of chapatti and cover it from all sides.
Make a ball again with your hands and some dry flour. Keep aside for 2 minutes. This step helps in rolling. You can prepare all portions and then start rolling again.
Roll parantha with the help of a rolling pin and dry flour, making sure that stiffing spreads evenly to all sides and parantha does not get torn.
Cook on a hot tawa or griddle. Let it cook on one side till some spots appear.
Turn and apply oil , ghee or butter.
Turn again and apply ghee.
Repeat for all paranthas.