Continued from: Masala Oats, Multigrain dosa/ Addai
Kid-Friendly Chilli Idli
I love idlis. I think they are awesome for kids, but how much can they eat the same stuff over and over again. We have earlier given recipes to reinvent regular idlis – colourful idlis and Idli sandwich dessrt. This one here is a kid friendly version of chilli idli. This one here is non-fried, non-spicy, no MSG and loaded with veggies.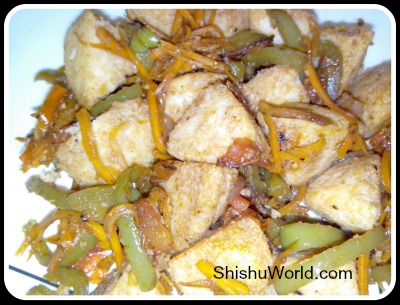 Ingredients
8 Prepared Idlis
1 large carrot – julienned
1 capsicum – julienned
Red and Yellow bell peppers – julienned ( Optional, to add color)
1 large onion- sliced
1 tsp chopped garlic
1 tsp ch
1 large tomato – chopped
1 tsp – Light Soy Sauce
1 tsp – Chilli sauce
2 tbsp – Tomato sauce
1 tbsp – Vegetable oil
Salt and pepper to taste
Recipe
Cut Idlis into quarters and keep them aside.
Heat oil in a wok.
Add garlic and ginger and let it brown.
Add onions and sauté them for couple of minutes.
Add tomatoes and sauté for a few seconds till tomatoes are a little soft.
Now add the peppers and carrots and sauté on high heat.
Add salt and pepper.
Add soy sauce, chilli sauce and tomato sauce.
Mix well and add idli pieces.
Toss everything well and adjust sauces and seasoning as per your child's taste.
Vegetable tahri / tehri for Toddlers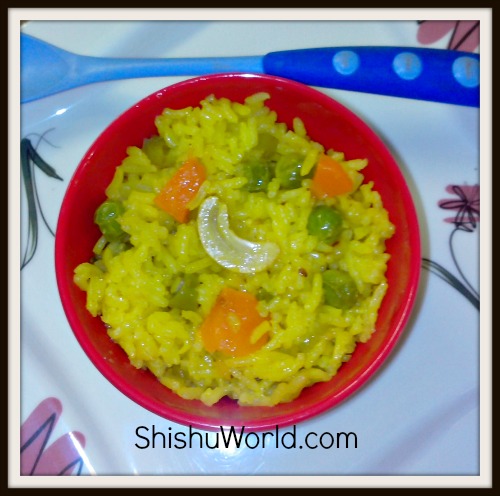 Vegetable tehri or tahri is a delicious and nutritious recipe which can be loaded with veggies and is a complete meal with a side of yogurt. Tehri come from Uttar Pradesh region of India and is a rustic dish though it can be made very wholesome. It is similar to pulao but not as rich as a pulao.
This vegetable tehri recipe has been sent to us by Richa Chhabra, a mum to an active 2 years old boy and a regular reader of ShishuWorld. Richa, thank you so much for sharing your son's favorite dish with us.
Ingredients
1 cup basmati rice
1 cup chopped mixed vegetables (peas, beans, carrots, cauliflower florets, peppers)
2 medium potatoes quartered
1 medium onion sliced
1 tsp ginger paste
1 garlic paste
1 cardamom
1 bayroleaf
2 cloves
1 stick cinnamon 
½ tsp cumin seeds
½ tsp turmeric powder
1 tsp ground cumin
2 tbsp ghee
2 tbsp chopped coriander
Water
Recipe
Wash the rice and soak it for 30-60 minutes.
Heat ghee in a heavy-bottomed pan.
Add cinnamon, bay leaf, cloves, cardamom and cumin seeds.
Add onions., ginger and garlic. Saute for a 2-3 minutes.
Now add turmeric and sprinkle a little and cook for 5 minutes till onions are soft.
Add potatoes and other vegetables and mix well.
Add 2 cups water , bring to a boil and let it cook for 10-15 minutes covered on low heat.
Add soaked rice and coat well with spices and vegetables, taking care that rice does not break.
Add enough water to cook the rice and cook covered on low heat till rice is cooked.
Garnish with coriander leaves and serve with curd or raita.