Continued from: Maggi Masala Rice
Vegetable Pasta
Here is another enticing recipe to encourage your kids to eat lots of vegetables with pasta. This is also a complete dish as it has pasta providing carbohydrates,  vegetables providing minerals and vitamins and cheese is full of protein.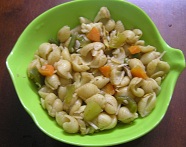 Ingredients
1 cup Pasta – any shape
1 cup – Chopped fresh vegetables (green beans, capsicum( red, green, yellow), peas, cauliflower, broccoli, carrots, corn, cabbage, mushrooms). You can add as many or few veggies as your kid likes.
1 sliced onion
½ tsp chopped garlic
1 chopped tomato
1 tbsp – oil or butter
¼ cup Tomato ketchup
Salt and pepper
1 tsp Pasta seasoning ( dried herbs)
¼ cup grated cheese
1 tsp oil
Water as per need
Recipe
Heat water in a large pan with some salt and one teaspoon of oil . Bring it to boil.
Add pasta to it and cook it as per instructions on the pack.
Strain pasta and keep aside.
In a large pan or kadhai, heat oil or butter.
Add garlic to it. Sauté for a few seconds. Do not let it brown.
Add onions and sauté till transparent.
Add tomatoes and cook till soft.
Add vegetables adding harder ones like carrots a little before softer ones. If using mushrooms, add them in the end.
Sauté for some time. Add salt and pepper to taste.
Add tomato ketchup and mix well. You can add a little water if needed.
Once veggies are slightly cooked, add pasta and mix well. Keep the veggies little crunchy.
Add pasta seasoning to your taste and mix well.
Finally sprinkle grated cheese over ready pasta.
Vegetable Pizza
This pizza is a wholesome but enticing meal for toddlers which will ensure more than one helpings.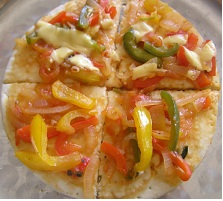 Ingredients
1 Wholewheat Pizza base
3 large tomatoes – chopped
1 large tomato – sliced in roundels
1 large onion – sliced
1 cup Capsicums (red, green, yellow) – sliced
8-10 Mushrooms – sliced
½ cup Cheese grated
Salt and pepper to taste
1 tbsp sugar
Oregano and mixed herbs (optional)
1 tbsp olive oil
Recipe
For Pizza Sauce
Heat olive oil in a frying pan.
Add sliced onions and sauté for a bit.
Add chopped tomatoes and sauté till soft.
Add salt and pepper to taste. You may also add mixed herbs if you child likes it.
Mix well and add sugar.
Add ½ cup water to adjust consistency and let it simmer for 10 minutes.
Assembling the pizza
Take the pizza base and spread the prepared sauce over it.
Now add sliced capsicum and mushrooms over it.
Finally sprinkle grated cheese over it.
Sprinkle mixed herbs if your child likes it.
Bake it in hot oven for 4-5 minutes or till the cheese melts.