Continued from: Vegetable Pasta, Vegetable Pizza
Colorful Idlis
Idlis are very healthy and are perfect food for kids, but they might easily get bored of the same white ones each time. Here we make them more enticing and yet they remain equally healthy and tasty.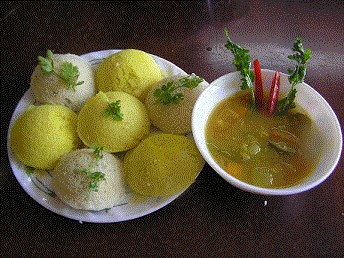 Ingredients
Idli batter – 2 cups
Turmeric powder – ¼ tsp
Coriander and spinach – 1 bunch – ground into a fine paste
Oil to grease
Recipe
Divide the batter  into 2 halves. Add turmeric powder to one and coriander and spinach paste to another.
Take a idli mould and grease it with oil.
Pour idli batter into moulds and steam them for 10-12 minutes.
You can also microwave idlis for 20-3 mins.
Serve idlis with smabhar.
P.S. You could also add beetroot juice to get pink color or any other natural agent to make enticing and nutritious idlis for your child.
Fenugreek leaves(Methi) Parantha
Fenugreek leaves are very good for health as they are rich in vitamins and antioxidants. They are also known to be beneficial for diabetics. But they are not very popular among kids due to their slightly bitter taste. These paranthas combine the goodness of fenugreek with yummy taste
Ingredients
Wheat flour – 2 cups  + for dusting
Fenugreek leaves – 1 cup – cleaned and washed thoroughly under running water)
Turmeric powder – 1/4 tsp
Red chilli powder – 1/2 tsp(optional )
Cumin powder – 1 tsp
Curd – 2 tbsp
Salt to taste
Oil -1 tbsp
Water to knead dough
Oil for making parathas
Recipe
Chop fenugreek leaves roughly.
Mix flour, fenugreek leaves, turmeric powder, cumin powder, curd, 1tbsp oil and salt in a large bowl. Add chilli powder if your child likes it else omit it.
Mix a soft dough by adding water little at a time. Cover and keep aside for half to one hour.
Divide the dough into small Ping-Pong shaped balls.
Roll parantha using a rolling pin using dry flour for dusting. Don't make parantha too thick or too thin.
Heat a griddle or tawa. Put the rolled parantha onto griddle.
When small bubble start appearing, flip the parantha and apply oil using a spoon.
Let cook for a few seconds and turn again. Apply oil on the other side too and cook while pressing with a spatula.
Take off the griddle and make more in a similar way.
Serve hot with curd or raita.