Which pulses can you introduce at which age?
Dals or pulses are a staple in every Indian home. Dal water and dal rice khichdi are the first foods that we offer to babies as they start solid foods. We often start with simple dals like moong dal and masoor dal and then graduate to other dals.
Which dal to give at what stage?
Parents are often confused about when they can give different dals to babies, whether it is safe to give certain dals at a certain age or not. Dals are often associated with gas problems, so we need to be a bit careful.
You can introduce different pulses at different stages.
Moong dal dhuli / Skinned Green ram – 6 months +
Masoor dal dhuli / Skinned Red lentils – 6 months +
Toor dal/ Arhar dal / Pigeon peas lentils – 8 months+
Urad dal dhuli / skinned black lentils – 8 months
Moong dal with skin – 8 months+ (in small quantities)
Chana dal – After 10 months
Bhuna chana as part of cereal – 8 months+
Please remember that these are general guidelines and you are free to delay the introduction of a certain item if you are not sure or if you have a history of allergies. Also, whenever you introduce something new, always follow the 3-day wait rule.
Today we are sharing a popular baby food from South India. It is called Ulundhu kanji or Urad dal porridge for babies. This is another homemade cereal which can be prepared ahead and then can prepared in a few minutes whenever you want to give it to your baby.
Homemade cerelac/ cereal recipes
15 homemade cereal recipes for babies
This cereal or porridge is also given to teenage girls and lactating mothers. That of course has many more ingredients but since we are making it for babies we will keep it simple.
Ulundhu kanji /Urad dal porridge for babies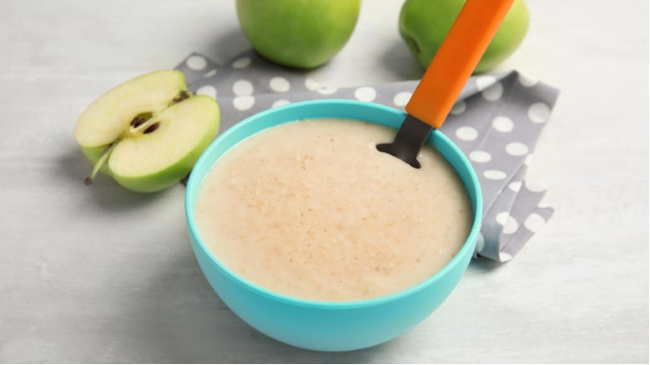 Ingredients for Urad dal porridge powder
1 cup Urad dal skinned
1 cardamom
4-5 almonds
Recipe Urad dal porridge powder
Clean and wash the urad dal. Strain out all the water
Spread it on a kitchen towel and dry under a fan or in sun.
Dry roast this dal till it looses all moisture and rawness and becomes slightly brown. Do this on a low to medium flame.
Take it out in a plate. Allow the dal to cool down completely.
Dry roast almonds for a minute and allow them to cool completely.
Grind the dal along with almonds and cardamom to a fine powder.
Sieve the powder through a strainer to remove any big pieces.
Store this powder in a dry and sir tight container
How to make Urad Dal Porridge for Baby
Take 1 cup of room temperature water in a bowl.
Add 1 tablespoon of ready urad dal porridge powder to this water.
Mix it well using a spoon or whisk.
Add this to a saucepan and start heating gently.
Cook on low to medium heat while stirring continuously.
Add little more water if it gets too thick.
The porridge will be ready in 8-10 minutes.
Notes:
You can also add a little jaggery syrup or date syrup to this porridge to make it a little sweet.
For older children you can also add milk and cook for a few minutes.