Vermicelli recipes for kids
Mango recipes for kids
Vermicelli or seviyan is a popular Indian dessert, which is made for special occasions specially Eid. There are also many varieties that can be made by using raw vermicelli like upma, kheer, dry sevaiyan etc.
Today we are sharing another version of vermicelli kheer with mango. This is a simple kheer recipe which elevates the plain vermicelli kheer to a special dessert which can be served at any occasion. Just make sure that the mangoes that you choose should be very sweet.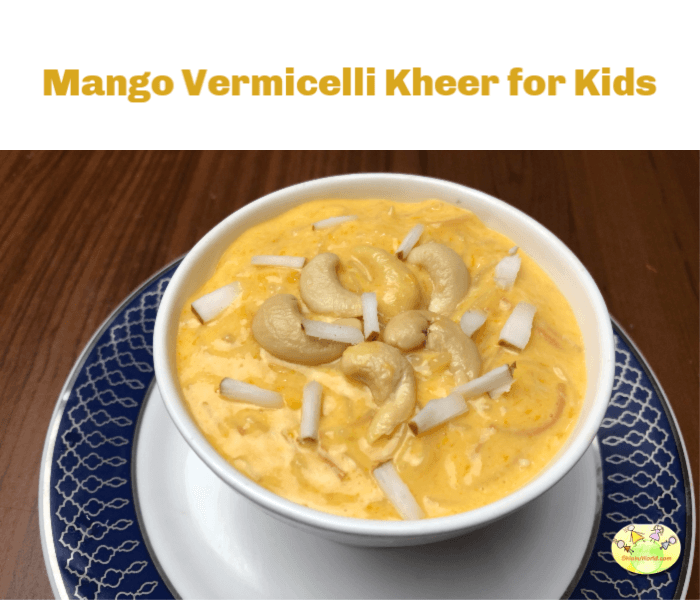 Ingredients
Raw vermicelli – 1 cup
Ghee – 2 table spoon
Milk – 1 litre
Sugar – 1 cup
Mango puree – 2 cup
Recipe
Take a heavy bottomed pan and add ghee to it.
Roast vermicelli in ghee till it turns golden brown. Remember to saute it continuously.
Add milk to roasted vermicelli and bring it boil.
Turn the heat to simmer and cook till milk reduces to almost half.
If you feel the need to add more liquid, you may add little more milk or water.
When the milk reduces to half, add sugar and mix well.
Let the kheer cook for a few more minutes so that sugar gets dissolved.
Take it off the heat.
Allow the kheer to cool down to room temperature. You may also cool it down in fridge.
When the kheer cool down, add mango puree and mix well.
Delicious mango sevai kheer is ready.
Tips for mango vermicelli kheer:
You can serve this kheer at room temperature or chilled.
You can also use the same way to make mango rice kheer.
There is no need to add cardamom/ cinnamon etc for added flavour. But you can add if you like.
We want mango to give the prominent flavour, so no other spice has been added.
Always add the sugar at the end when vermicelli/ rice is cooked and rice has reduced. If you add sugar earlier, it will take way longer to cook.
Make sure that the mango that you use is not at all sour, else the kheer may spilt.
You can watch this detailed recipe in this video.
Delicious Mango Vermicelli Kheer for Kids and Adults
https://www.youtube.com/watch?v=mxPmm2PxcAg