Fluids are essential for well-being of babies and toddlers alike. For newborns till 6 months, breast milk or formula provides all the fluids that baby needs.
 As solids are introduced, water and other fluids become very important. Fluids are essential to keep baby hydrated, they also keep constipation at bay.
As babies start developing taste for variety of food, their fluid intake sometime becomes less, which leads to constipation and other problems. Extra fluids are also required during summers.
Packaged juices and carbonated drinks are not good for kids. Here we list some healthy and delicious recipes of drinks, which will keep both you and the kids happy.
Juices
Freshly squeezed juices are always better than packaged juice which are full of extra sugar and additives. For young children always dilute the juices with equal amount of water. These can be prepared in a jiffy and do not require any complex machines.
Sweetlime (Mosambi) Juice
Sweetlime is very nutritious and full of Vitamin C. This sweetlime juice aids in digestion and also helps in case of constipation.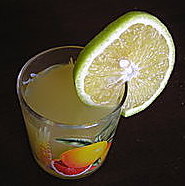 Ingredients
2 sweetlime
Water
Black salt
Recipe
Cut the sweetlime into halves.
Use a hand Citrus Juicer to squeeze the juice. If you do not have juicer, you could just squeeze using hand. It does not take too much effort to squeeze a ripe mosambi.
Strain the juice in a Glass.
Add 1 cup of water to it.
Add a pinch of black salt and stir well.
Serve chilled.
Watermelon Juice
Ingredients
2 cups watermelon pieces
Black Salt
Recipe
Blend the fruit pieces with a little black salt.
Strain the juice.
Serve chilled in a tall glass.
Lime Drink or Shikanji
This is a popular Indian drink made with lime juice and water. It is delicious and replenishes lost fluids during summer time. It is good for kids and adults alike.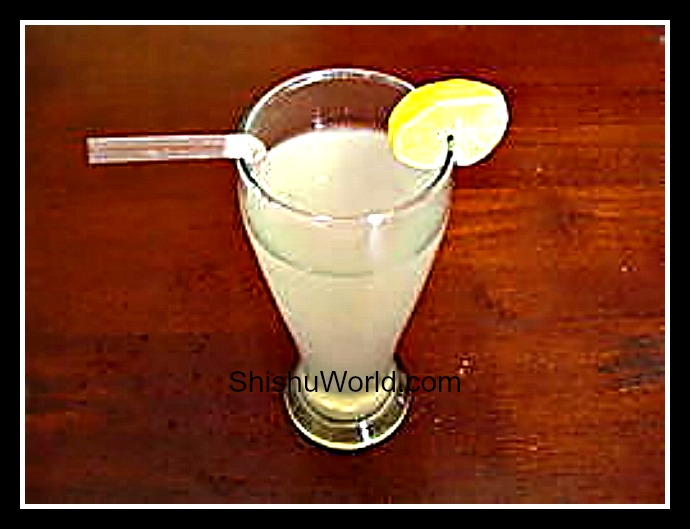 Ingredients
1 lime or lemon
1 glass of water
1 pinch salt
1 tablespoon honey
Recipe
Squeeze the lemon juice into the glass of water.
Add salt and honey.
Mix well.
Serve chilled.
Buttermilk or Chhach or Chase
 Buttemilk or Chaas or chaach is a traditional Indian drink. It is cooling for baby and aids in digestion and one glass of it can keep your kid cool during summer time.
 It is made in various ways here we list out a few.  Buttermilk is traditionally made by removing butter from Cream or Curd. It is churned using hand or blender, the butter (white butter) comes to top and thin liquid at the bottom is buttermilk.
 I use an easier way of making it. It is no-fuss and tastes equally delicious, if not more.
 Plain Buttermilk
Ingredients
1 cup plain curd or yogurt
 1 glass of water
 Black salt and pepper
 Recipe
 Put curd and water in a big vessel and blend well. You can change the consistency by adding more or less water.
Add salt and pepper to taste and blend well.
Serve chilled in a tall glass.
Masala Chaas (Spiced Buttermilk)
This is delicious and aids in digestion after a hearty Indian meal.
Ingredients
2 cup plain curd or yogurt
2 glass of water
Black salt and pepper
1 pinch Hing (Asafoteda)
Roasted cumin powder
Mint leaves(pudina)
Coriander leaves
Curry Leaves
1 tsp ghee
½ tsp cumin seeds (jeera)
Recipe
In a big bowl, blender together curd, water, salt and pepper.
Add roasted cumin powder.
Add chopped mint leaves and coriander leaves.
In a tadka pan, heat ghee.
Add hing and cumin seeds till they crackle.
Add curry leaves.
Add this tadka to curd mixture and leave covered for some time.
Serve chilled in tall glasses.
Mango Lassi
Ingredients
 1 cup curd
 1 glass water
 1 ripe mango
 1 tsp sugar
 Recipe
 Cut mango into pieces and make a pulp of it.
 Mix all the ingredients together in a big bowl.
 Blend in a blender or using a hand blender.
 Serve in a tall glass.
Banana Shake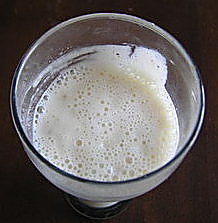 Ingredients
1 glass milk
 1 ripe banana
½ tsp sugar
Recipe
Cut banana into small pieces.
Blend with milk and sugar till smooth.
Serve chilled.
Banana Strawberry Orange Smoothie
Ingredients
1 cup milk
 1 banana
 1 Orange
 4 strawberry
 Recipe
Cut banana and strawberries into small pieces.
Clean orange by taking out pips and peel.
Blend together with milk.
Consistency should be thick.
Serve chilled.
 Papaya Milk Shake
Papaya is a very healthy fruit. It is cooling in nature and full of Vitamin A. It is also a natural laxative and helps prevent constipation in kids.
Ingredients
3/4 cup milk
1 cup ripe papaya pieces- cleaned and cut
1 tsp Sugar
1 cardamom- powdered
 Recipe
Add papaya pieces, milk, sugar and cardamom powder to a blender.
Blend everything to a smooth consistency.
Adjust consistency by adding more or less milk.
Serve chilled.
Mint and Lemon Drink
Ingredients
 1 Glass water
 1 lemon
 1 tsp mint
 Sugar and salt to taste
 Recipe
 Squeeze lemon to get juice.
 Blend with a little water and mint leaves.
 Add sugar and salt to taste.
 Blend with rest of the water.
 Serve chilled.
Mango Milkshake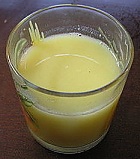 Mangoes are called the King of fruits and everybody loves them. You should make the most of the short few summer months that they are available. Kids love mango milkshake.
Ingredients
 1 cup milk
 1/2 cup ripe mango pieces- cleaned and cut into cubes
 Recipe
 Blend milk and mango pieces to a smooth consistency.
 Serve chilled.
Aam Panna ( Cool drink made from raw mango)
This drink is very cooling and is known to protect from the ill-effects of heat waves during summer by cooling the body naturally.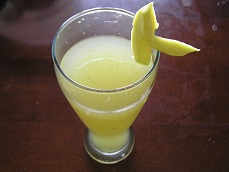 Ingredients
2 medium sized raw green mango
2 cups Water
1 tsp dry-roasted Cumin Seed powder
1 tsp black Salt (kala namak)
2 tsp Sugar
2 tsp chopped Mint Leaves (Pudina Leaves)
crushed Ice-cubes
Recipe
Place the mangoes with water in a pressure cooker and let it cook till 2 whistles.
You can also do this in a sauce pan by boiling mangoes first and then simmering it for 10 minutes.
Mangoes can also be roasted in an oven or in open fire to get a charred roasted flavour.
Peel, stone and pulp the boiled/roasted mangoes with a spoon.
Place the pulp in a deep bowl.
Add water, sugar, salt, chili and cumin. Whisk thoroughly.
Stir in the mint and whisk again.
Transfer it to a jug.
Serve chilled with crushed ice.
Litchi Lassi
Lassi is a popular drink during summer. Here we make it with litchi which a beautiful fruit.   http://www.youtube.com/embed/QaP86ERnjvI
Ingredients
1/2 cup -Litchi (peeled, pitted and cleaned)
1 cup plain curd/yogurt
1 tsp sugar
1 tsp Rose syrup
Recipe
Add everything to a blender along with half cup of chilled water.
Blend it and serve chilled in a tall glass.