Homemade chocolate syrup recipe
Homemade chocolate sauce recipe for kids
5 minute chocolate sauce recipe – Children love anything made with chocolate and chocolate syrup is no exception. Most families go through a whole bottle of chocolate syrup within weeks. But those commercial chocolate syrups are full of artificial flavours and preservatives and having too much of them can definitely be harmful in the long run. I love making spreads for my daughter at home and realise that they do not normally take a lot of time. Do check out our homemade peanut butter recipe
For the past couple of years, I have been making my own chocolate syrup at home and it is delectable. It barely takes 10-15 minutes and lasts a good 2-3 weeks in the fridge, though it gets over much before that. This homemade chocolate syrup can be customised to your child's taste and preference like less or more sweetness, thickness etc.
How to use Homemade Chocolate Syrup
This homemade chocolate syrup can be used as a topping for pancakes, ice creams etc.
Top your favourite cake or brownie with this homemade chocolate syrup
It taste amazing on top of a fruit bowl with such whipped cream
Spread it on a chapati or dosa and roll it for a finger-licking treat.
Add 1-2 teaspoons of this chocolate syrup to warm milk to make instant chocolate milk.
Top your cold coffee and milk shakes with this homemade chocolate syrup
homemade chocolate syrup/ chocolate sauce Recipe
This chocolate syrup is Suitable for children above 2 years in limited quantities. Keep a glass jar ready which has been sterilised and dried completely. This recipe gets ready in 5 minutes.
Ingredients
Unsweetened Coco powder – 1/2 cup
Sugar – 1/2 cup
Milk – 1 cup
Butter – 1 tbsp
White Flour / Maida – half to 1 tsp
Salt – 1/4 tsp
Recipe
Sieve coco powder, maida and salt together.
In a pan, add milk, sugar and coco powder mixture. Stir with a whisk to dissolve everything completely.
Whisk the mixture completely till it becomes uniform without turning on the heat.
Once it the mixture is uniform without any lumps, start the heat and cook this mixture on low heat while stirring.
Keep stirring continuously till the mixture starts bubbling. This happens with in 1-2 minutes.
Turn off the the heat and add butter. Mix the butter well with the sauce.
Butter will give the sauce a nice shine and also not allow the sauce to develop the thin film which may happen otherwise.
You can cook a little less or more to get the desired consistency.
Allow the chocolate syrup or sauce to cool down and then store in the sterilised jar. the sauce gets thicker upon cooling down so turn off the heat while the sauce is thinner than you intend.
Store this chocolate sauce in the fridge.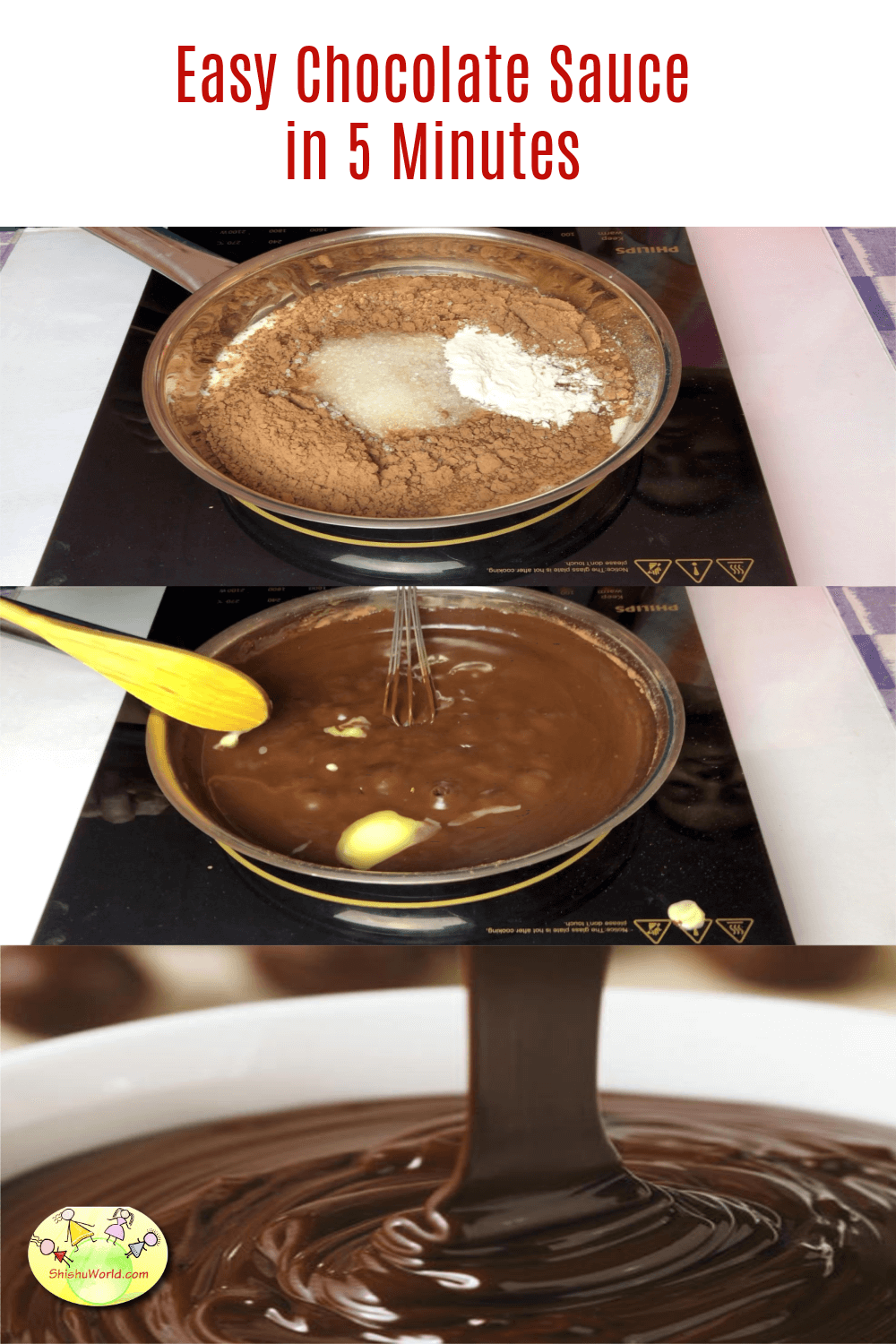 Points to Remember for homemade chocolate syrup
Just because this chocolate syrup is homemade, does not mean it can replace regular food. It is a sweet treat and must be treated the same way.
You may use jaggery in place of sugar too. Use grated jaggery in case you choose to use it.
Do not over cook the sauce or it will get too thick.
Once the chocolate syrup cools down completely, it must be stored in a sterilised, air-tight jar and kept in refrigerator.
Homemade chocolate syrup may thicken a little when refrigerated. It can be brought to room temperature to use as desired.
Use only a dry spoon when taking out the homemade chocolate syrup.
If you see any growth of fungus etc. in the chocolate syrup after a few days, you must discard it. This can happen due to introduction of moisture since we do not use any preservative here.
Recommended
Homemade Peanut butter recipe for kids