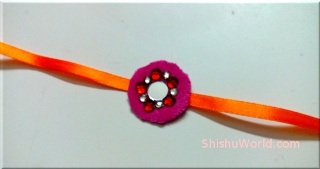 India is a country of colors and festivals. There is hardly a month in the year when we do not have an important festival. Rakhi or Rakshabandhan is just round the corner. Rakshabandhan is a very special festival for me, being an only sister to two brothers, it holds fond memories of childhood. And even if the three of us stay in different corners of the world now, I still ensure my rakhi reaches them well in time.
I still remember one year when it could not reach my elder brother because of an issue in delivery and I kept feeling terrible for many, many days. Now, my daughter Aanya is 2 years old and she sends rakhi to her cousin and I want her to cherish this festival and realize its importance.
So this year I decided to make a rakhi with her along with the various rakhis that we are going to buy. I am planning to take her rakhi shopping this year with me so that she can choose rakhi herself. The rakhi that we made is a super simple one considering Aanya is only 2 years old, but you can get adventurous with older kids.
This activity requires adult supervision at all times.
You will require
Small piece of velvet
Card paper
Craft mirrors, sequins, colored buttons
Thin ribbon
Glue and tape
How to
Cut a small circle out of a card paper, roughly the size that you want your rakhi to be.
Use this circle to cut a circle out of the velvet cloth.
Decorate the velvet using the mirrors, buttons and sequins.
Cut the ribbon of the tying length.
Stick  the ribbon to the back of the prepared rakhi.
And voila! Your simple, cute handmade rakhi is ready.