Healthy, Homemade Sweets for kids/ Healthy Weight Gain Dessert Recipes
The sight of chocolates, candies and sweets makes the child reach out for it. And then there is a mother who is constantly worried about the cough and cold package that gets added uninvited. Plus, she feels it is empty calories and so unhealthy.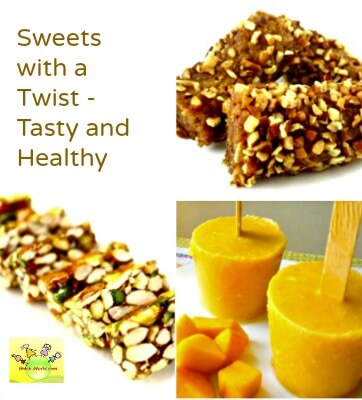 Who says that sweets cannot be nutritious and healthy? 
 The good news is that we have a solution to all your worries. We have got you some healthy to eat sweets which will not only satisfy your child's sugar cravings but will also help you improve his health and immunity.
Let's have a look at these healthy, homemade recipes that we have in store for you.
Date Rolls – Healthy, Homemade Sweets for kids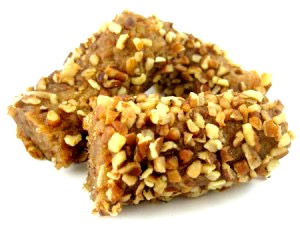 The gum exudes naturally from the roots of the plant and from incisions made in the stem. This is collected and when dried forms crystals of flakes or may be formed into blocks. It is also known as gondkatira, or Tragacanth gum. It is a coolant and at the same time is rich in soluble fiber. It is readily available in all grocery stores.
METHOD:
Warm ghee in a pan, once it heats up, add gum to it. Stir until it swells. Remove it out in a plate
In the remaining ghee in the pan, sauté the dates for a few minutes. Turn the gas off and add chopped almonds, dry ginger powder and fried gums
Mix it well and make rolls
Garnish with almond slivers
Serve at room temperature
BENEFITS: Dates are rich source of iron, ginger powder is anti-inflammatory and almonds are rich source of omega 3 fats, gum is good for bones.
All in all a super immunity and health booster sweet.
Also Read:
Makhana (Foxnut) Kheer for Kids – Healthy, Homemade Sweets for kids
METHOD:
In a pan, take a tablespoon of ghee and roast the foxnuts or Makhana. You can powder the foxnuts too if you want a thick consistency in kheer
In another pan, heat the milk, when it comes to a boil, add foxnuts, stir well and simmer for 5 -10 mins stirring occasionally in between on a medium flame
Add cardamom powder, pinch of saffron, almond slivers to the above mixture.
Add jaggery and stir well.
If you want a thick consistency, simmer for a few minutes more, stirring occasionally
BENEFITS: Foxnut is a rich source of calcium, protein and fiber, it is an antioxidant too.  Foxnut when had along with milk increases its nutritional value further. Almonds again are a rich source of omega 3 and fiber.
It serves as the best food for toddlers and infants in their growing age.
Also Read:
Dry Fruit Laddu – Healthy, Homemade Sweets for kids
We shared dry fruit laddu recipe which is full of nuts, dry fruits, seeds etc. which is also good for weight gain.
Mango Yoghurt Candies – Healthy, Homemade Sweets for kids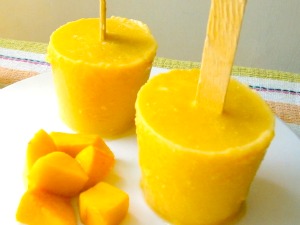 METHOD:
In a blender, mix well the low fat fresh yoghurt and the ripe mango puree. Do not add any sugar since fruit has its natural sweetness
Add this blended puree in moulds. Deep freeze it for 6-8 hours. You can add wooden sticks while unmoulding to give an ice-cream effect
Untold and serve immediately
BENEFITS: Yoghurt is great source of probiotics which maintains gut health and fights bacteria and disease producing organisms in our body. It is also great source of vitamins and minerals available from fruits. You wouldn't mind giving it to your kids for sure
Also Read:
Dry fruit Barfi – Healthy, Homemade Sweets for kids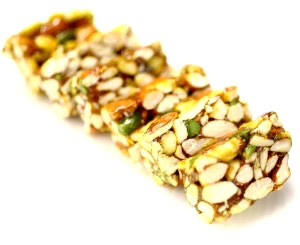 METHOD:
In a pan, heat ghee. Roast all the dryfruits except dried figs and dates until you get roasted aroma
Blend the finely chopped dates and figs with 1-2 tablespoon of milk until smooth.
In a non-stick pan, sauté the blend paste until golden brown. Keep stirring continuously till the mixture leaves sides of the pan. In this mixture, add the roasted dry fruits and mix well.
Pour and layer this dry fruit barfi mixture into a greased pan and smoothen it well. Allow it to rest until the mixture is cooled completely and it firms a little
Cut the Dry Fruit Barfi into equal squares. Your dryfruit barfi is ready to serve. You can garnish it with almond slivers
BENEFITS: Serves as an excellent nutrition bar. High in omega 3, iron, calcium, fiber , multivitamins and minerals. Great option for all.
Further Read: