How to Introduce Chicken to babies : We have received many requests for sharing how to introduce chicken and fish to babies, so today I do just that. Our previous post on how to introduce eggs to baby has been super popular and we have been getting amazing feedback for it.
5 ways to introduce eggs to your baby
You can introduce chicken to babies who are 9 months old and above. Chicken is a lean protein and is considered one of the healthier non-vegetarian meal options.
Nutritional benefits of introducing chicken to baby
Chicken is an excellent source of protein and provides complete protein. i.e. all nine among acids. Chicken is also a lean protein and is not too fatty as compared to red meat.
Chicken is also a good source of vitamin B3 and B6, phosphorus and selenium which is an antioxidant.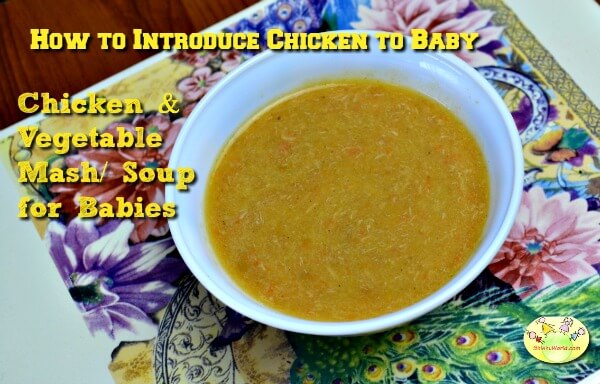 Points to keep in mind when introducing chicken to baby
Chicken is usually safe and does not cause allergies, but when you give it for the first time be on the lookout for adverse reactions.
If baby shows any reactions like rash or indigestion, stop it and retry after a few weeks.
Give only a small amount on day one and then gradually increase the quantity.
It is usually recommended that you give chicken around 9 months after baby has been introduced to other foods like vegetables, fruits and cereals. But you may find conflicting views on this.
Here we are sharing a few simple recipes using which you can introduce chicken in your baby diet.
Chicken & Vegetable Mash/ soup recipe to Introduce Chicken to babies
This is a a filling and wholesome soup or mash which you can give to babies who are 9 months and above. 
Ingredients
Half cup  – Boneless chicken pieces
1 tablespoon – chopped onion
1 tablespoon – chopped tomato
One cup chopped mixed vegetable of your choice ( potato, pumpkin, carrots, cauliflower, peas etc.)
1 teaspoon oil / ghee
1 pinch cumin seed powder (jeera powder)
1 pinch coriander powder (dhaniya powder)
Recipe
In a pan, heat oil or ghee.
Add chopped onion and saute for a few seconds till it turns translucent.
Add chopped tomatoes and salute for a minute.
When tomatoes are a little soft, add pumpkin, carrots and other vegetables that you are using.
Saute for a minute and add chicken pieces.
Saute for couple of minutes to caramelise the hockey pieces.
Add cumin seeds powder and coriander powder 
Add 1 to 1.5 cups of water and bring to a boil.
 After it comes to a boil, turn the heat to simmer and let it cook for 20-25 minutes till everything is very well cooked.
Once it is cooked, you may either mash this with a wooden spoon or blend it in a mixer to a soup.
Tips:
If you feel there is not enough water to blend, you may add a little drinking water.
If you are making this soup for toddlers or older kids, then you may add a little salt and pepper too.
Recommended:
Homemade Chicken Nuggets recipe
Easy Kid-friendly Chicken Wrap – Kid Snack Recipe