Vegetarian Protein rich recipes for kids
Non-vegetarian Protein rich recipes for kids
Protein rich recipes for kids – Protein is an essential building block of human body and it is necessary that growing children should get ample amounts of it. Here we present some simple and delicious recipes full of protein.
Non-vegetarian protein-rich recipes for kids
If you and your child eats non-vegetarian food, you can include chicken, fish, eggs and other red meats  in your child's diet.Non-vegetarian sources of protein are considered whole protein or complete protein as they contain all nine essential amino acids need by body through food.
Chicken and Vegetable Broth/ Soup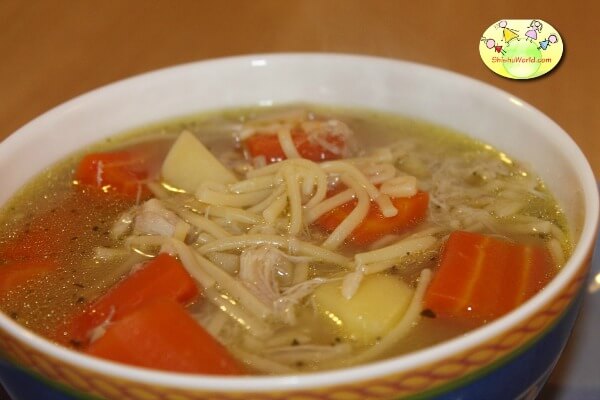 This is an easy to make broth or soup, which can make a nutritious snack or meal and a perfect comfort food. If you have a sick child at home, whose taste buds are getting revolted at the sight of food, this soup could be your best bet.
Ingredients
1 Chicken leg piece ( You could use some other piece as well, preferably with bone)
1 cup chopped vegetables( cubed carrots, chopped green beans, peas or any vegetable your child likes)
1 small onion chopped
½ teaspoon finely chopped garlic
1 teaspoon olive oil
2 cups water or as needed
Salt and pepper to taste
Recipe
In a pressure cooker, heat the olive oil. You could also do this in a wide saucepan, but it is faster in a pressure cooker.
Add garlic and sauté for a few seconds. Do not brown them.
Add onions and sauté till they become soft and translucent.
Add vegetables and sauté for a minute.
Add chicken piece and sauté slightly till sealed.
Add water and salt and pepper.
Cover the pressure cooker, turn the heat to simmer and let it cook till 3-4 whistles.
Let the cooker cool on its own and check. The meat should be falling off the bone.
Before serving, remove the meat from bones and mix with the broth.
Adjust the seasoning and serve hot.
Kid-friendly Baked Chicken Lollipops
If your child likes chicken and you are looking to provide some healthy variety, chicken lollipops can add some variation. Chicken lollipops are great as snacks, but not very healthy due to the addition of color and that they have to be deep fried. Here is a simple recipe of chicken lollipops, made with very few ingredients, no color and it is baked and it tastes delicious. These will become favorites with your family, kids and adults alike.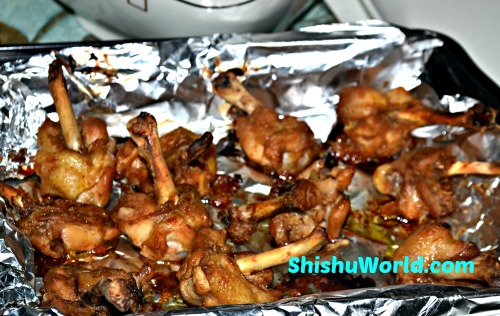 Ingredients
Chicken lollipops – 12 pcs
Oil to brush
For Marinade
2 tsp ginger-garlic paste
1 tsp apple cider vinegar  (Use white vinegar if you do not have apple cider)
1 tbsp soy sauce
1 tsp sweet chilli sauce
½ tsp brown sugar/ white sugar
1 tsp pepper powder( You can also add chilli flakes, if your child likes it)
Salt to taste
1 tsp oil
½ tsp chicken masala
1 tsp corn flour
Recipe
In a large bowl, mix all the ingredients to make a thick marinade.
Add the chicken lollipops to this mixture and coat them well.
Leave covered to marinate for 1-2 hours.
Preheat the oven to 200 deg C.
Line a baking tray with aluminium foil.
Lightly drizzle or brush little oil on the foil.
Place the marinated lollipops standing on the prepared tray.
Roast for 20-25 minutes.
Give them resting time of 5-10 minutes within the oven.
Take out and serve with a dip of your choice.
Recommended:
Chicken Curry for kids
I have been requested by many mums to share my chicken and fish curry recipe for kids. I make an easy chicken curry that the whole family including my three years old eat. We are not very fond of chillies and food is generally low on heat and spice, so there is no problem in giving the same food to my 3 years old. If however you like a lot of spice and chillies, just make adjustments to your portions after taking out your child's portion.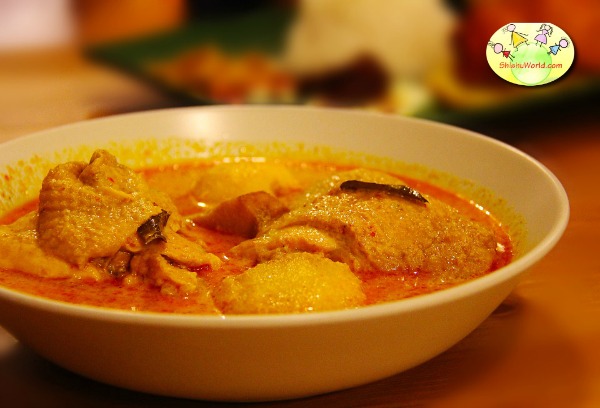 Ingredients
1 kg chicken with bones
½ tsp cumin seeds
2 medium onions
2 tomatoes
2 tbsp oil
½ cup coriander leaves chopped
Water
For Marination
½ cup curd
1 tsp chicken masala
1 tsp tandoori chicken masala
2 tbsp ginger garlic paste
½ tsp turmeric powder
½ tsp kashmiri chilli powder
1 egg
Salt to taste
Recipe
In a large bowl, mix together all the ingredients for marinating.
Add chicken pieces to this and coat well. Leave aside to marinate for 1 hour.
Make a smooth paste of onions in a mixer. Keep aside.
Make a smooth paste of tomatoes.
In a pan or kadai, heat oil. Add cumin seeds.
When cumin seeds starts to sputter, add onion paste.
Fry the onion for 2-3 minutes till it change color. Add tomato paste.
Mix well and fry for few minutes till everything comes together.
Now add the marinated chicken and mix it with masalas.
Cook for few minutes till masala comes together and chicken changes color.
Add 2 cups water and mix. Once the water comes to boil, cover and let it simmer for 7-8 mins.
If gravy is too thick add a little more water.
Check for the chicken to be tender and adjust seasoning.
Garnish with chopped coriander leaves and serve with rice or rotis.
Egg is an easy and readily available source of protein, if you eat that. This is a simple egg and salad sandwich that can be given to children for any meal.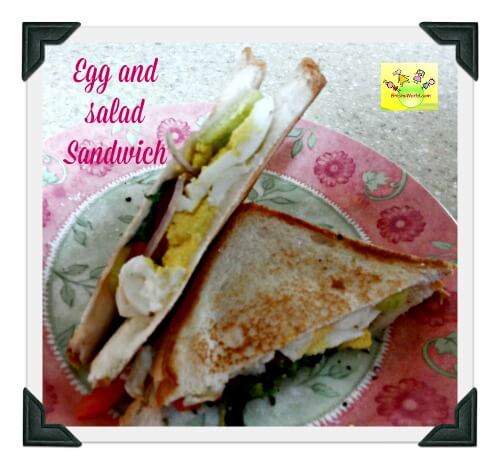 Vegetarian protein rich recipes for kids
As discussed before, most vegetarian sources of protein do not contain all nine essential amino acids. There are a few vegetarian sources like soya which offer complete proteins. Other sources like lentils, beans etc. have few of the nine essential amino acids. But all you need to do is to combine two sources and you will have all nine in your diet. Lentils and cereals together will provide your child with everything that the body needs.
Green gram or moong dal is a protein rich lentil and this cheela/dosa is a great snack/ meal option for kids.
Khichdi 
Khichdi is a combination of dal and rice and thus provides all nine essential amino acids in one meal. Here are 10 ways to make khichdi for baby, toddlers and kids
Dal Parantha – Protein rich recipe for kids
Ingredients
2 cups wholewheat flour(atta)
1 cup cooked tur dal
½ tsp ajwain
½ tsp cumin powder
½ cup finely chopped coriander leaves
Salt to taste
1 tsp oil
Oil/ghee to fry parantha
Water as per need
Recipe
Make a well in the center of flour and add cooked dal.
Add cumin powder, ajwain and salt to taste. Remember that dal also has salt in it.
Add chopped coriander leaves and mix everything well.
Add oil to mixture and make a dough. Add water if needed to make a soft dough.
Keep it covered for 15 minutes.
Heat a griddle(tawa).
Roll the parantha with a rolling pin using some dry flour.
Roast the parantha on the hot griddle till there are faint brown spots on one side.
Flip the parantha and add ½ tsp of oil over it.
Flip the other side and apply oil to this also and fry till golden brown.
Serve with curd.
Soya Granules Fritters
Soya is one of the richest sources of vegetarian protein and we should include it in our diet on a regular basis. Here is an easy recipe which can be served as evening snack or even as a side to lunch or dinner.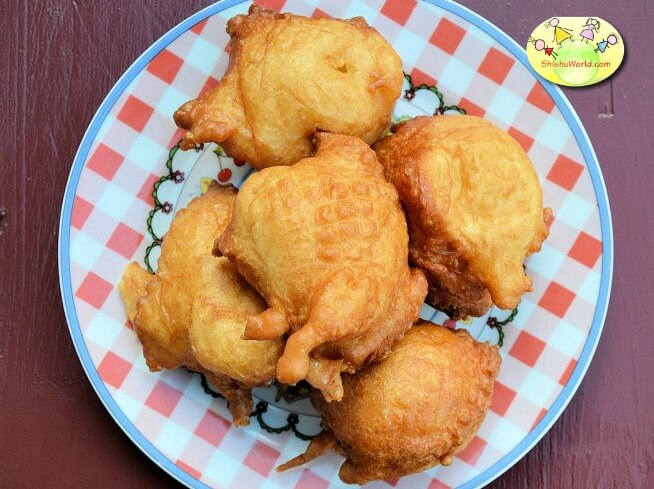 Ingredients
1 cup Soya granules (if you do not find granules, use regular chunks)
1 large potato boiled
1 tbsp Coriander leaves – finely chopped
1 tbsp cornflour
1 tbsp gram flour (besan)
Salt and pepper to taste
You can also add spices like cumin or caraway seeds if your child likes them else omit those.
Recipe
Soak soya granules in hot water with some for 10 minutes.
Strain the granules, wash in fresh water and squeeze out as much water as you can.
In case you are using chunks, cook them in water as directed, wash, strain, squeeze and then blitz in a mixer.
Mash the potato well in a large bowl.
Add soya granules.
Add coriander leaves, salt and pepper and any other flavourings you want and mix.
Add cornflour and gram flour and make consistent mixture.
If you feel, there is excess moisture, add some more gram flour.
Make small fritters out of the mixture and keep aside. I prefer to flatten them as that requires less oil for frying, but you can make any shape you want.
Heat oil in a pan for shallow frying.
Fry the prepared fritters. Remember that everything is cooked and it just needs a little color, so do not overcook.
Serve with any dip of your choice.
Sprouts are a very rich source of protein and sprouting also enhances digestibility of any grain. This dosa made from protein rich moong dal sprouts can be given as a breakfast, snack or even a lunch.

Soya milk is rich in protein and can be used in plenty of recipes. It can also be used to make tofu.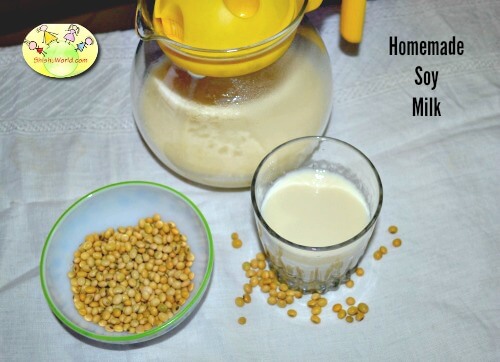 Peanut Butter
Peanut butter is protein rich and is usually all-liked by kids. You can add it to their sandwiches, toast, cupcakes, rolls, etc.
Here is how to make homemade peanut butter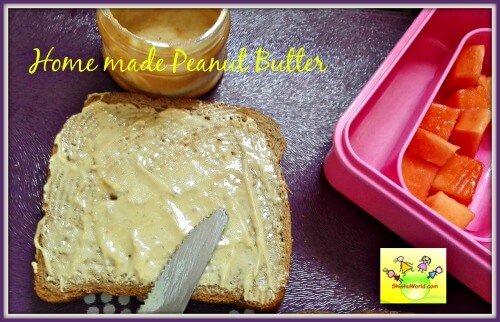 Chickpeas or chana are a rich source of protein and this salad here combines chickpeas with sprouts making it a powerhouse of protein. Great for kids and adults alike.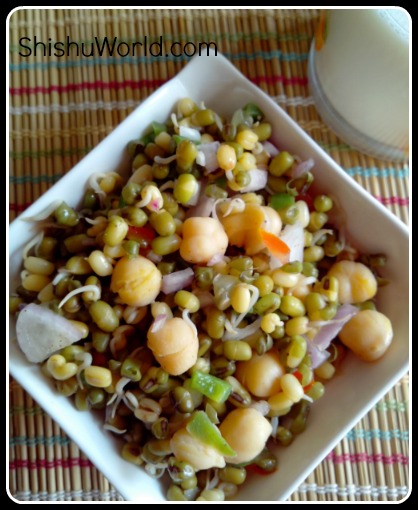 Corn is also a good source of protein and you can make these three delicious salads for kids.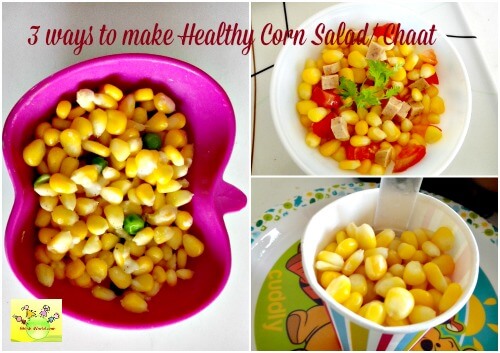 These soya tikkis or chaps are protein rich and form a wonderful snack. We have had some awesome feedback for this recipe from mums who have tried these.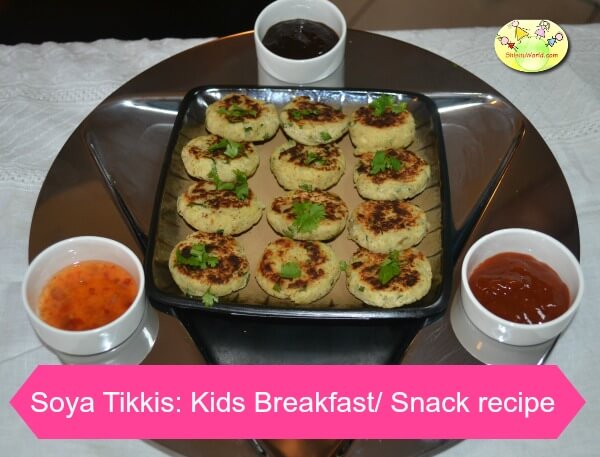 Hope these protein rich meal ideas and recipes will help you in planning your children's meals better. If you like this article, do share it in your circle. You can leave a comment to ask a question or let us know your feedback.  You can follow us on Facebook, twitter , pinterest and Youtube.