Today's recipe in spotlight is Dates Rasayana by Shridevi ThiruMalesh.
Dates Rasayana
Contributed by Shridevi Thirumalesh

Dates Rasayana is her innovation of a traditional South Canara dish called Rasayana.
She says:
Rasayana is a simple dessert, which is prepared in South Canara homes. Whenever, we had excess ripe bananas , my mother used to prepare rasayana, which is devoured by everyone at home. This is similar to kheer or payasam, but ingredients used are raw. No boiling /cooking is required in making of rasayana. It can be served either chilled or cool.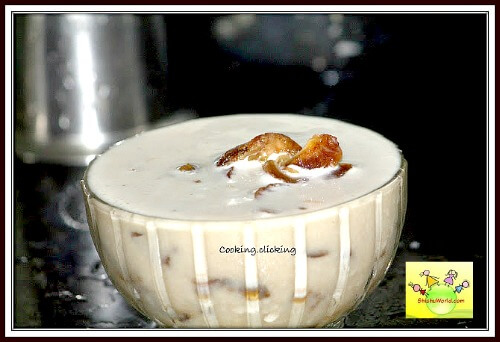 Some time back, I added dates to ice cream and it tasted very good. So, I started using dates along with other dry fruits in all the sweet dishes, which enhanced the flavour & taste. That led me to try out
 

dates alone in case of rasayana. Hence, the idea of dates rasayana came into my mind.
Healthy dips and chutneys for kids
Ingredients

Dates (dry, deseeded): 25 Nos
Fresh coconut (grated): 1 Cup

Water: 1 Cup

Jaggery Powder : 2 Spoons

Cardamom : 2 Nos


Recipe

1. Chop de-seeded dates & keep aside.
2. Grind grated coconut & cardamom with water till smooth paste.
3. Extract coconut milk from the coconut smooth paste by placing them on cloth & squeezing them.
4. Grind jaggery powder with coconut milk till jaggery completely dissolves in coconut milk.
5.Add chopped dates to jaggery-coconut milk (Step 4) & mix well.
6. Serve at room temperature or serve chilled.
Note :
– Adjust jaggery according to your taste.
-You can try mango / chikoo (Sapodilla) / mixed fruits rasayana instead of dates. (Avoid citrus fruits.)
– You can add dry fruits of your choice.