Babywearing and breastfeeding is for everyone and it doesn't restrict you from anything at all.  You got a live proof of this when more than 35 of Bengaluru's baby wearing mothers got together in Garuda Mall, Magrath Road for a flash mob and took the Sunday shoppers by surprise.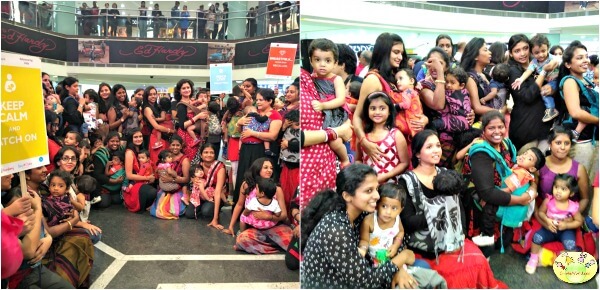 The event was the organised by the members of a breastfeeding and baby wearing support group on Facebook, Breastfeeding Support for Indian Moms (BSIM),  to celebrate their foundation day. The group has been in existence for three years and helped numerous new mothers overcome their fears around breastfeeding and baby wearing.
Read more about BabyWearing experience of our own Dr. Ankita Agrawal here.
The key message of this campaign was to create awareness about breastfeeding and baby wearing. Lot of new moms have questions around breastfeeding and how to comfort a cranky baby, especially during the initial months of motherhood. The group provides support through answering the questions of member mommies and supporting them through the journey.
This flash mob goes to show clearly that baby wearing does not restrict you in any way at all and in fact provides you with enough freedom and still lets you carry your child close to you.
There are many benefits of BabyWearing for mothers as well as babies.
Experts believe that sling babies grow up smarter and happier.
Sling babies are more content and cry less.
Sling babies learn more as quiet, alert time aids in cognitive development.
Babies who are worn sleep better.
Babywearing allows parents to create a strong bond with their children, as parents become more in tune with baby's needs and cues and respond to their needs easily.
source: wrapevermore.com




But seriously you don't need experts to tell you and every baby and mother craves physical closeness and being to close their parent will only help a baby grow up as secure, loved individuals. 
You can check out the groups here:
Breastfeeding support for Moms of Multiples – This group is dedicated to mothers of twins, triplets etc.
The founder of the group Charu say, "My twins continued to have breastmilk until 21 months as I lost my supply due to no pumping sessions for a week after my kids hospitalization from an infection. If BSIM had been there when my twins were born, my BFing journey would have been much simpler and longer. This was one of the main reasons to create the Breastfeeding Support for Moms of Multiples India in 2014. Now my kids are 3.4 yrs healthy and active kids and are out of all allergies and complications that they were born with".
Breastfeeding support for Indian Moms – Breastfeeding Support for Indian Mothers (BSIM) is a peer to peer support group for breastfeeding mothers, their spouses and family members. There are also some medical professionals on the group that wish to get educated about breastfeeding. The online group is where members, peer counsellors (PCs) and admins help mothers with breastfeeding queries 24X7 for no monetary benefit at all. All these mothers hope to empower women with information to enable them to take informed decisions along their breastfeeding journey.