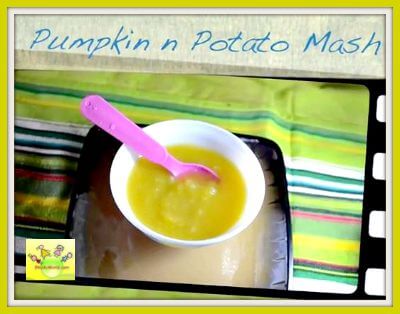 Pumpkin and potato mash/puree is an easy and simple dish which can be given to babies who have started solids recently. Both potato and pumpkin are usually non-allergenic, so this mash is usually safe to give to babies experiencing their first foods. But it is best to be careful when you are introducing any new food for the first time.
This puree is very smooth and cooks quickly, which makes it convenient for you to prepare and easy for babies to swallow.
For babies over 7 months, try giving this as a mash and not as a puree to get them used to lumpy food and chewing.

 

Giving smooth purees for long usually causes issues later as babies refuse to chew anything.
Lumpy food also gives their jaws some exercise which helps in development of jaw muscles.
Potato is rich in starch and pumpkin gives nutrients and fibre, so this is good complex food for babies.

 

Potato is also rich in starch, so it helps in weight gain of babies.
Even if your baby does not have teeth, she is perfectly capable of chewing her food using her jaws. My daughter cut her first tooth at the age of 11 months and she was having most food items by then, only a little soft and overcooked. So, I can tell by experience.
Here is the Video recipe for you!!
Ingredients
1 piece pumpkin( you can use any kind of pumpkin (preferably green or red), as they are softer and sweeter)
1 medium sized potato
1 pinch cumin powder(jeera powder)
1 pinch pepper powder
1 cup water or as required.
Note : Do not use any salt in baby's food. Baby's do not need any salt, neither do they miss it till we get them used to the taste.  Let them  enjoy the natural taste of vegetables.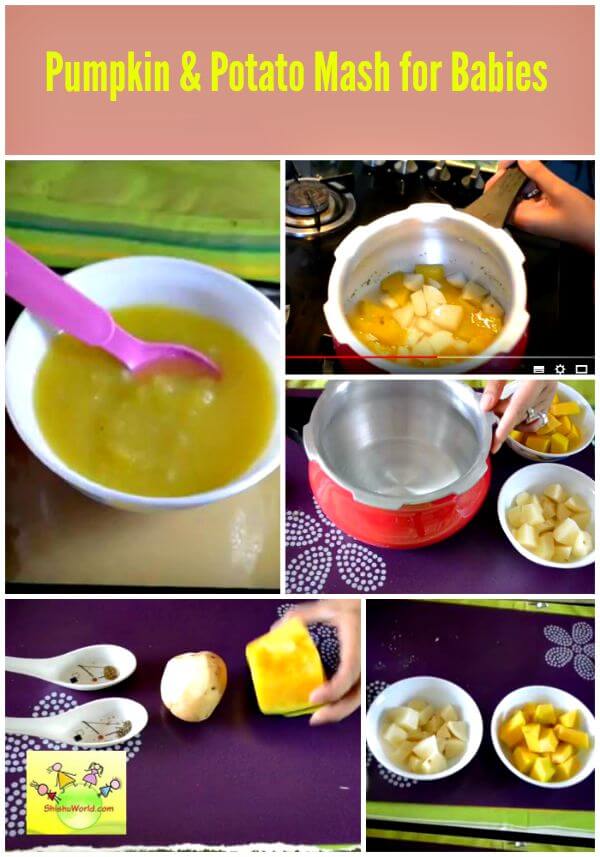 Recipe
Clean and peel the potato and cut into small cubes.
Clean, peel and cut pumpkin into similar sized pieces.
Put both vegetables in a pressure cooker.
Add cumin powder and pepper powder.
Add water and cook on high heat till 1 whistle.
Turn to low and cook for 2 more whistles.
Turn off the heat and let it cool.
Open the pressure cooker when cool, and mash the vegetables with the help of a ladle.
Pumpkin and potato mash is ready for your baby.
Tips:
Introducing vegetables as a first food greatly

 

enhances the chances of children liking them better. It is best to allow them to experience natural food without enhancers like salt or sugar in any form.
If you want to add more calories to this mash, you may add some ghee/ butter to this at the end.
Ensure you have introduced both vegetables individually before giving this.
Follow the 3-day wait rule, if you are making and offering this for the first time.
If you want to give this as a fine puree, you may pass this through a sieve or blend it

 

in a mixer.
You may also use baby's milk to thin the puree if you like.
Try and use organic vegetables if available.
You may also add more vegetables like carrots to make a different taste.
You may even make a big batch of this and serve the rest of the family as a soup after seasoning with salt and herbs. It is delicious.
This puree can also be frozen in small cubes, which you can thaw and serve if you are short of time.
More weaning recipes for babies:
20 Recipes for 6-9 months old babies
3 ways to make Ragi porridge for babies
Dal ka paani/ lentil soup for babies
Homemade Instant khichdi cereal