How to make tomato soup for babies?
Is tomato good for babies?
Many readers have sent me requests to share tomato soup for babies. We already have a carrot and tomato soup recipe here on the site as well as on our youtube channel. But this one today is the simplest form of tomato soup. It requires only 3 ingredients as most our recipes are simple with only a few ingredients so that busy time-starved mothers can use them and make wholesome food for their little ones.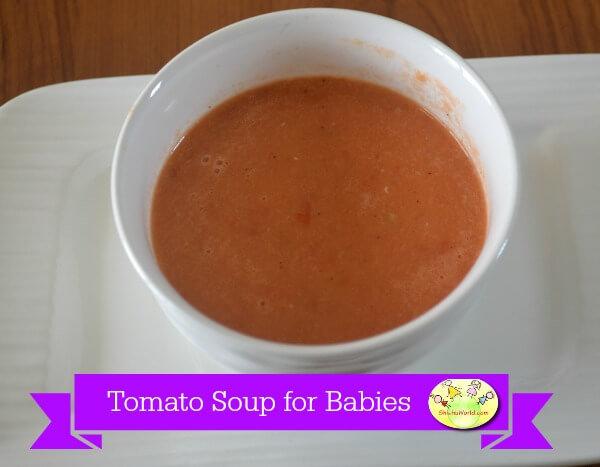 Tomatoes are very healthy and are rich is lycopene which is good for skin. Tomatoes are also rich in vitamin C, so including them regularly in your child's diet will improve their immunity and will also keep those dreaded cold and cough at baby.
35+ home remedies for cough and cold for babies & kids
We are making this soup without any salt or sugar, so when you choose tomatoes for this soup, ensure that it is ripe tomato which is sweet.
Tomato soup for babies (7-8 months)
Here is a complete video of this soup, followed by a detailed recipe.
Ingredients
1 red, sweet tomato
1/2 teaspoon butter
1 pinch pepper powder
1 cup Water
Recipe
Wash and cut the tomatoes into small pieces. There is no need to be very meticulous about the size as we will blend them later. If you want, you may deseed the tomatoes too, but I like to put the whole tomato.
Put these cut tomato pieces in a pressure cooker.
Add half a cup of water to the cooker.
Add a pinch of pepper powder to the tomatoes.
Now close the pressure cooker and cook for 2 whistles.
Once cool, open the pressure cooker and transfer the cooked tomatoes into a blender jar.
Blend the tomatoes into a fine puree.
Now heat a pan and transfer the pureed tomatoes to the pan.
Add butter to this and heat it.
If you feel it is thick, you may also add some extra water to this.
Take it out and serve it your baby for lunch or dinner.
Tips:
When you are heating this tomato soup for babies, taste it to check if it is right for your baby.
If the soup is too tart, add tiny bit of crushed jaggery.
This soup can also be given when baby is unwell.
This soup can be given to babies who are 8 months+.
If you are making this tomato soup for toddlers, you may add a tiny bit of salt and sugar to balance the flavour.
As baby grows older, you also add herbs like coriander or parsley to this soup.
You can also add spices like cumin powder to this tomato soup.
Also check out Tomato Carrot soup for babies & kids