What is the right way to massage baby?
Which oil to use for massaging baby?
How to do infant massage?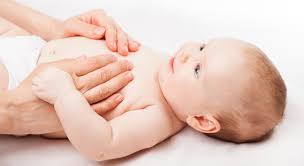 Massage can be a great way to bond with your baby. In India, a baby is massaged as soon as she is 4-5 days old. Massage is usually done before bath.
Massage can be done using baby oil, lotion or some sort of edible vegetable oil. Traditionally, in North and Eastern India, mustard oil is used for massage. It is good for winter season, as it warms the body.
In South India, coconut oil is used. Coconut oil is known for it's cooling properties, hence can be used during summer months. Other than these, almond oil or olive oil can also be used. You can warm the oil a little before massaging the baby.
Keep a look out for rashes or any other reaction. If you notice any such reaction, discontinue the use and try again after couple of weeks. If you notice same reaction again, change the oil or lotion.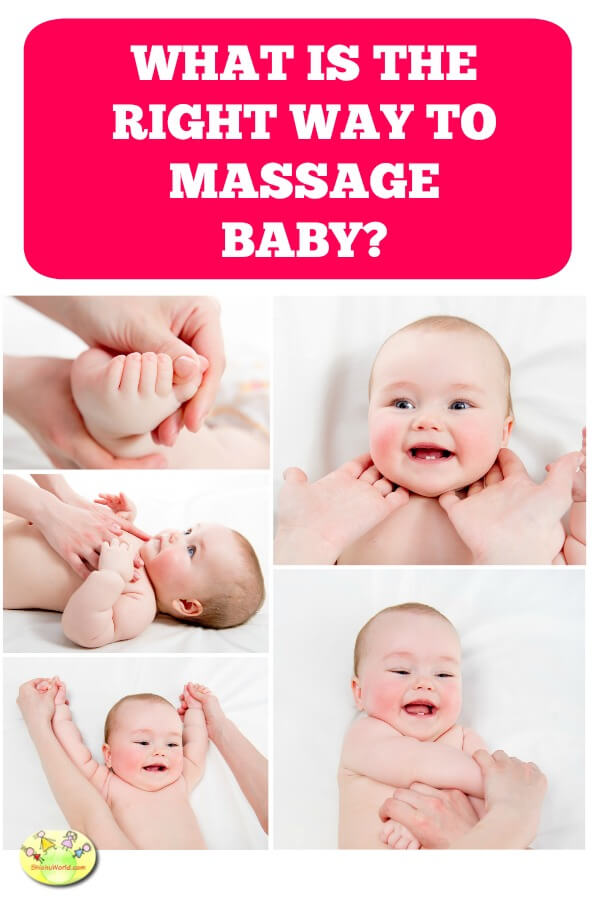 Massage for newborns
Newborns are massaged using a dough (atta) ball during first few days. This is supposed to be cleansing as well as gentle for a newborn.
For this, take a soft atta ball, dip it in oil and rub the ball on baby's body. This is considered to enhance circulation, expel toxins from body and aid digestive system. It is also considered to help in removing body hair from newborn's body.
 Simple Massage Oil Recipes for Winter
Recipe 1
Heat oil with garlic pods. Cool down the oil, filter the oil and use this for baby's massage.
This is believed to warm body and is good for massage during winters.
 Recipe 2
1 spoon of ajwain (Carom seeds)
Heat oil. Add ajwain till it crackles. Cool down the oil, filter the oil and use this for baby's massage.
This is believed to warm body and is good for massage during winters.
 After massage, you can give a warm bath to baby.
Can I give massage to a baby suffering from rashes or eczema ?
Eczema leads to cracked skin which can get aggravated by the application of oil. If your baby has some kind of skin allergy or rashes, it is best to avoid massaging or applying any oil till the condition clears. Vegetable oils and mineral oils which are usually used for massaging can make your baby's skin even drier.
If you want to massage baby or baby enjoys it before bedtime etc, consider giving a gentle dry rub. Make the session fun by singing and talking to baby.
Talk to your doctor about baby's condition and which oil is safe to use.
Things to keep in mind while giving massage to baby
Use edible oils like coconut oil, olive oil, almond oil or mustard oil for massaging.
If using mineral oil, use especially made for baby oils from reputed brands.
Do not put oil in baby's ears or nose. This can lead to infections.
Massage baby in warm, comfortable place where there is no draught.
Be gentle while massaging. Do not use rough strokes or stretch your baby's limbs or nose.
Keep your nails trimmed, as long nails can hurt baby.
Remove any rings, bangles etc before starting massage as they can injure baby.
Keep bath ready for baby before you start massaging. Wash off oil well during bath using a gentle baby soap or cleanser.
 How to Massage Baby's Hand
How to Massage Baby's Back
How To Massage Baby's Chest
Related:
Benefits of Almond oil for baby massage