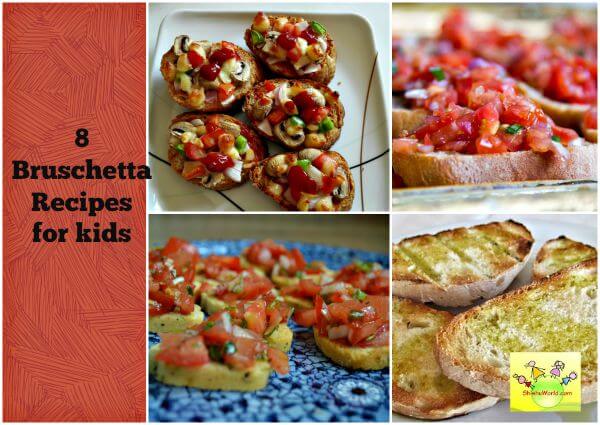 We recently received a mail from a reader asking for some easy snack recipes for kids. Her child likes bread and she wanted to ake it moreinteresting and healthier. We thought of bruschetta or crostini as a versatile breakfast or snack option.
Bruschetta or crostini are basically toasted bread with some toppings. They form excellent finger food and snack and are so easy to make.Bruschetta comes from Italy and form a part of Antipasto or Starter course. Crostini are similar to bruschetta except that crostini usually have a thinner slice of bread.
Whatever might be their origin, I love them as they are very versatile and you can tweak them according to your and your child's preference. A big plus is they take barely few minutes to prepare.
I like my bruschetta toasted and  cheese melted but you may put anything on a toast with a little butter or olive oil, your favorite herbs and seasoning and it is ready to eat.
Vegetable & Mushroom Bruschetta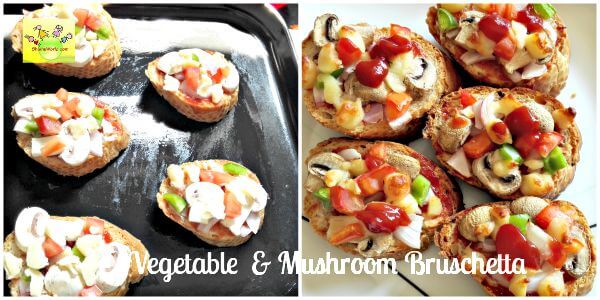 Ingredients
French Baguette
2 tbsp Olive oil
Tomato ketchup as needed
Toppings
Cubed peppers (green, red, yellow)
Sliced button mushrooms
Cubed onions
Mozzarella cheese
Dried herbs
Recipe
Cut the baguette diagonally into about 1 inch thick slices.
Brush olive oil on both sides.
Apply tomato ketchup on one side.
Now add peppers, onions and mushrooms on top.
Sprinkle dried herbs on top.
Finally add pieces of mozzarella on top.
Preheat the oven at 180 deg Celcius.
Toast the bruschetta in oven for 5 minutes till bread is crispy and cheese melts.
Enjoy them hot or warm.
 T

omato and basil bruschetta

 

Ingredients

1 inch thick Baguette slices – 5

Butter as needed

2 large Tomatoes diced

8-10 fresh basil leaves

1 tsp olive oil

Salt and pepper to taste

1 cup grated cheese

Recipe

In a large bowl, put tomatoes,  torn basil leaves, olive oil, salt and pepper and mix.

Now apply butter and toast baguette slices on a griddle till crisp.

Put the tomatoes mixture on toasted baguette.

Sprinkle grated cheese and put on a griddle till cheese melts or melt it in a hot oven.

 

 

 
More ideas to prepare bruschetta
Bruschetta can be made with almost anything. You can give it an Indian twist too if you like.
Follow the basic process below:
Cut the baguette into slices of desired thickness.
Rub a little garlic with butter or olive oil and toast till crunchy.
Now add toppings as you like.  
We list some ideas here.
Chicken bruschetta
Add some cooked shredded chicken breast on top of toasted bread along with fresh herbs like basil or parsley.
Corn bruschetta
Cook some sweet corn. Add salt, pepper, dried mixed herbs and butter.  Mix well and top the toasted bread.
More Corn Recipes:
3 ways to make sweet corn salads
Palak Paneer Bruschetta
Have some leftover palak paneer or have made some for lunch.
Use it to top the toasted bread. Yummilicious!!
Beans Bruschetta
If you have some leftover chhole(chickpeas curry) or rajma ( kidney beans), you may use them to top the toast. Sprinkle a little coriander leaves and roasted cumin powder and there you go.
Use cold cuts
Though it is best not to use processed cold cuts for young children, but once in a while you may use the salami slices or sausages chopped into small pieces with cheese to top the toast.
Fruit salad bruschetta
Fruits can give a nice twist to this usually savory dish.
Thinly slice apple and pear. You may add any seasonal fruits. Melons, strawberries and grapes can also be great. Ensure that pieces are small
Make  dressing with 1 teaspoon Apple cider vinegar, 1 teaspoon olive oil, or any other fruit vinegar, pinch of rock/ black salt, pepper and ½ teaspoon sugar
Top the bread with this salad just before serving. You may also top the salad with a cheese like feta, cheddar or gouda. They are available in most super markets these days and go well with fruits. But, nothing stops you from sprinkling grated paneer too. I once made Greek salad with paneer as I could not find Feta.
Use these to broaden your little foodie's taste buds and provide variety without breaking your back. Can you think of more ideas? We would love to hear from you!
Do you have any requests/ questions for us. Feel free to write to us. If you like the post, do not forget to share. You can follow us on Youtube, Facebook, twitter and pinterest.
Related:
30+ Vegetable dishes for babies, toddlers and kids
18 Healthy Meal ideas for kids