Baked Wholewheat (Atta) Crackers/ Mathri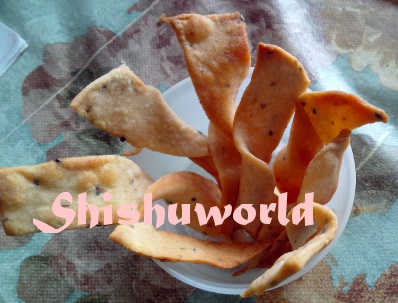 Mathri is an Indian snack which is loved by most, but the fact that it is made of refined flour( maida) and fried makes it quite unhealthy. These crackers here were a result of reinventing paranthas which my little girl refused to have.
Ingredients
1 cup  Whole wheat flour (atta)
1 tsp oil
1/2 tsp Nigella seeds (Kalonji)
1 tsp Cumin seeds (Jeera)
½ tsp  Salt
Water as required to knead
Oil to brush
Recipe
Preheat the oven to 175 C ( 350 F)
Mix flour, oil, nigella seeds, cumin seeds and salt in a large bowl.
Add water and knead to form a hard dough.
Make small dough balls of the size of a golf ball.
Roll it out to a thin chapatti and cut into long stripes using a knife.
Grease a baking sheet with oil.
Twist the cut strips and arrange on the baking sheet.
Lightly brush with oil.
Bake for 20-25 minutes till crisp.
Take them out and let them cool for 10-15 minutes.
Store in an airtight container.
 Advertisement