Kids usually love dips, ketchups etc, but we mums are always worried about the amount of preservatives in packaged sauces, mayonnaise etc. This section is a collection of easy homemade chutneys and dips for kids and the whole family.
Mint and Raw Mango chutney
This is a refreshing, cooling  chutney which will be loved by not just your kids but your whole family. This tangy, sweet chutney is perfect for summer.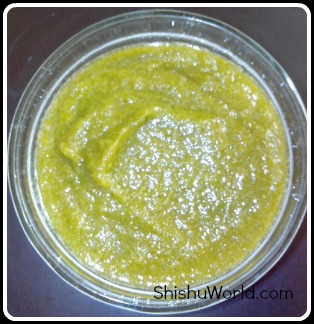 Ingredients
2 cups mint leaves
1 raw mango peeled and cut into pieces
Salt to  taste
Jaggery to sweeten
Green chilli 1-2 (optional)
Recipe
Put all the ingredients with a little water into the blender.
Blend them to a finetexture.
Taste and adjust salt and jaggery to your child's liking.
Serve as a side or in sandwiches.
Basil sesame seeds pesto
Ingredients
1 cup basil leaves
½ cup sesame seeds
2-3 cloves of garlic
2 tablespoons olive oil
Salt to taste
Recipe
Roast sesame seeds on a skillet lightly and keep aside.
Put all the ingredients into a blender and blend to a smooth paste.
Add water to your desired consistency and adjust seasoning.
You can easily make pav bhaji masala at home. This spice mix is so versatile that it can be used in other preparations too.
Make pav bhaji for kids using this masala.
Ingredients
1-2 small black cardamoms
2 green cardamoms
1 inch piece of cinnamon
2 tbsp whole coriander seeds
1 tbsp cumin seeds
1 tbsp black pepercorn
1 tsp fennel seeds (saunf)
1 kashmiri red chilli
2 cloves
1 tbsp dry mango /amchoor powder
Recipe
Heat a heavy bottomed pan.
Add black cardamom, green cardamom, coriander seeds, cumin seeds, fennel seeds, pepper corns and cloves.
Add kashmiri chilli if adding.
Dry roast all spices while stirring continuously, till you get a mice aroma of roasted spices.
Turn off heat and let the spices cool.
Add dry mango/amchoor powder to the spices.
Once spices are cool, blend them in a mixer to make a fine powder.
Sieve through a fine strainer to remove any bigger pieces.
Store in a dry and air-tight glass container.