Dalia or broken/cracked wheat or bulgur wheat is used across the country in various forms. Here we are talking about wheat dalia but you may also find dalia made from corn, barley and buckwheat. Dalia is broken wheat available in thick and thin varieties. Different versions are used in different recipes. Dalia is not the same as suji or rawa. Suji or rawa is finer and more refined than dalia.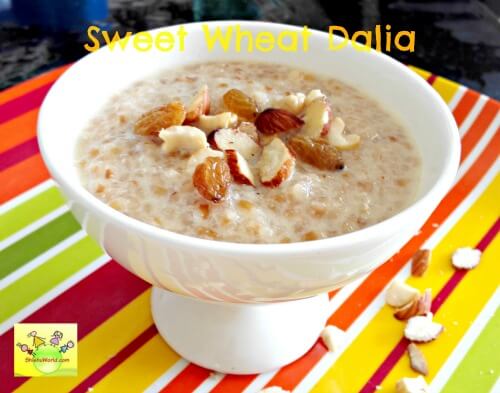 This post was conceptualized in response to our reader Shaista Asif's request. She requested for some recipes of wheat dalia.
At the moment I only have detailed pictures for the first recipe, but will add to the other too as well soon.
Sweet Broken wheat porridge/ Dalia porridge/ Kheer for babies, toddlers, kids
This is a recipe that I remember from my childhood. It is quick and healthy and so  much better than any breakfast cereal we can find off the shelf.
This recipe is easy to digest and can be given to children and also to adults as a yummy breakfast option and even as a dessert.
Ingredients
1/2 cup fine dalia/ broken wheat
1.5 tsp ghee
2 cups milk
2 tbsp sugar/ jaggery
2-3 cardamom pods – powdered
10-12 cashews and almonds
Water as needed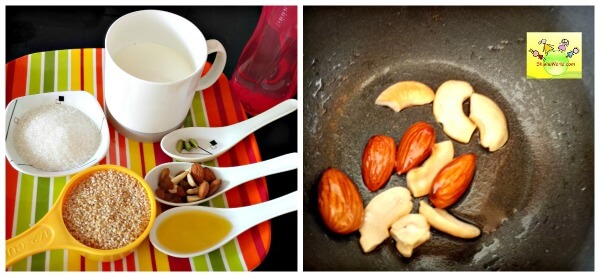 Recipe
In a pan, heat ghee and roast the nuts and keep aside for later use.
In the same pan, roast the dalia for about 1-2 minutes, till it starts giving a nice aroma. Keep stirring continuously.
Now add milk , mix well and bring to a boil.
Let it cook on a simmer for 10-15 minutes, stirring in between. It may take longer, if dalia is thick.
When it thickens to your desired consistency and dalia is cooked, add sugar/ jaggery and mix.
You may add more milk or water to adjust consistency.
Mix cardamom powder and nuts in the end and serve.
You may also cook this in a pressure cooker till 2-3 whistles and then reduce the milk with open lid till you get desired consistency. If using thick dalia then cook till 4-5 whistles.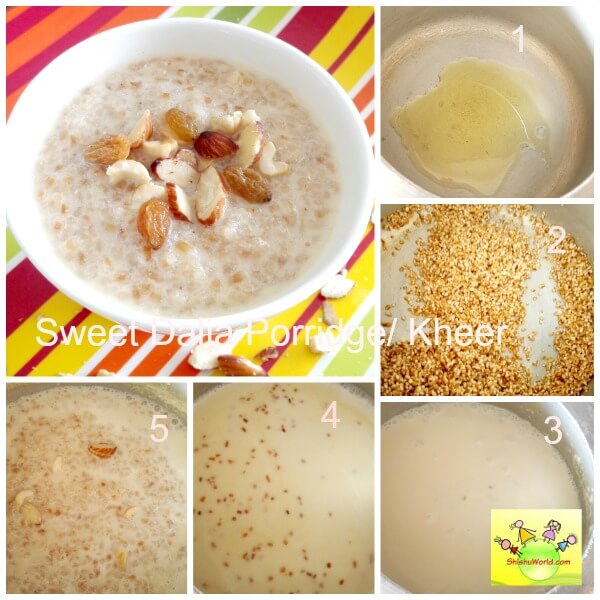 P.S. For younger children, you may make it without nuts too or use powdered nuts.
Recommended :
Monthly Food Charts for Babies
3 Ways to make Ragi Porridge for babies
Broken wheat Upma/ Dalia Upma for toddlers, kids
Dalia or Broken Wheat upma is a savory breakfast dish which is rich in fibre and a welcome change from suji upma. It can also be given as a wholesome one pot vegetable dish and you may put as many vegetables as you like.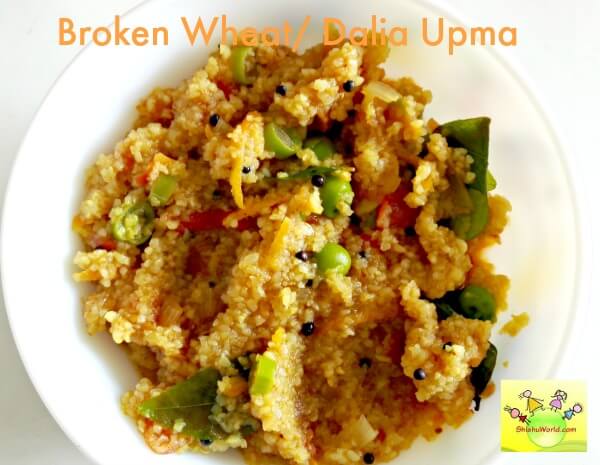 Ingredients
1/2 cup fine dalia/ broken wheat
1 tbsp ghee/ oil
½ tsp mustard seeds
8-10 curry leaves
¼ tsp chana dal
¼ tsp urad dal
5-6 cashews
½ cup finely chopped vegetables (carrots, potatoes, beans, capsicum)
¼ cup green peas
1 green chilly slit
Salt to taste
Water as needed
Recipe
Dry roast dalia for 2-3 minutes till slightly brown and gives out roasted aroma and keep aside.
Heat oil in a kadhai/pan.
Add mustard seeds. When they splutter, add urad and chana dal curry leaves. Saute for a few seconds.
Add onions and green chillies(optional)  and saute till transparent.
Add cashews and saute them.
Add all vegetables,  saute.
Add salt to taste and cook covered for few minutes.
Add 2 cups of water and let it heat.
Now add the roasted dalia and mix well so that no lumps are formed.
Cook on simmer while stirring in between.
Turn off the heat when  water is absorbed and keep covered for a few minutes.
Fluff up the upma using a fork and serve hot.
Also Read:
5 Avocado Recipes for Babies and Kids
Broken Wheat Khichdi / Dalia Khichdi for kids
Dalia khichdi is one my favorite comfort meals. I make it with equal quantities of rice and dalia, but you may make it only dalia as well. It is also a complete meal with mixed vegetables which can be a challenge to feed children but khichdis make them so easy.
You may try to replace wheat dalia with corn dalia. That tastes amazing too.
Ingredients
½ cup moong dal
½ cup dalia(broken  wheat)
½ cup rice
½ tsp cumin seeds(jeera)
¼ tsp asafoetida (hing)
3-4 cloves of garlic chopped
1 medium onion chopped
1 medium tomato chopped
2 cups chopped mixed vegetables (potato, carrots, peas, corn, cauliflower etc.)
1 tbsp ghee/ oil
Turmeric ½ tsp
1 green chilli slit ( or more to taste)
Salt to taste
Water as required
Recipe
Wash dal, rice and dalia till clear and soak them in water for half an hour.
In a pressure cooker, heat ghee or oil.
Add cumin seeds.
When cumin starts spluttering, add asafoetida and garlic. Saute for 30 seconds.
Add chopped onion and saute till tansparent.
Add tomatoes and green chilli and saute till tomatoes  are cooked.
Now add all the vegetables and saute for a few minutes.
Now remove the water from dal, rice and dalia and add to pressure cooker.
Add salt and turmeric.
Saute till everything gets mixed well.
Add 5 cups water and mix well. When it starts bubbling, close the pressure cooker and cook for 3-4 whistles.
Open the cooker only after the pressure gets released on its own.
This khichdi should be cooked well and remain a little watery. If upon opening  cooker, you see all the water has been absorbed then add some water, especially if you are going eat after some time as khichdi tends to get thicker when rested.
We will continue to add more dalia recipes to this post and more interesting recipes to our Recipe Corner. Do you have any requests/ questions for us. Feel free to write to us. If you like the post, do not forget to share. You can follow us on Youtube, Facebook, twitter and pinterest.
Further Read:
3 ways to make Corn Salad/ chaat for kids