Being the first child & all, I was a pampered & a naughty little girl. I could never imagine how hard my parents had to work with me. I thought I was the one who had to learn everything from eating on my own, reading, tying shoe laces, doing home work & so much more! Not even in my wildest dreams did it ever occur to me that I was having a blast while it was my poor parents who were struggling hard to raise me right.
In a make believe world, can you imagine what it would be like if kids recruited parents? The job profile in a newspaper clipping would probably look like this:-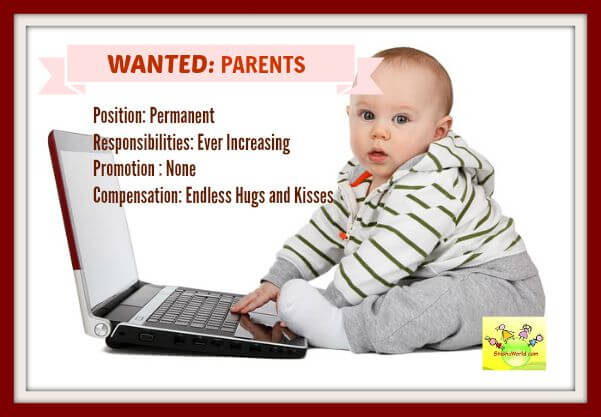 The Candidate
 
Long term team players needed for challenging & permanent work in an often chaotic environment.
Candidates must possess excellent communication skills & should be willing to work odd hours, weekends & frequent 24 hour shifts.
Frequent travelling is a part of the job including overnight stay in different cities or visits to parks or zoo.
Travel expenses are not reimbursed. On the Job training offered on a continually basis.
Responsibilities
Candidate must have strong negotiating, conflict resolving & crisis management skills.
Must be able to think out of the box, while still hanging on to a box because it is most likely to be needed for a school project.
Must be able to keep track of petty cash & be excellent in managing budgets.
Must also be able to withstand criticism such as 'You don't know anything'.
Must be willing to be hated at least temporarily.
Also, must possess the physical stamina of a horse & be able to go from zero to 70 km in three seconds. Candidate must be willing to face technical challenges, such as small gadget repair, stuck zippers etc.
Promotion
Virtually none. The job is to remain in the same position for years to come without complaining & constant re-training so that those under your charge can finally surpass you.
Wages & Compensation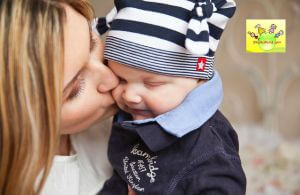 You need to pay them, offering frequent raises & bonuses.
A huge payment will be due when the child turns 18 years old because of the assumption that a job will make them financially independent.
When you die, you will give them the rest.
P.S.The odd thing is that you will enjoy paying through your nose & wish you can do more.
Benefits
You are not entitled to any health/medical insurance, pension or paid holidays. However, the job supplies limitless personal growth opportunities, free hugs & kisses for life if you play your cards right for life!
Now, it doesn't look that lucrative, does it? But still you will find people excited to take this challenging position and doing their best.
If you thought parenting was a cake walk and took your folks for granted it's time to wake up and face the reality. It's a full time job that demands time, devotion and great management skills. Nevertheless, it's a job that makes one feel most satisfied and happy at the end of the day.  So, as a parent, one shouldn't take parenting as a burden that has been thrust upon them. Instead it should be considered a blessing bestowed on them and enjoying every moment of it and making it the most enriching experience of their lives.