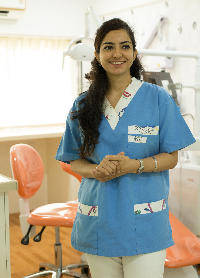 We are happy and proud  to welcome Dr. Varsha Daryanani to our experts panel. She is looking forward to answering queries by the readers. So, ask away!!

Send your queries to feedback@shishuworld.com.
Dr. Varsha Daryanani is the proprietor of Crown Corner and is responsible for corrective as well as preventive treatment of her little patients. She carries this out with the correct pediatric approach and behavior modification skills mastered through her experience of 9 years in this field.  Over the years Varsha's passion and commitment, and more importantly her love for children has ensured that all of her patients have received the highest level of dental care. Crown Corner has been designed in such a way so as to attain the highest level of comfort and have every child feel like they are at home.
She has extensive consulting experience in various prestigious clinics in South Mumbai. Prior to that, she has worked in Rome for five years as a consultant pedodontist at three of the most prestigious dental clinics in Rome alongside renowned dentists such as Dr. Cannavo', Dr. Bazzucchi and Dr. Pavone.

Dr. Varsha has a Bachelor's of Dental Surgery degree from Nair Hospital (Mumbai) in 2001 and a Masters in Pediatric Dentistry from La Sapienza University from Rome in 2005, Italy. She has been keenly involved in dental education and is currently pursuing her PHD in dental sciences from the same university.

She has authored some articles on leading parenting blogs and child and women's magazines and also in the European Journal of Pediatric Dentistry and shared perspectives in leading dailies like The Times of India and La Republica Roma.