Tips for a Fun Road trip with toddler
 We recently took a road trip to Wayanad from Bangalore with our 3 years old and it was quite a successful trip so I decided to record it. We have travelled with her since was very small but now she is more vocal and we were worried that 6-7 hours travel might get too much for her. It was a roaring success, so here are few tips that worked for us.
Enough activities/engagements for child
Take your child's favorite activities to keep him/her engaged during the road trip with toddler. We made sure we had loads to occupy her during the road-trip, so we took activities in her bag which she likes but are not too bulky. So, a new set of Dora crayons, sketch pens, a new drawing book, a coloring book of her choice, some stickers were kept. She was told that those things are for the upcoming trip and she was excited to go and open them during the road trip.
Pay attention to music in your car. We took her favourite rhymes and songs along. Favorite music can soothe a restless child and lull her to sleep.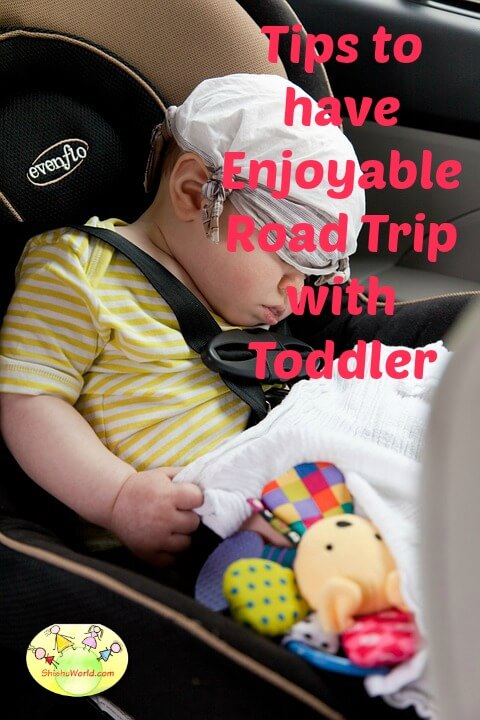 Take enough breaks during road trip with a toddler
With a small child, you cannot think of going full distance in one shot. Be prepared to take breaks, even unplanned. Like we had to take when she started feeling queasy and vomited. We waited for about 15-20 minutes before starting off again so she felt better.
Keep the schedule relaxed
When you are taking a road trip with toddler or a pre-schooler, you don't know when you might be stalled, so keep lot of buffer when it comes to planning your activity.
Start early – We planned an early morning start, so we could reach Mysore by  8:00-8:30 in time for a proper breakfast.
We did not opt for any sight-seeing, so it was relaxing for us and her too. Trying to cram too many activities within limited time tires them out and makes your holiday stressful.
Food during road trip with toddler
Pay extra attention to what food to carry when you are taking a road trip with toddler.
Keep your child's favourite food handy during the travel. It is ok to let them have those biscuits or chocolate once in a while if there is nothing else handy. We took biscuits, cake, her favourite flavoured yogurt, a small box of her favorite jam, few chocolates and some juice tetra-packs. Even though she prefers homemade food, I wanted to have stuff handy in case of emergency. We did not really use any of it except the yogurt but having it gave us peace of mind.
Plan your breaks for mealtimes carefully. Look for restaurants which are child-friendly. There are many restaurants on highways, which also have play areas attached where your child can have a small break and enjoy for some time before starting again. In my daughter's case, since she is prone to motion sickness, such breaks after a meal also settle her tummy and reduces chances of sickness.
Top 10 Tips to prevent travel sickness in children
Choose a child friendly place to stay
The hotel and place you choose should be somewhere a young child can roam freely and without having to be reminded to behave all the time. We chose Chateau Woods, which is a resort away from city nestled in the midst of tea plantations. The place is surrounded by acres of farm area which has a pond for fishing, lots of pet animals like chicken, ducks, turkeys, rabbits, goats etc. Imagine a child's delight at seeing all these at close quarters!
Food was made to order and we had a taste of awesome Malayali cuisine, and they were happy to customize a bit for her.
This place houses limited number of guests, so everyone has plenty of space and children can really connect with nature.
So, do your homework before selecting a place to stay.
We had a lovely time during this road trip with our toddler by following these tips. Do add in your own tips while travelling with young children.  If you like this article, do share it in your circle. Do leave a comment to ask a question or let us know your feedback.  You can follow us on Facebook, twitter and pinterest.
Related:
Packing checklist for travel with baby
Feeding baby/toddler during travel