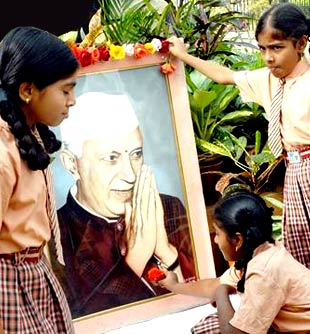 Children's day is round the corner and what better way to make it special for your child and his/her friends than  by hosting a fun party for them. Children's Day in India is celebrated on 14th of November every year on the occasion of Pt. Jawahar Lal Nehru's birth anniversary who was fondly called chacha Nehru or uncle Nehru by kids. Here we give a few ideas for the same, but these ideas can be used to organise a party for the Republic day or the Independence Day as well. This celebration can also be arranged in an apartment for all the kids.
Theme
Decide on a theme for the party. Best theme is chacha Nehru theme or a dress up party. Ask kids to come dressed as Pandit Nehru, Sarojini Naidu, Indira Gandhi, Gandhi ji or anyone else they like to. It can be a fancy dress party as well.
You can provide Nehru jackets, Gandhi spectacles, etc. which children can wear and click pictures in.
Timing
It is best to keep the party during the morning hours. You can choose to have a tea party with some snacks or have lunch as well.
Invites
Make simple invites with photos of kids , Pt. Nehru etc. Nation symbols, flag etc. Take your kid's help in designing and creating them.
Decor
 Keep the décor simple with balloons in colors of Indian tricolor. Create paper Nehru caps, Bhagat Singh's hats and distribute them to kids instead of regular party hats.
Give a rose bud to child as a return gift. Tell them that rose bud was Pt. Nehru's favourite flower.
Games
Keep simple games like passing the parcel, best dressed etc. You could also provide simple stuff like paper and colors and ask them to create a flag or have a drawing competition with theme in mind.
Keep a story telling session and tell them the significance of the day. It does not need to be dreary and boring. Keep it short, but tell them why we celebrate the day.
A quiz based on that day's significance. Simple questions which will help kids know about that day better.
Food
Keep food items which children generally like. Finger foods are best as kids can manage to eat them easily. Snacks like finger chips, mini pizzas, mini burgers, mini tarts, fruit skewers are sure to keep them happy.
Keep healthy drinks like juices, lemonade, orangeade etc. but avoid aerated drinks for kids.
Make something in keeping with the theme like tricolor muffins or cupcakes or a tricolor biryani.
The kids will have a blast and this will be a new experience which is different from the regular cartoon based themes. Not only that but you will be teaching the important lesson of being proud of their country, its history and heritage.
Do let me know how you would like to make such a party better.