Holi, the festival of colors is just round the corner and it is one of the most-waited festivals in India. It is a fun festival specially for kids since they can get wet to their heart's desire and play with color with their friends.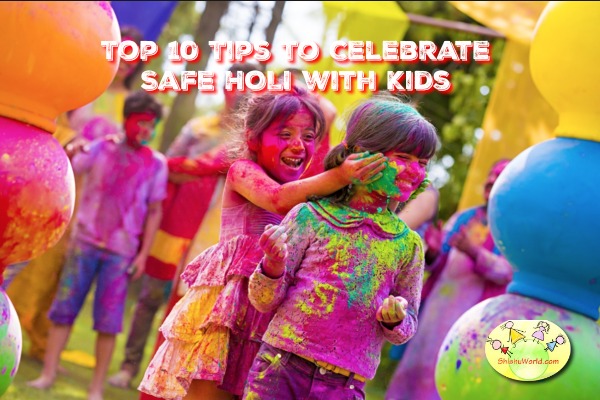 But there are common and justified worries of parents related to this wonderful festival. Let us take a look at how we can ensure a safe and enjoyable Holi for our kids.
Be Safe during Holika Dahan
Holika dahan is celebrated a day before Holi. A bonfire is lit and puja is done around the bonfire. Ensure that the children stay at a safe distance from the fire and do not go near it.
Use Safe colours
Synthetic colours can contain harmful ingredients like lead, mercury and aluminium bromide, which can cause rashes and other health issues.
Holi is a festival of colours, so ensure you buy only certified, organic colours for your kids even if they cost a little more.
Make your own colors
In Indian culture, it was common for families to make their own colors for Holi and same can be done now too, though in a smaller scale.
Soak tesu or palash flowers in a buket of water to get a natural orange color.
Mix turmeric powder with flour to get yellow color.
Mix dried mehndi leaves with flour to get green color.
Ban water balloons
Water-filled balloons may seem fun and they can cause severe injuries. Instruct kids not to use water balloons.
Keep an eye on kids
Kids should play Holi under adult supervision. This will ensure there are no untoward incidents and immediate action can be taken in case of an injury.
Dressing right
Clothes after playing Holi need to be discarded sto dress your child in clothes which are not very new or favourite. Stick to darker shades of clothes and choose clothes which will cover most of the body. Cotton full-sleeved clothes would work best.
Oil child's body to protect skin
Apply coconut or mustard oil liberally all over your child's body before playing Holi. Oil forms a protective layer on skin and will not allow color to stick to body.
Oil your child's hair well.
Protect child's head and face
Apply face cream on child's face. If your child agrees, wrap a scarf or cap over her head after oiling the hair.
Conserve water
Teach children about scarcity of water and tell them that we should not waste too much water while playing Holi.
Use natural ubtan to wash off colours
For taking off color afterwards, you can bathe your child with an uptan of

besan and curd. The tartness of curd helps in taking off color.
Do not use harsh soaps to take off color.