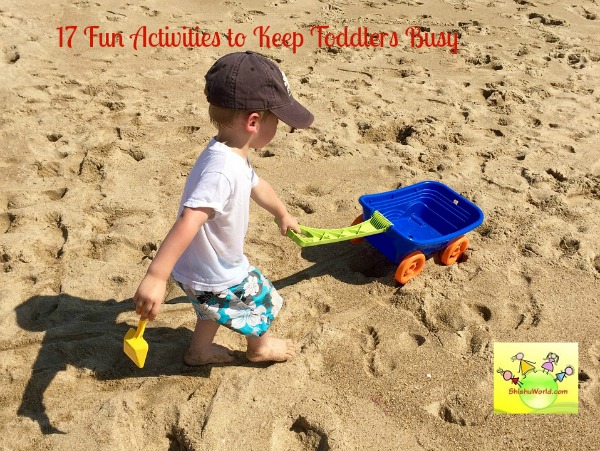 Toddlers are busy bodies and their attention spans are short. They get bored easily and keeping them busy can be a challenge. Buying loads of expensive toys is not the answer. Instead a bit of imagination and time can go a long distance.
Here we enlist some easy to-do activities which will keep the tots busy and make them learn something in the process.
Indoor Activities
Music
Music  is a great way to keep kids busy. And introducing them early to music helps inculcate a lifelong interest. Play rhymes, instrumental or any other kind of music that your baby enjoys. Your baby will soon learn to enjoy it and it may become her favourite pastime.
Dance Party
Extension of listening to music is dancing. Kids love to dance and playing their favourite music and having a dance party for the two of you or even their friends will become popular pastime.
Blowing Bubbles
This is an inexpensive and popular pastime for toddlers. If your kid is not able to manage, you should blow the bubbles and let her catch them.
Reading
Reading together can be great fun and teach your child number of things. You young tots get books with a lots of pictures and help them recognize those. E.g. Show them picture of fan in the book and then show the fan on the ceiling or show a pic of clock and then show the clock on the wall.
Head, shoulder, knees and toes.
Make a game out of naming the body parts. It is fun way to teach them the names of body parts.
Count your fingers and toes
Great way to teach them counting.
Singing Rhymes together
Toddlers love rhymes and singing them with you will make it all the more fun.
Play doh
Play is great, creative way for toddlers to express themselves. You could also give them atta(flour dough) and add turmeric and other edible things to color them. Here you have safe and organic play doh ready.
Stringing beads
Give your toddler large wooden beads to string. It will keep her busy for ages.
Doodling
Get a magnetic doodle board which will satisfy your tot's urge to scribble and save your wall and other spaces from getting marks as well.
Pots and Pans
Give some safe plastic or steel pots and pans to your toddler and it will become a favourite. Measuring cups, plastic idli pans, colanders etc. can be great fun. Non-breakable cups are also fun.

Building blocks
Another fun, creative way to keep your toddlers busy. Buy large size blocks which are age-appropriate for your kid to negate the risk of  choking.
Outdoor Activities
Go to a park
Outdoors are fun. Most kids love outdoors and parents must make time to take them out to a park or play area every evening or as often as possible. Kids get to meet other kids outdoors which also develops their social and interpersonal skills.
Nature Walk
Take the toddler out for a nature walk. Show her dogs, cats, trees, butterflies or anything else that you see.
Walking up and down the stairs
Walking up and down the stairs can be good fun for toddlers and can keep them busy for hours. Ensure that you are around when your toddler is playing on the stairs. If you have stairs inside the house, you may put safety gates after second or third stair.
Play on the swings
Swings are a favourite of children. Sea-saws and slides can entertain any child for a long time.
Gardening
If you have a garden, let your child help water the plants, plant seeds etc. You may also plant some plants in pots.
Collect leaves and flowers
Go for a walk and collect different kinds of leaves and flowers that you may notice. Help your child in drying these and then preserving them to create a herbarium. This will be a prized possession of -your child for years to come.