50+ Diwali crafts, cards, rangoli, home decor ideas for Diwali
Easy, inexpensive Home Decor ideas for Diwali
Diwali is my most favourite festival of the year. We have just finished celebrating Navratri and are now gearing up for celebrating Diwali or Deepawali at the end of this month.
I had shared this post a couple of years back and you will how special this festival is for me and how sentimental I am about it.
Diwali also known Deepawali is celebrated across India and is synonymous with yearly deep cleaning of homes, sweets, family bonding , new clothes and of course lights. Today we will share 50+ ideas to celebrate Diwali in a fun and child-friendly way.
DIY Diwali Card Ideas
When you make a diwali card, it is best to use the usual symbols of Diwali which everyone relates to. The easiest ones are diyas, candles, lights, crackers, rockets, chakras, flower pots or anar, lanterns. You may also use traditional religious symbols like Ganesha and swastik. Use a lot of glitter, shiny paper, sparkles to make it shiny and pretty. You may also use quilling to make diyas, candle flames etc.
We made this lovely, yet simple DIY 3D card for Diwali last year. It has 2 diyas, flower pots and lots of sparkly stars. We also used glitter pens to make it more festive. Click the link below to see detailed step-by-step process.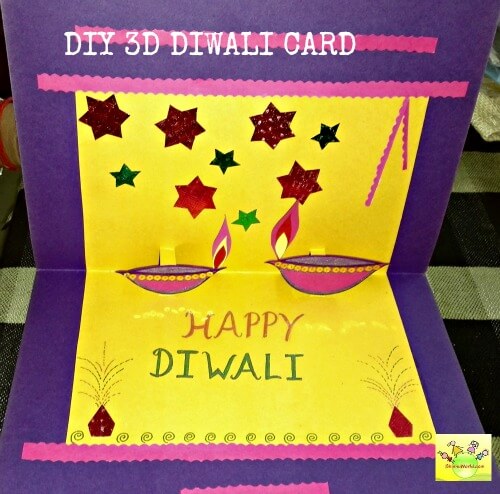 Here are some more simple Diwali card ideas for you.
Diwali crafts ideas for kids
Diwali is a great time for you to do some crafts with your kids to teach them the significance of this festival and like always have a great bonding time. Other than the cards which we have suggested above, you may also make some simple Diwali crafts with kids.
Easy Paper lanterns – Diwali crafts for kids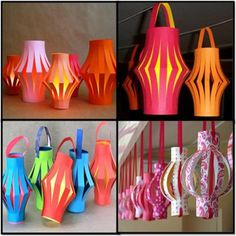 What you need for Diwali Lanterns:
Colored sheet – A4 size
Scissors
Glue or stapler
How to:
Cut a trip of the A4 sheet to make the handle.
Now fold the paper into half lengthwise.
Make equal cuts into the paper about 3/4th of the width.
Open the sheet, now make roll to attach the wide ends of paper to make the lantern.
Finally attach the handles.
Painted Areca nit plates – Diwali crafts for kids
We also made this handmade diyas from clay and glittery puja thali using areca plates and stencils. We drew the Diwali rangoli patterns on the plate and painted them using pearl acrylic paints and glitter. It is an easy craft to do with kids during Diwali.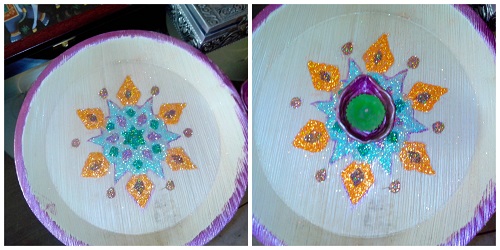 Turn your old CDs to beautiful diyas -Diwali crafts for kids
Handmade Diwali Toran
Torahs instantly make the entry beautiful and festive. From a simple traditional toran made from mango leaves and marigold, to ready-made ones available easily in market, you have numerous options. If you want to make your own toran this year, try these simple ideas.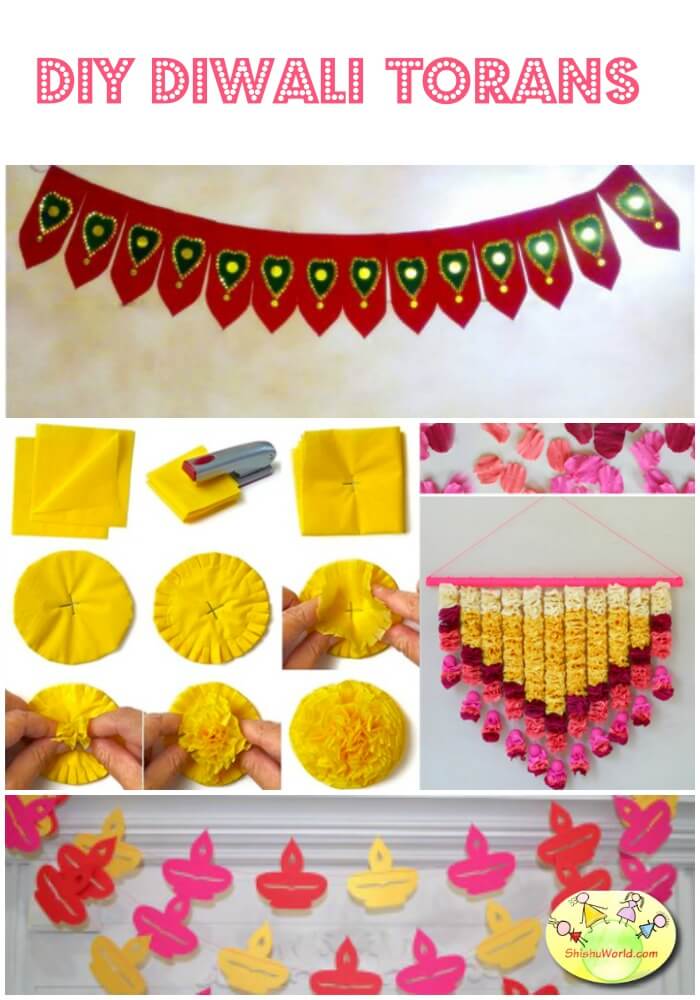 Here are some pretty torans that you can order online.
Books to read during Diwali
Diwali has a number of stories attached to it, the most popular being that Lord Ram and Sita returned to Ayodhya on this day after 14 years of exile and people lit their way with diyas.
Diwali is a festival of 5 days, so at this time you can read books and tell stories to children to teach them about the significance of each day.
Diwali Rangoli ideas
Rangoli is an important part of Diwali or any other Indian festival. Decorating your house and entrance to welcome Goddess Laxmi is one of the reasons alpana or rangoli are made. Here are some pretty rangoli designs. If you are not upto making rangoli yourself or do not have enough time, then you can buy some ready made rangoli at reasonable from below links or your local market to decorate your house.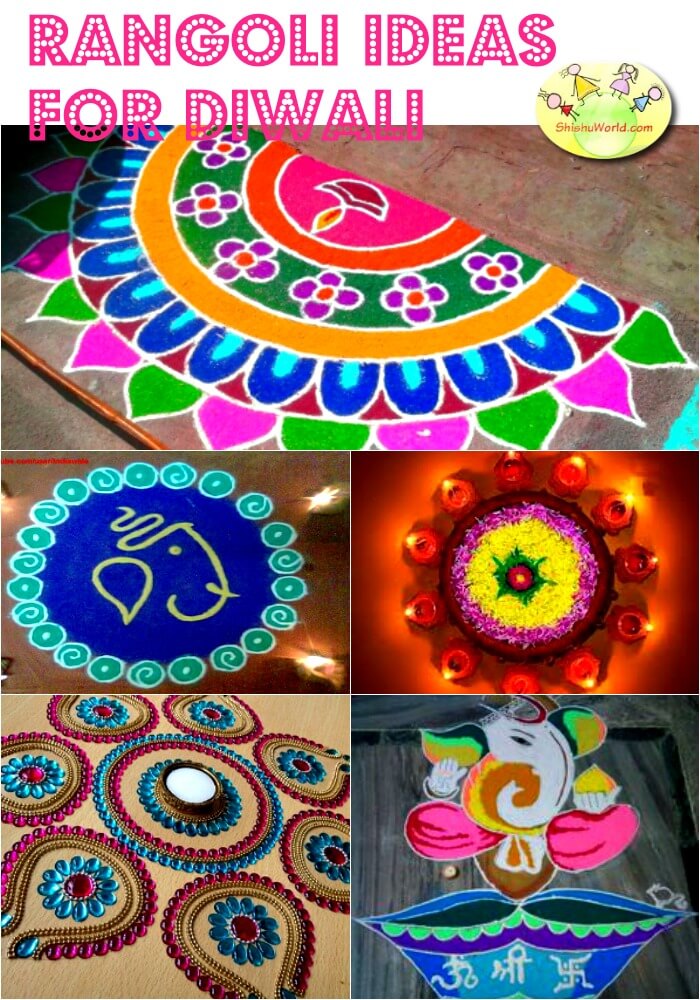 Home decor ideas for Diwali
Here are some pics from my home as well as from the web which might help you in decorating your home this Diwali.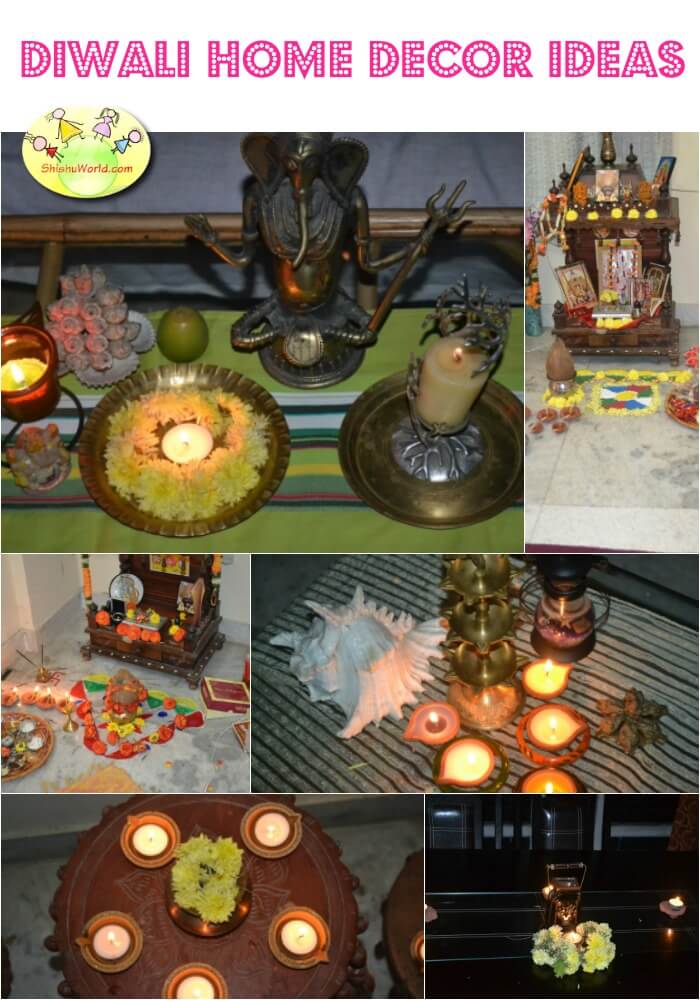 Use lots of flowers
Flowers make any Indian festival more beautiful. They make your house looks instantly festive and colourful. You may use flowers in rangolis, in toran or bandanwars.
Place diyas and candles
This is of course a no-brainer. Take out your most beautiful candles and diyas and place them all over keeping in mind the safety concerns. Do not place diyas near curtains etc.
Use brass, copper and bronze thalis, diyas etc.
Take out your brass lamps, broke thalis, lotas, glasses etc. and decorate your rangoli , diyas display, flower displays etc.
Use pretty dupattas to decorate your tables, couches etc.
I love using old, beautiful dupattas during this time to drape the couches, use them as table runners and even to decorate the curtains.
Get out those special, colourful cushion covers and bed spread reserved specially for this festival
Now is the time to deck up your house with those silk cushion covers. Use bright colours like oranges, red and yellows.
Get dressed in traditional wear
I always dress in a sari during Diwali and my daughter dresses up in a lehenga or a pretty salwar suit. My husband loves his kurta pyjamas. It just makes everything more festive and special.
Diwali recipes for kids and the whole family
Here is a menu that you can plan for your family this Diwali.
Menu Planning for Diwali Kiddie Party
Safety tips for Diwali
Now after all these festivities, let us take a pause and realise that Diwali can also be dangerous, so it is necessary to keep safety as priority.
Top 20 tips to have a safe Diwali with kids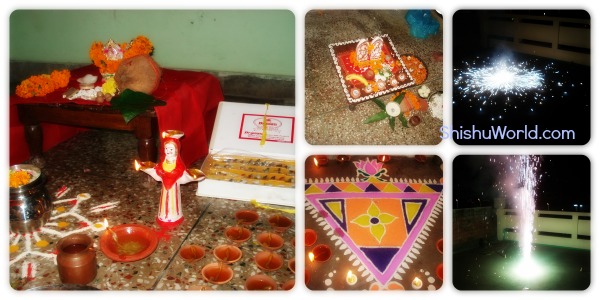 Hope these ideas will help you in planning your Diwali in a better way and make it a joyous occasion for you, your kids and your whole family.