Easy Chicken wrap recipes for kids
Chicken snack recipe for kids
We have often received requests from our readers to share more recipes of chicken and fish for toddlers and kids.
Here with a Back to school treat from Roy from a piece of cerebrum.
Be it summers or otherwise quick, easy recipes for tiffin breaks is a saviour. From back to school lunch ideas to snacks demanded in the evenings after playtime it's always best to keep it filling yet healthy. So what other way to use the daily staple ingredients & make something exciting out of it.
Out of many such ideas brimming in my mind, one has to be a wrap. I adore wraps (yes I adore food!), be it vegetarian, non-vegetarian, light, filling or simply made out of leftovers.
Here's one such recipe for Chicken wrap that's quick & apt for kids of all ages.
This is definitely a dish in budget & mostly made out of things you already have in your kitchen cupboard like wheat, onions, chicken pieces, regular spices.
So let's get started.
Ingredients you will need :
*Boneless chicken pieces, small size, about a cup
*Wraps (I used thin wheat chapattis to give it a healthy twist)
* Onion, ½ cup
*Capsicum, ¼ cup
*Homemade mayonnaise (or any spread you kid loves the most!)
* Iceberg lettuce
* Freshly ground pepper (in accordance to your kid's taste)
* Black salt, to taste
*Curd/ yogurt, ¼ cup
* Ginger & Garlic paste, ¾  tablespoon each
* oil, 2 tablespoon or as much you need.
* Tomato sauce/ketchup, 1 tablespoon (Don't let this overpower)
* Spices : 
Coriander powder, 1 teaspoon
Cumin powder, ½ teaspoon
Salt, to taste
Kashmiri red chilli (Optional)
Sugar/Jaggery, ¼ teaspoon
Method :
Make chapattis/Roti with flour of your choice. You can opt for multigrain atta too.
Make the chicken mix :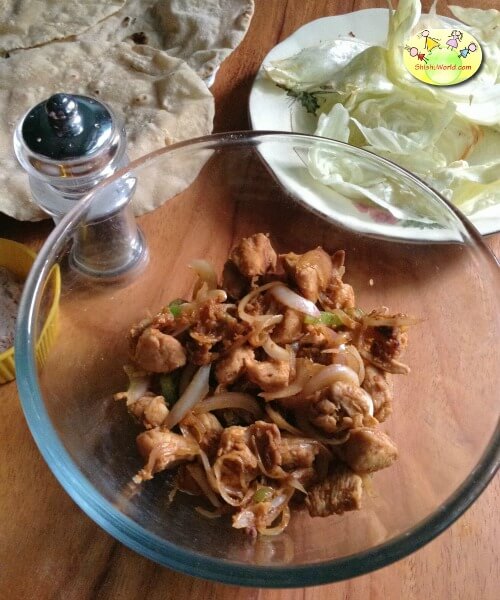 Marinate the chicken with curd, spices and ginger/garlic paste. Keep aside for 5 minutes to 1 hour, how much ever your time permits.
In a pan, heat oil & add half the onion & fry till it's almost brown.
Add in the chicken with marinade & cook by stirring occasionally for 3-5 minutes or until it's nearly cooked.
Add in the tomato ketchup & mix well.
Add the rest of the onion & capsicum. Cook for a minute more.
Assembly of Chicken wrap for kids : Easy peasy!
In a plate, take a wrap/roti, spread the mayonnaise & place the lettuce.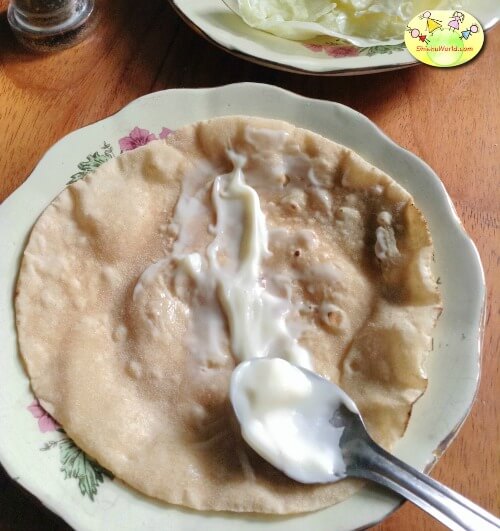 Grind in some fresh pepper (if your kids have), black salt & spread the chicken along a line.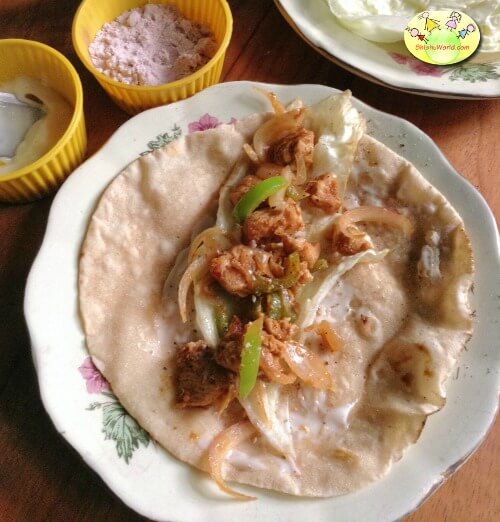 Wrap it up. You can use a clean sheet of paper too to make it fun for the kiddos!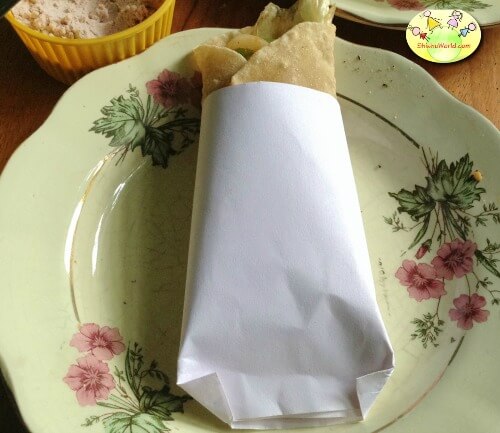 Tips :
Make the wrap dough with hot water to keep it soft through out the day till lunch break.
Use any spread be it organic readymade cheese or pizza sauce or skip it totally.
For bigger kids, fresh chopped green chillies is an option but skip it for little ones.
You can use garam masala, ½  teaspoon too. (Optional)
Don't fill the wrap too much to prevent it from falling apart.
Note : I have used the thread & papers for fun & food styling! You can too or just keep it simple.
Recommended:
24 Protein-rich recipes for kids
Author :
Roy from http://pieceofcerebrum.wordpress.com
Food Blogger & Freelancer.