Poha recipes for babies, toddlers & kids
Poha date kheer
Poha porridge
Poha cereal recipe
Poha or beaten rice/ flattened rice is common food item present in every Indian kitchen. It is known by different names in different parts of India. It is known as chivda/ chuda in North India, chire in Eastern India, avalakki in Kannada, aval in Tamil and Malayalam, poha/ paunva in West India.
Poha is a versatile food items that can be made in umpteen ways. Poha is also a food that keeps one cool and is a good food when you have an upset stomach.
Do you remember  the poha cutlets recipe which we shared a couple of years back and got amazing feedback for the same?
Poha is also great for making baby food, because it cooks very fast and can also be used as travel food. Today we will share 5 simple recipes for babies and toddlers which can be made in a jiffy and can also be used as a travel food.
Travel food for babies & toddlers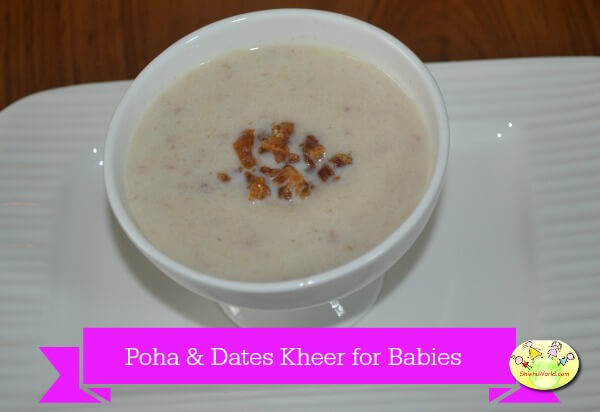 Poha & Dates kheer for babies/ Beaten rice pudding
Poha kheer is a very simple recipe and it can be made in just a few minutes. You may also call it poha porridge as the poha completely dissolves and gives it a smooth texture. This makes it perfect recipe for babies and can be given to babies who are more than 7 months old. We are not using any sugar or jaggery in this recipe as sugar and salt should not be given to babies below 1 year. When you make this kheer for toddlers, then you may also add jaggery/ sugar for sweetness. We are using dates here to add subtle sweetness to this kheer/ pudding.
Poha comes in two varieties, thick and thin types. We are using the thin variety of poha here as it does not need a lot of soaking time.
We also made this short video to explain the recipe better. If you love our recipes, do not forget to subscribe to our channel. We add 2-3 new videos of baby food recipes, kids food recipes as well as home remedies every week. 
Poha Kheer for Babies
Ingredients
2 tablespoons thin poha/beaten rice
1-2 seedless dates (If you do not have seedless dates, then use a knife to remove the seed from the dates)
1/2 cup baby's milk
Water as needed
Recipe
Wash the poha in drinking water nicely and then keep aside. Drain all the water as the residual water will be enough to soak the thin poha enough.
Chop the dates into very fine pieces.
Heat a pan and add half cup water into the pan.
When the water in a little hot, add the finely chopped dates to water.
Keep stirring in between and let the dates cook and disintegrate completely. This will take 3-4 minutes.
When dates are cooked, add soaked poha and mix well.
Now add baby's milk as needed and turn off the heat.
Mix every thing well and serve.
The dates give a lovely subtle sweetness to this kheer and make it even more nutritious.
Dahi poha/ Gopalkala/ Doi chire recipe for babies, toddlers, kids
Dahi poha/ doi chire or gopalkala are all the same recipe by different names. Doi chire is a very popular breakfast item in Bengal and other eastern states. It is also very easy to make and can be prepared in a few minutes whenever your baby wants.
Ingredients
1-2 tablespoons thin poha
1 bowl curd
Recipe
Wash and soak the poha for 5 minutes.
Now mix it well with curd
Dahi poha is ready.
Tips:
You can also add fruits like banana to this dahi poha. It goes very well with this.
When you want to make it for toddlers and kids, you may also add a little salt or sugar or jaggery as per your child's preference.
If you are making it as a savoury dish for your child, you may also add a tadka/ tempering of mustard seeds, curry leaves, chillies & chana dal for added flavour.
Poha/Beaten rice cereal for babies
We shared this cereal in our post on how to make homemade cerelac substitutes for babies.
All you have to do is take thick poha and clean it well.
Then in a pan, dry roast the poha till it is roasted well and you get a nice aroma.
Take it off heat and let it cool down.
Now powder it finely in a mixer.
Keep this stored in a air-tight container.
You can use this poha cereal in many ways.
Poha porridge recipe for babies
Mix this poha cereal powder with hot milk and your porridge is ready. 
Adjust the quantity of milk for the consistency that you want.
You may add whatever favouring you like.
Check out these yummy and easy to mate cutlets for kids.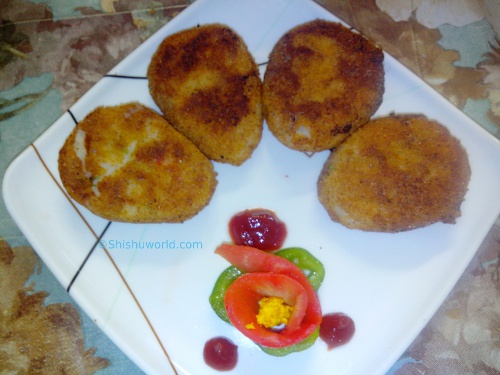 If you like these simple recipes, do share it in your circle. Do leave a comment to ask a question or let us know your feedback.  You can follow us on Facebook, twitter and pinterest.
Homemade cerelac substitutes(Stage 1 cereals)
Travel food for babies & toddlers
Weaning food recipes for babies
30+ Recipes for 6-9 months old
Recipes for 10 -12 months old babies