Broccoli Soup for toddlers, kids
Broccoli recipes for kids
I love soups! Soups are not only hearty, but also versatile and you can always turn them into something that is different from what you made last time.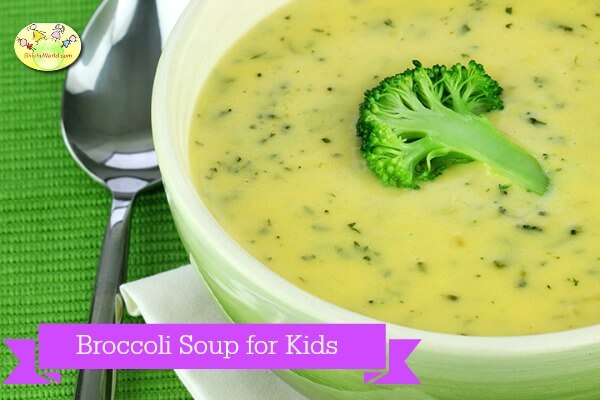 Broccoli is a very healthy vegetable but I have heard from may mothers that their kid does not like broccoli because of its strong taste. My daughter too didn't like broccoli as a toddler and I remember I used to make broccoli soup which she would have readily. My daughter loves her soups and I have already shared some soup recipes with you all.
15+ EASY, HEALTHY SOUP RECIPES FOR BABIES, TODDLERS & KIDS
Tomato and Carrot soup for toddlers
Now she loves broccoli and I can simply steam or boil it, season it with a little butter, salt and pepper and she loves to eat it as finger food. She also loves it on top of her pizzas and in her pastas.
I feel the broccoli soup helped in converting her to the other side. This broccoli soup recipe is delicious, easy to drink for kids and hides any pungent taste that they may dislike.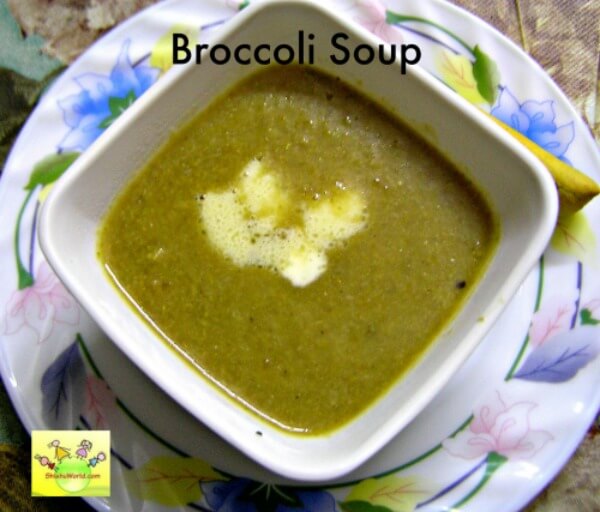 How to make Broccoli soup for kids
Ingredients
2 cups Broccoli cut into small florets
½ cup carrots cut into dices
1 medium onion sliced
4 cups Chicken or vegetable stock
2 teaspoons olive oil
Salt and pepper to taste
2 tsp fresh cream
1 tsp Butter (optional)
Recipe
Heat olive oil in a large pan.
Add onions and sauté till they become soft.
Add carrots and sauté for some more time.
Add broccoli and sauté well.
Add salt and pepper to taste.
Sauté well for 3-4 minutes till you get nice smell and vegetables look shimmery.
Add stock and bring to a boil.
Simmer uncovered for 10-15 minutes and remove from fire. Let it cool for few minutes.
Use a hand blender to blend or put in a blender to make a fine puree.
Heat a little butter in pan and add blended soup and mix well.
You may now adjust consistency by adding more stock and also check salt and pepper.
Simmer for 2 minutes, add fresh cream and serve hot with croutons or bread sticks.
Tips:
You can make your own vegetable stock by boiling stalks of broccoli, carrots, onions and other vegetables that you are not going to use with some salt, cloves and black pepper corns. Simmer for 15-20 minutes, strain and you stock is ready.
You can also add some potatoes to broccoli soup for kids. That will make it creamier and also give it more body.
You can also add cheese to the soup to make cheese broccoli soup for kids.
Recommended:
Broccoli, Mushroom and sesame seeds salad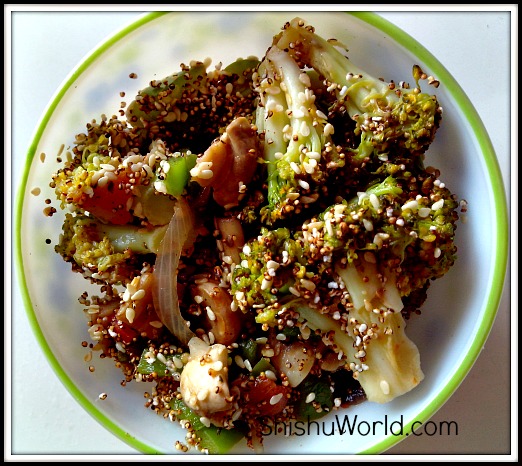 Bottle gourd and Apple Soup for babies