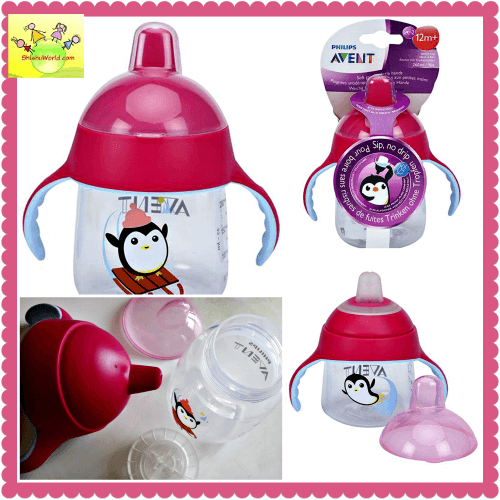 Philips Avent Premium Spout Cup Review
Today we will have a look at a new spout cup that Philips have launched. One of my neighbours who has an 11 months old son asked my advice about switching to a sipper. Her son is bottle-fed and is quite attached to his bottle. She is worried, how he will move to a cup . Since her son is soon going to be 1 year old, it makes sense to ditch the bottle now. Sippers or spout cups facilitate easy transition from bottle to a cup.
 If your child is exclusively breast-fed, read our tips on switching to bottle or cup.
I have myself used Avent products for my daughter, so I happily recommended it to her. Avent was her first spout cup and though she had some trouble in getting used to it initially, but later it became her constant companion.
We got the newly launched premium Philips Avent spout cup. The one thing that is instantly likable is the cute cartoon characters on it. We got one with a cute penguin.
Features of Philips Avent Premium Spout Cup
Philips Avent Premium Spout Cup come in cute baby/toddler-friendly shapes, colors and sizes.
Philips Avent spout cups come with angled spouts which makes drinking easier for baby.
The spout is bite-resistant.
Philips Avent spout cups are marked both in ml and fl-oz to help you know the exact amount that your child has drunk.
Avent spout cups are completely leak-proof (biggest advantage), so you can allow your toddler to handle them independently without worrying about the mess they will make. It prepares them for independent drinking later.
The spout cups come with two handles to allow baby/ toddler to have a good grip while drinking from them.
These cups are BPA free which is the first thing to check whenever buying any feeding accessory for children.
All parts like bottle, spout, valve and cover come out easily, so they can be washed and sterilized easily. It is very easy to assemble the cup again after cleaning.
Avent spout cups come in three pleasing colors : pink, blue and black.
Avent spout cups come from a trusted brand like Philips Avent.
Size and Price
Avent spout cups come in 3 sizes for different age-groups.
200ml: 6 months – (Rs.425/-)
260ml: 12 months – (Rs.475/-)
330ml: 18 months – (Rs.550/-)
You can buy them here at a discount.