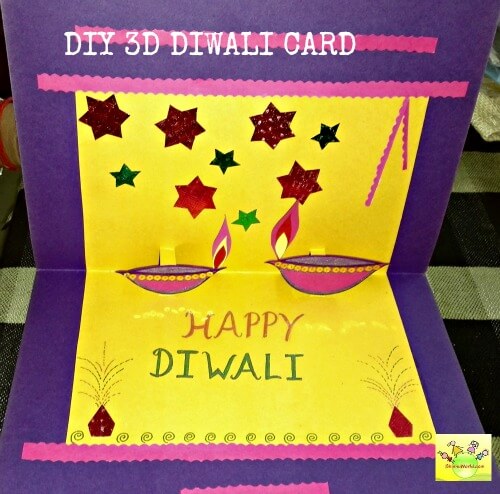 Diwali is less than a week away and at my place children wanted to do something, so we made a Diwali card together.
My sister-in-law who is amazing at crafts helped us with the idea and I decided to share it with you all. I am trying to get her onboard to share her lovely ideas on a regular basis. This is a 3D card and I was surprised to see how easily we could make it. This is a perfect project for this time whether at home or for school and children can do it themselves with a little assistance.
What you need:
Colored card paper – 
1 large sheet A5 size, Choose a dark color
1 smaller sheet of a different lighter color – A4 size
Assorted Colored paper of your choice to make embellishments
Glitter, sequins, mirrors, strings etc. to decorate
Scissors- regular and zig zag
Glitter pens
Pencil 
Ruler
How to:

Fold the A5 card paper into half.
Fold the A4 card paper into half.
Make marks on both sides of folded A4 sheet, leaving about 2 inches on both sides.

Make two snips around 1 cm wide, on the marks along the fold of the card where you want something to pop out. Keep the length of snip to be around 3 cm. 
Fold in the two snips so as to form the base to place your diyas.
Apply glue on all sides on A4 size paper and stick it to the middle of the A5 paper.

Choose colored paper of your choice and draw diyas.
Decorate the diyas using sequins, mirrors and glitter pens.

Cut out stars of different shapes from shiny paper.
Place the stars on topside of the card.
Cut two fountains from coloured paper. You may also make rockets.
Place the fountains on bottom side of page.
Do the finishing using glitter pens.
Write Happy Diwali using glitter pens.
Finally place the diyas on the folded snips.
Finish with pens and decorations as you want.
Your 3D card to surprise your near and dear ones is ready!!
Have you made any Diwali crafts? We would love to see and share them. 
Recommended: