Art and craft is an essential part of every child's growing years and I personally love making crafts and as much as possible with my daughter. I love the idea of subscription based craft boxes which are in vogue these days. These are basically activity boxes with 2-3 activities per month. They reach your house every month with a theme in mind without you having to worry about activities, buying stuff and running around. Just set a day and get your kids started. It is as simple as that.The latest entrant in this space is Crafty Chimp by Subashini Eswaran. The first thing to love is the cute chimp on the logo.

Here is our review of their October box.
Our Experience
We received the activity box well-packaged and the stuff inside was neatly packed in separate ziplock bags. The theme of this month is Diwali Delight with the festive season around the corner.
What is in the Box?
There are two activities with instructions in the box. There is also a third item as an open-ended challenge for kids to come up with something on their own.
Color your world
A beautiful activity for children using areca plates and stencils. 2 areca plates, stencils and glitter have been provided to make beautiful rangoli arts. 
Glow of Joy
This activity is perfect for Diwali. Clay, tea light candles and colors have been provided. Children can make their own diyas, paint them and show them off during the festival.
Craft-a-thon Challenge
The concept of giving an item as a challenge for kids to attempt things on their own is a great way to encourage imagination and creativity.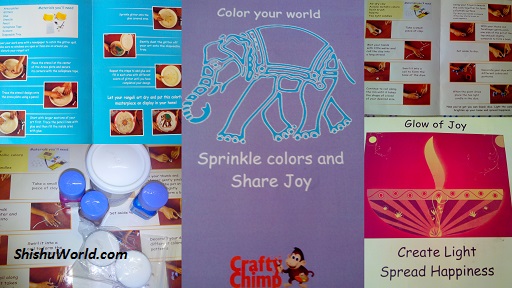 Below is what we made: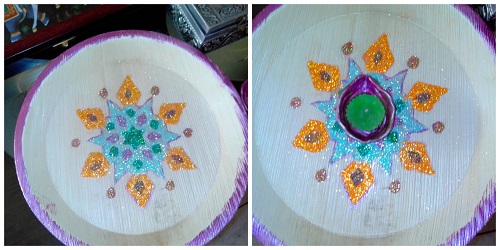 Pros/ What we liked
Excellent quality of items included whether it is colors, glitter or stencils.
The starter kit with all the basic essentials like brush, pencil, scissors, eraser, sharpener, tape, colour palette etc. for your child.
Cons/ What could be better
Not really a con, more like a blooper. I am sure, it will be corrected in other boxes, but we received the Popsicle sticks for craftathon challenge while the instructions mentioned cotton. It did not cause any confusion but just a little thing to fix.
Instructions could be a bit more detailed. E.g. Where it says "Let the diya to dry" could be changed to " Let the diya dry under a fan for 6-8 hours". This would help children who are working with the item for the first time.
Price
INR 700/- for 1 month subscription
INR 585/- for 6 month subscription
They also have gift options. Do check out their website for more information.
Age group
6-10 years
Verdict
With holidays round the corner, this will keep your kids busy for good time and will also create keepsakes for you to show off to friends and family. Imagine the look of pride on your children's faces when you decorate these during. Oh, how I wish Aanya was a little older to have tried these herself.
At INR 585/-, it is good value for money. A big thumbs up from us.
CraftyChimp is also offering an exclusive INR 50/- discount on their boxes for Shishuworld readers. Use discount code SHISHUWORLD50 to avail this.
You can find out more about subscribing to one on their website and their facebook page.