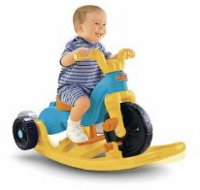 A trike or tricycle is an important part of a child's growing up and first trike or bike remains etched up in one's memory forever, maybe not so the children but for parents definitely. My daughter received Fisher Price Rock, Roll n Ride trike as a gift for her first birthday and uses it every single day. Here is a review of the same.
As a parent, one always looks for sturdiness and safety when buying toys for kids. Fisher Price, the brand itself needs no introduction and is right at the top of toy brands. The rock, roll and ride trike is a grow-with-me trike which can be used by kids between 1 ½ to 5 years of age.
The First Stage
This stage is a rocker which is wonderful for toddlers who are just learning to balance and walk. Rocker base is sturdy enough provide good support to your child.
The Second Stage Ad
The base of the rocker can be easily turned into a push-handle for parents when your child is old enough to start to ride a tricycle but still can't pedal.
The Third Stage
Once your child is old enough to ride the trike on her own, the push-handle can simply be removed. The seat can be adjusted, so that your child's feet can reach the pedals.
Assembling the trike
Not sure why but we did not receive an instruction sheet in the box package, so we had to download the sheet from Mattel website. You can find it here if required.  http://service.mattel.com/instruction_sheets/73528b-0920.pdf  After that assembling the trike was a breeze.
Our Experience
My daughter has been using the trike in stage 1 and 2 positions. She absolutely loves the stage 1 rocker and every now and then sits on it to rock with her favorite song "tik tik tik". She is now over 2.4 years old and learning to pedal but still enjoy rocking on this very much.
Stage 2 is the roll position and she uses it off and on. It is very easy to shift from stage 1 to stage 2. You just need to take out the handle pin, rotate the base/handle to upright position and insert the handle pin through one side through the holes in the back of the frame and out through the other.
The push-handle  is long and is comfortable for even tall parents which is not the case with many other roll trikes. The foot rest provided is a little small even for those little feet. It could have been 2 inches longer on both sides to provide better support.
We have not yet reached stage 3, but removing the push-handle should be very easy and should not take more than a few minutes.
Price:
 

Rs. 5999/-

Though you might get some discounts if there is a sale going on.
 Pros
Really sturdy, wide wheels and has good balance for a trike.
Helps in development of gross motor skills.
Wheels are broad and there is no danger of kid falling when handling alone.
Cons
The price is quite expensive, especially if you child loses interest after few months and wants to go for sleeker bikes.
Our verdict
It is expensive, but when you see that it grows with your child and you will be using it for years and may be even for another child because it is not something that will break easily, it is complete value for money. A very good buy especially for toddlers below 2 years, may be not so much for older kids.
 Photos courtsey www.junglee.com