ServiceAmidst Crisis – Nestle Healthy Kids' Continued Commitment to Care
Summers are meant for vacations and this year, we were planning on visiting Bhutan. Who would've thought that we would be in the throes of a pandemic and be stuck within the four walls of our homes? But this time has also taught us to be grateful for all the blessings we have and try helping the ones in need. Our kids are privileged enough to stay home and attend classes online. But, not all parents can provide their children such luxuries, and they surely need assistance. 
In the recent past, I came to know of this wonderful initiative by Nestlé that is committed to care. The Nestlé Healthy Kids Programme was started in India on 7th April 2009 and in 2014, they partnered with the Magic Bus India Foundation.Their focus is to create awareness and educate adolescents aged 10-17, on health, nutrition and the significance of leading a physically active lifestyle. They adopted the Sports for Development (S4D) approach and based their curriculum on the same principle. S4D is an intentional use of sports as a metaphor to derive developmental outcomes.
Their main focus areas have been:
Nutrition Awareness
Physically Active Lifestyle
Personal & Food Hygiene
Waste Management
Embracing Virtual Training for Education
The staff members have been trained virtually using Magic Bus's Learning Management System – 'Magic Bus Academy.' All the Nestle Healthy Kids modules and the safety guidelines on the prevention of COVID -19 have been uploaded to educate staff while eliminating the need for physical training. Their staff members have also undergone the Nehru Yuva Kendra Sangathan training on prevention of Corona Virus.
To make learning easier and exciting for the adolescents, they created and uploaded posters, comic books and videos on the app. All the material designed are easy to understand and are sure to be engaging. Getting the right message across is essential and during times like this, it is necessary that individuals are well-informed.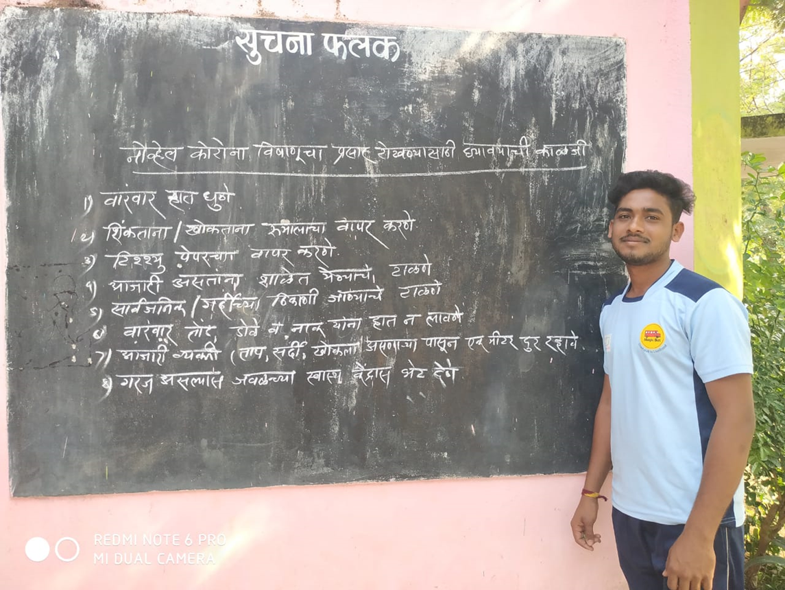 To ensure everyone is conscious and aware of everything, the team sent out messages on WhatsApp, social media and even made phone calls to the community members. With curfews and lockdowns imposed all over the country, sessions were conducted online in containment and Red zones. Whereas, in the green zones sessions were conducted like before with social distancing being practiced.
Special Efforts taken by the Special Team – Each One, Teach Ten Campaign
The volunteers helped the parents of the adolescents with online application of ration cards and have also trained them to install and use the Arogya Setu App. WhatsApp messages were also sent out explaining all the benefits the app offers.
The campaign idea, Each One, Teach Ten, is something I found very interesting. It is an effective chain campaign that was executed, where 1 person records a video of how to wash hands and forwards it to 10 others and those 10 continue the process. Efficient way of spreading awareness, don't you think?
The Practice of Social Distancing in the Communities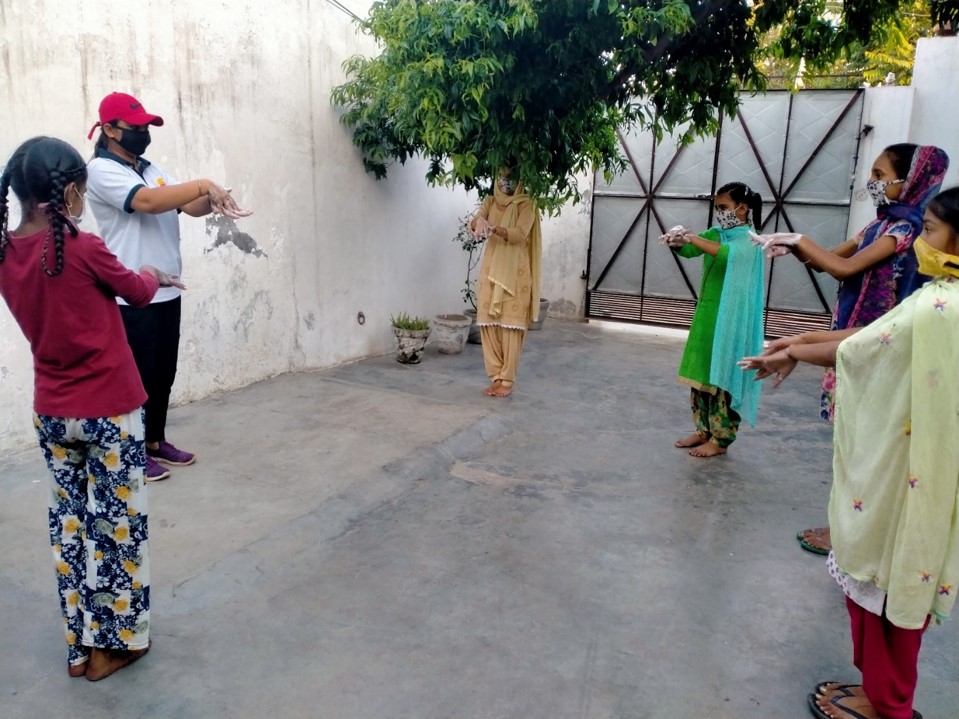 We are all aware of the risk of not following the protocol related to the deadly virus, Corona. One of them being, social distancing. To ensure that awareness was spread regarding the importance of having no contact, the team sent out WhatsApp messages and made phone calls too. Apart from this, they also drew markings in all public places for people to stand.
Additionally, video calls, sending reminder messages, pledge campaigns were also carried out as a part of communicating messages.The on-ground teams have been developing educational materials to impart the information through comic books, posters and awareness boards.
The Door to Door Hand Washing Campaign
I was very impressed when I heard of the Door to Door campaign. In this campaign, the team visited every household and demonstrated the technique of handwashing and sanitization. Not just that, they even made and distributed masks in the communities.
With the ongoing crisis, it is impossible to bring children to the playgrounds and conduct the classes like before. Children were made aware of the importance of staying home and classes were conducted virtually. They were given assignments on topics related to health, nutrition and waste management to ensure they are all engaged and making good use of their time.
Information on immunity boosting foods is shared via WhatsApp and phone calls.
It is heartwarming that even in difficult times such as this, the team at Nestle has been working towards bringing their goal to life and spreading happiness in the lives of these children. Kudos to them!