Are there any good TV shows for toddlers?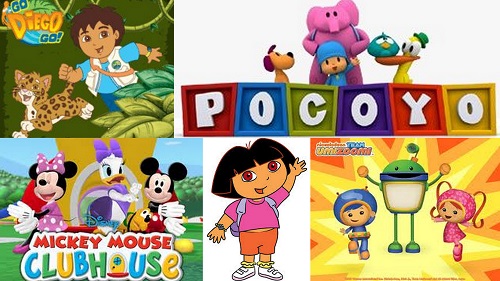 Entertaining and educational TV shows for toddlers
TV shows for toddlers – Yes, this one is a post about the dreaded idiot box. As a young, first-time mom, I am always concerned about anything that my child is exposed to. One of the necessary evils of our generation is the television. I know there are few who can manage without it and one must look for creative and fun activities for children, but it is an essential part of most people's daily lives. In such a scenario, how does one limit or ban TV viewing for our children.
The key to this predicament, in my opinion, is what to watch rather than how much to watch. Of course one need to set certain rules but there is no need to sweat as long as the total viewing is within reasonable limit. Now experts recommend not more than 2 hours of TV for toddlers and young children. That does not mean you allow your child to watch prime time serials with you for 2 hours and then give the iPad to watch her favourite cartoons. *Laughing*
In my experience, there are certain programs being aired on TV which are suitable and helpful for toddlers and pre-schoolers. Below is a list of programs which get aired in India and which I allow my daughter to watch.
Dora the Explorer
This is one of the most popular TV shows for toddlers, aired on Nick Junior. Dora, her monkey friend Boots, her talking purple backpack and the map  go on simple adventures and look out for the sneaky Swiper the fox. My little girl loves Dora. She recently received a Dora backpack as a gift from her uncle and it is one of her favourite things. They end each episode with a dance "We did it", which we adore.
Why we love this show
Simple storylines which are easy to grasp by little kids which introduces kids to animals, places, colours and so on.
Teaches simple concepts like friendship and helping others.
Also Dora speaks English and Spanish, so they keep introducing simple Spanish words during the show. Aanya and even I have learned many words like hola, gracious, denada, abre, santa, sube and so on.
Team Umi Zoomi
This is unique show which has 3 tiny superheroes Milli, Geo and Bot with mighty Math powers. Yes, you heard it right. They live in Umi city and help children who call them in case of trouble. It could be cleaning the playground, ensuring that milk reaches everyone's house or making sure a father reaches his son's birthday party on time. And they do all this using their mathematical superpowers like numbers, pattern power, super shapes, milli measure etc.
Why We Love this show
Love it for its unique concept of bringing home mathematical concepts in a fun way.
It involves viewers as team umi zoomi and seek their help from time to time.
Go Diego Go
Now this one is really good too. Diego is Dora's cousin and lives in the rain forest with his sister Alicia and parents. He is an animal rescuer and saves animals in trouble.
Why we Love this show
Diego and Alicia help one animal in an episode and tell a lot about that animal. Aanya has learned a lot about animals like armadillo, whale shark, puma, chinchilla, macaw and so many more.  
Other series that talks about animals and promotes team work is Wonder Pets and Blues Clues. Yes, we are Nick Junior fans. I feel it is preschool on television.
Mickey Mouse Clubhouse
This one is another favourite. All your favourite Disney characters are having fun at Mickey's clubhouse. You have Minnie, Donald, Daisy, Goofy, Pluto and Pete. Others also keep visiting. They keep having simple adventures. Mousekatools help them along the way. It is telecast on Disney Junior.
Why we love this show
Simple storylines.
Super cute classic characters which are loved by all kids(and elders).
The Hot Dog song and dance at the end.
Pocoyo
Now this one is not telecast in India, but there are videos available on youtube and is such a favourite with us that I thought I should include it in the list.  The show is about three friends Pocoyo, Elli the elephant and Pato the duck and their simple games and adventures. One day they talk about pretend-playing restaurant, another day about rain or a hot day. Characters do  not talk but there is narrator in the background.
Why we love this show
It is apt for young children. It talks about day to day stuff which children can relate to easily.
These TV shows for toddlers are our favorites. Do tell us what TV shows for toddlers you and your kids love!